Eric Abuga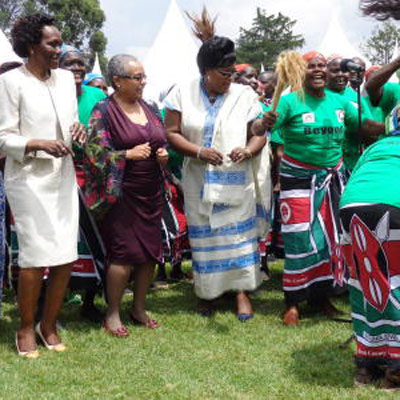 First Lady Margaret Kenyatta has called on local leaders to help fight early marriages and teenage pregnancies in the area.
ALSO READ: Zindzi Mandela: South Africa's former first lady, apartheid heroine dies at 59
The First Lady described the trend as a major setback to achievement of Millennium Development Goals 4 and 5 that relate to reducing child mortality and improvement of maternal health.
She said Kisii County has one of the highest HIV prevalence rates in the country, at 8.9 per cent, which is way above the national average of 5.6 per cent.
According to Mrs. Kenyatta, more than 40 people die from Aids-related causes per a week in the county, a trend she said could hamper the region's development.
Mrs. Kenyatta was speaking at Kisii High School when she officially handed over a mobile clinic purchased through her Beyond Zero Campaign. Kisii is the 13th county to benefit from the initiative.
"Kisii County has over 60,000 people living with HIV and Aids and 10 per cent are children. We have to fight this worrying trend with all relevant resources and also fight the increasing mother-child transmissions," she said.
Controllable diseases
She said most maternal deaths are due to causes directly related to pregnancy and childbirth, with others being as a result of preventable and controllable diseases such as malaria, hepatitis and anaemia.
ALSO READ: President Uhuru Kenyatta issues directives on increased cases of gender-based violence
She urged parents to educate their children on the dangers of alcohol and substance abuse, which play a significant role in the spread of HIV/ and Aids.
"Let's cultivate a culture where our young live to fulfil their dreams. It is our obligation to promote access to better health care and behaviour," she said.
Governor James Ongwae said his administration plans to buy another mobile clinic to supplement the one donated by the First Lady.
"My Government through the department of health services will have to purchase another mobile clinic in the next three months to aid the Beyond Zero campaign," Mr Ongwae said.
He called on donors and private sector organisations to support initiatives aimed at providing integrated HIV and Aids, and maternal and child health outreach services in the county.
The county allocated 30 per cent of its budget (Sh2.5 billion) to the health sector in the current financial year.
Yesterday's function was also attended by 14 governors' wives.