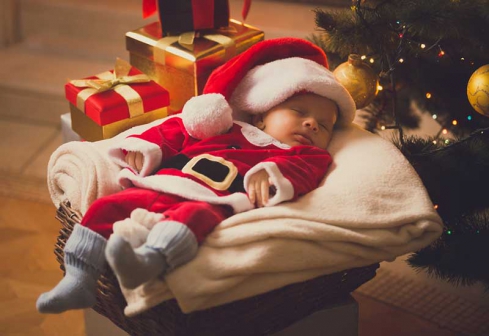 ALSO READ: Grimes unveils what baby name X Æ A-12 means after welcoming son with Tesla CEO Elon Musk
Oh don't you just love December! The holiday cheer that comes with comfort food, fun activities and unsurmountable joy sums it up.
Something else it also carries is December babies who carry the seasonal spirit all year round. While every child is precious, babies born during this season are somewhat special.
Check out some of these December baby facts you probably didn't know
They are naturally athletic
According to a study by International Journal of Sports Medicine, December babies have natural athletic capabilities. So much so that Olympic gold medals prove it. Examples of such athletes include Fierce Five, Mckayla Maroney and Gabby Douglas. In short, they tend to be very active and strive for success.
Incredibly indecisive
While they succeed in what they put their minds to, focusing can be a problem. Described as headstrong and determined, December babies struggle at making decisions. Those born earlier in the month struggle with indecisiveness more than those born later.
They are either a Sagittarius or Capricorn
Those born up until December 21st are Sagittarius while those born after December 22nd are Capricorns. Sagittarians are known to be extremely generous, idealistic and downright hilarious. They also tend to be more outgoing and extroverted. Capricorns are composed, reasonable, disciplined and master self-control.
ALSO READ: Victoria Beckham's plastic surgery 'exposé' after claims she's 'never been tempted'
Less irritable
Although they generally have fewer mood swings and temper tantrums, they are more prone to depression and pessimistic attitudes in general.
They enjoy the good life
December babies particularly those who fall under Sagittarius in particular love to travel and explore different things life has to offer.
Colour blue
They tend to love the color blue perhaps because it is the color of their birthstone. The shades come in wide range of colors in turquoise, tanzanite and topaz.
Get sick less
ALSO READ: Vanessa Bryant wishes daughter Gianna happy 14th on her first birthday since crash
A study carried out showed that December babies had no advantages or disadvantages when it comes to contracting diseases. According to the study, they examined the correlation between birth month and disease and December babies were ranked tops of those who had good general health.
They are born teachers
For More of This Stories Subscribe to the Standard Epaper to get a copy of Eve Woman in the Standard
They tell people when they are wrong and how to correct it. Not because they are bossy but because they see the best in everyone and believe they have potential. They are always willing to help but they show this only to the people they love.
Intellectuals
They never believe it is too late to learn something. With that mentality, they are always learning wherever they go. They also love to impart knowledge on others which may come off as boastful while in fact they are just excited to share new things they have learnt.
They are born leaders
When given a chance to be at a leadership position they will rarely fail. Their logical thinking helps them to be fair, logical and understand that there are always two sides to a story.
Do not miss out on the latest news. Join the Eve Digital Telegram channel HERE.