Anjella Owino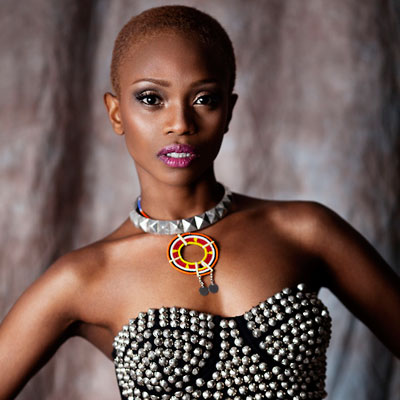 What do you think defines a woman's beauty?
Being comfortable in your skin.
Describe the kind of a woman you are.
I'm determined and focused, and very much of a go-getter. My strongest trait is the artistry in me. I love putting on make-up, dressing up, shopping, and doing my manicure and pedicure, all that and more. My personal trademark is my natural accent. I get inspired when I see other people who are determined in whatever they are doing. People who 'do them'.
What gender mentalities would you wish away if you could?
For women, expecting that a man is key to all doors. People say women are their own worst enemies, but does this only affect women? Anyway, women automatically compete with other women. It's natural. I don't believe in sharing bills when you are on a date.
What do you feel about love and relationships?
I am not dating, and I am a believer in getting to know someone before you love them. Some of the qualities that never fail to impress in a guy include: A man who takes care of himself, a dreamer with goals that he actually achieves, one who knows that romance is and a gentleman.
How do you feel about having your dream man bringing a second wife?
(Laughs) I would just leave; I would not even try to fit into whatever sick thought he has. I don't believe in sharing a man.
What simple things make you happy?
Family and kids, especially kids. I like spending a lot of time with my nephews. Everything they do is honest and natural; they don't pretend. They put you in a happy mood. The knowledge that I am in control of myself. There is nothing I find hard to resist. I get urges but I am always in full control of my emotions and thoughts. I also like planning my life but in my career, you will have to be ready to take risks and still plan on how to execute.
What would you acknowledge makes you stand out as a musician?
Being an artiste is all about having a story to tell, and my story is definitely very unique. I would love to do song collaboration with a number of musicians, but I really like Major Lazer, the electronic music group.
What two greatest and lowest points speak a lot about your life?
To be honest, my greatest achievement is happiness! I'm a very happy person and I love life as it is. My lowest point was the passing of my father. I overcame it by realising that death is not the end of the connection you have with someone. It's the end of the physical, but not the spiritual.
What plans do have for yourself in the next five years?
Creating jobs from what I do and opening my own food chain restaurant in the Scandinavian region.
What advice would you give to fellow women?
Being complete as a woman doesn't mean you have to have money, the best man, the best family and all…it just means that you are comfortable in your own skin.
Photo: www.stellamwangi.com