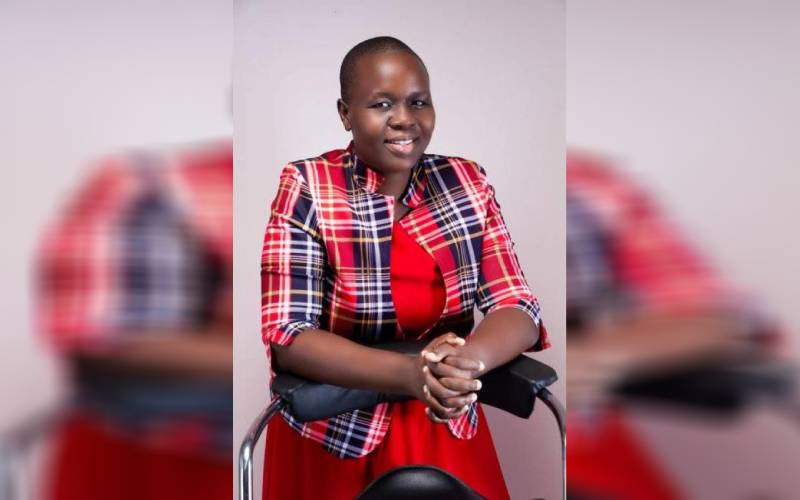 Can you tell us a bit about yourself? My name is Phanice Favour, and am a mother of three and married to John Mrima Mwangala.
You were born with clubbed feet. How did you deal with this condition? Being born with clubbed feet was a challenging journey. I faced a lot of stigmatisation and, at one point, even developed suicidal tendencies. However, Father Thomas McGrath, a parish priest from the church I used to attend, connected me with the Flying Doctors. They empathised with my situation and arranged for surgery to rectify my feet in 1990 when I was 10 years old. Following the surgery, I had to be bedridden
Being bedridden for two years must have affected your schooling. How did you manage? By the grace of God, I returned to school and repeated the class I was in. I had lost three years due to my health condition. However, I persevered, and through God's grace, I managed to complete my primary education with 525 marks out of 700. I then attended Bunyore Girls, where I achieved a B grade. After that, I pursued a Bachelor's degree in Education Arts, specialising in English and literature, at the University of Nairobi Kikuyu campus, graduating in 2005.
How did your health progress after the intervention? After the operation, it took time for me to heal. I initially used a wheelchair for almost a year before starting physiotherapy. Standing up again after being bedridden for over two years was a painful process, but with God's help, I persevered. Eventually, I transitioned from using calipered shoes with crutches to using calipered shoes with elbow support.
After graduation, were you able to secure a job? Yes, I have been working as a teacher in Kilifi County since graduating. I also serve as a preacher to high school students through the KSCF Ministry. Over the years, I have progressed in my career, starting as a teacher at Kakoneni Girls and later becoming the Deputy Principal of Kombeni Girls from 2013 to 2016. Through affirmative action, I was then appointed as the Principal of Moi Kadzonzo Girls, which is an Extra County School. In 2015, I was honoured as the second runner-up for the best teacher in Kilifi County.
What other accomplishments have you achieved? I am a trained and registered Associate Counselor with the Kenya Professional Counselors Association. I am also the current Chairperson of Music in Kilifi County. Moreover, I am fully registered with the National Council of People Living with Disabilities. In addition to these achievements, I have written six books, two of which have already been published. One is a collection of high school poetry, and the other is titled "1001 Wisdom Quotes for Successful Living" which caters to people of all backgrounds. The remaining four books are currently in the pipeline, awaiting publication.
To whom do you credit your success? Firstly, I attribute all my success to God Almighty. Without His grace and guidance, I would not have been able to overcome the challenges I faced. Additionally, I am grateful for the unwavering support of my parents, Mr Fredrick Anyango and Mrs Joanne Oduol, who never wavered in their belief in me despite the discouragement from others. My siblings also stood by me with love and support, despite the stigma our family faced due to my disability.
I am also thankful for the acceptance and encouragement I received from my nursery, primary, and secondary school teachers, who recognised my leadership skills and appointed me as the deputy head girl in primary school. I hope that my experiences can encourage and uplift others who may be facing their own obstacles, reminding them that they too can overcome and achieve their dreams.
Related Topics