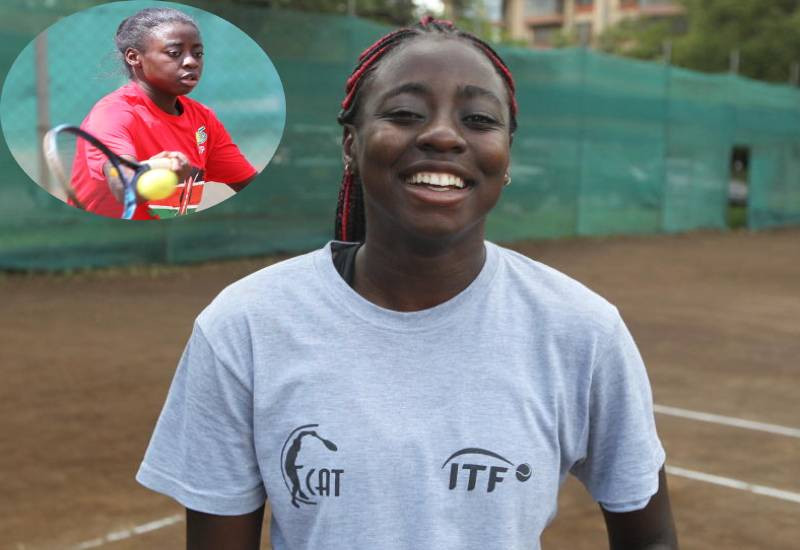 No one had seen this coming. Not even the queen herself; Angela Okutoyi.
Finally, she's part of an enviable history. A history that most of her age mates only dream of.
At last, she's delighted to have put Kenya on the global map, tennis speaking, after her history making performance in England, where she became the first Kenyan to win a Grand Slam title at the girls' juniors Wimbledon event, where she partnered with Dutch Rose Marie Nijkamp.
Undoubtedly, Kenya is known for its unmatched athletics prowess, with notable names that like Eliud Kipchoge, David Rudisha and Ferdinand Omanyala...
However, the narrative is slightly starting to take a turn if Okutoyi's recent exploits are anything to go by.
The former African Under-18 champion is a girl on a mission, no doubt.
Okutoyi, who is a member of the Grand Slam Player Development Programme/ITF Touring Team, and Nijkamp, defeated Canadian pair of Victoria Mboko and Kayla Cross 3-6 4-6 (11-9) in the final of Wimbledon Open doubles Junior Championships at the grass courts of All England Lawn Tennis Club.
The duo started the final on the back foot after losing the first set 6-3 to the Canadians.
They recovered in the second set, winning it 6-4. The Kenya seed one and the Dutch then sealed victory with an 11-9 triumph in the tiebreaker against the fourth-seeded Canadians.
Speaking to Standard Sports, Okutoyi expressed her delight after she achieved one of her dreams of winning an international title.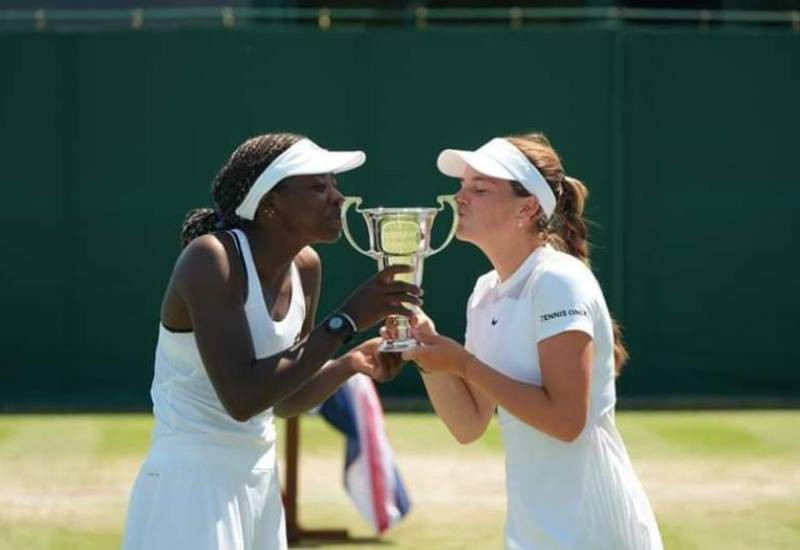 "I feel great and happy to have represented Kenyans well. I would like to thank everyone for their support as we continue to grow," posed Okutoyi through a telephone interview.
Okutoyi now turns her focus to the US Open Junior Tennis Championships.The US Open Junior Tennis Championships are scheduled for August 29 to September 11, at the USTA Billie Jean King National Tennis Centre.
Okutoyi now surpasses history made by two other Kenyans who have competed at Wimbledon; Christian Vitulli and Paul Wekesa.
Vitulli reached boys' doubles quarterfinals in 2006, while Wekesa was eliminated in men's singles first round in 1996.
Okutoyi grabbed the headlines on Friday after becoming the first ever-Kenyan player to make it to the finals of a Grand Slam tournament.
Okutoyi and Nijkamp came from behind in both sets to knock out third-seed Lucija Ciric Bagaric (Croatia) and Nikola Daubnerova (Slovakia) 6-3, 6-4 on the grass courts of All England Lawn Tennis Club to qualify for the final.
Her star started to rise in 2018, after she became the youngest player to win the Kenya Open, then aged 14, after upsetting the experienced three-time former champion Shufaa Changawa 6-1, 7-6 at Nairobi Club.
In the same year, she won the Africa Junior Championship on Clay Court (AJCCC) Under-14 singles in Algeria before following it up with singles and doubles triumphs at the ITF East African Under-18 Junior Circuit, ITF Nairobi Junior Open and Eastern Africa Zonal Championships Under-16 in 2019.
She was crowned 2021 Africa Junior Champion later on, before reaching new landmarks this year.
In May, Okutoyi made history after progressing to the second round of the JA Roland Garros (French Open Juniors).
The former Africa Under-18 champion became the first Kenya to win a grand slam match at the French Open.
Okutoyi defeated 17-year-old Belgian Amelie Van Impe 7-6, 6-4 in the round of 64.
Related Topics