Mercy Kahenda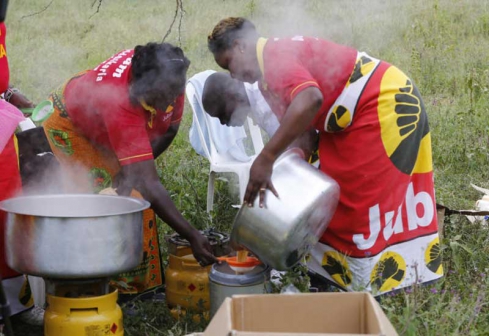 ALSO READ: Cameron Diaz reveals why she had to retire from acting
It is hard to even imagine the agony of family and friends of victims of the helicopter that crashed in Lake Nakuru on Saturday. And for close to one week now, they have camped at the lake hoping the bodies of their loved ones will be recovered.
A combined team of divers has already found the bodies of Apollo Malowa and Anthony Kipyegon. Three more - of Sam Gitau, Veronicah Muthoni and John Mapozi - are yet to be recovered. Recovery efforts have attracted several people since the accident in the 54-square-kilometre lake. Some want to help but lack the necessary skills. That is why 16 local women have come up with a different way of supporting the efforts.
Energise rescuers
Because they cannot dive, the women have decided to cook meals to energise the rescuers as they carry on with their work. The women have been reporting to the lake at 6am to make breakfast not only for the recovery team but also families and friends of the victims. Mary Wanja, who is leading the team, said they would have joined the divers if they had the skills.
"But since we are not able to dive, we decided to serve them meals." Ms Wanja said they were touched by the divers' dedication to the recovery efforts, which was why they opted to help.
"We love the way they are co-operating with each other. But we knew they would not be as effective on empty stomachs and that is why we decided to offer them meals," said Wanja.
"The idea to provide meals for the divers was conceived the day the accident happened, when we visited the scene. We felt bad for the families of those who had perished as they waited anxiously for the bodies to be recovered. We really wanted to be of help. That is why we decided to feed them. It was the best we could do."
ALSO READ: Activist Stella Nyanzi announces run for Kampala MP
The group approached Nakuru Town East MP David Gikaria, who was pleased with the idea and agreed to finance them. The women's efforts have gone some way in making things a bit more bearable for the divers and victims' families. "We feed at least 500 people every day. People can only work well when they have energy," said Wanja. "We serve not only the divers but anybody who comes here because of this accident."
Beatrice Njeri, another member of the group, said for them, providing food was the best way to condole with the bereaved families. "I wish I could dive into the lake and help to recover the bodies but I lack the skills. The best I can do for now is to serve meals," she said.
Also recovered from the lake so far is a briefcase belonging to the pilot, a first aid box, earphones, a plane chair and door, logbook and a piece of metal with '5Y' written on it.