Home
/
Achieving Woman
Woman beats all odds: How injured MCA trounced rivals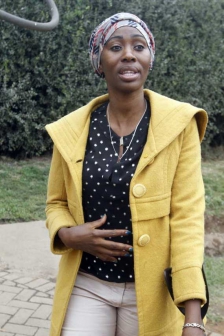 The accident not only fractured her bones, but her political dreams as well
Some of her opponents wished her dead while others spread rumours that she had sacrificed her friends for personal gain
Politics in Kenya is a man's world, but Millicent Mugadi is fighting for her space.
She beat nine other candidates to win the Ziwani/Kariokor Member of County Assembly seat.
In fact, she is the only woman county assembly member who has been re-elected. This despite the fact that she did not campaign after she got involved in an accident in April, this year.
On April 9, Mugadi escaped death narrowly after a vehicle she was travelling in collided with a lorry at Gilgil, along the Nakuru-Nairobi highway. The crash left four other occupants dead — three on the spot and another one upon arrival at St Mary's hospital where they had been rushed.
What do you love about Kenya?
Political battle
Mugadi sustained multiple fractures which saw her confined to a wheelchair throughout the campaign period.
"My biggest fear was not losing my position but being unable to walk again," said Mugadi.
When she was discharged from hospital after a month, the Ziwani MCA said she did not intend to run for political position.
"The accident did not only fracture my right leg and arm. It fractured my political aspirations and dreams," she said.
However, Mugadi said, the belief people had in her strengthened her aspirations, making her go back to the race.
"This was not without challenges. What with being a woman who is unable to walk and the sole survivor of a fatal accident," she narrated.
"All sorts of political narratives were formed to derail my course. Some people wished me dead while others spread rumours that I had sacrificed my friends for personal gain," she added.
She says she chose to use her challenges to build herself and accomplish her dreams and that of the people she represented.
Supportive party
"My political party and other female politicians were very supportive. They encouraged me and pushed me to pursue my ambitions," she said.
Mugadi said she was unable to campaign and relied on her team to do the job for her.
"It was a big challenge since some of the voters would insist that they wanted to put a face to the name," she said.
Attempts by her opponents to portray her as 'a sick woman on a wheelchair' bore no fruit as the residents picked her to lead them for another five years.
She pushed against all odds to retain her seat and stands now as the only woman MCA who got re-elected in the 2017 Nairobi county assembly.
In the county assembly she will be joined by Patricia Mutheu who was elected as an MCA for Mlango Kubwa, while Rose Ogonda represents Kware ward.
Laini Saba is represented by Cecilia Ayot while Esther Chege is the new ward rep for Nairobi South.
Related Topics