Home
/
Skin Care
Causes of back acne and how to clear it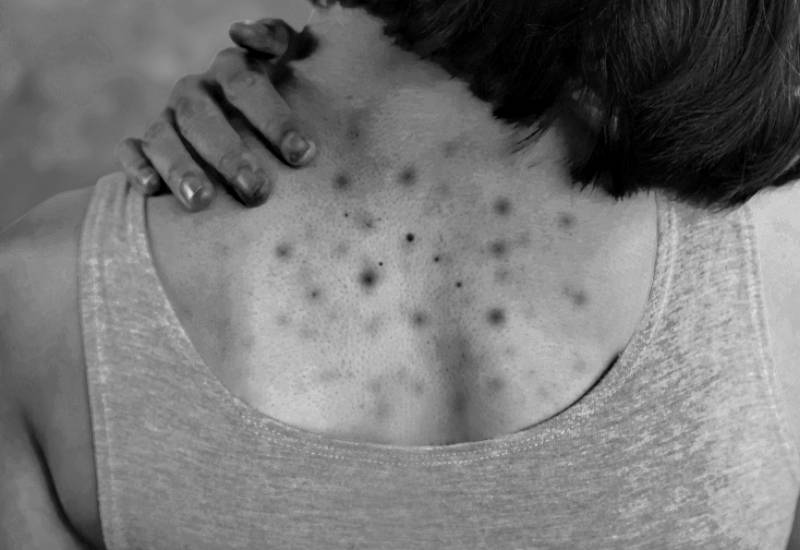 If you're one of the lucky ones who escaped the wrath of pimples during your younger years, count yourself blessed. However, for some, even that doesn't always remain the case.
Even at your much older years you can still get blackheads and breakouts. And here is the thing, you can't choose where they pop up.
Your upper arms, chest, butt - yes you read that right, neck, shoulders and here is the kicker, the back so much so that it has its own name, bacne.
Teens and adults alike, no one is spared.
This common skin condition can appear as a few spots to larger clusters and if they remain untreated can lead to permanent scars.
A word of caution though, should you experience painful acne on your back area it is important to seek a dermatologist's help.
With that out of the way, let us get cracking with what causes bacne and how you can get rid of them.
1.Excessive oil production
The same factors that cause facial acne are the same behind back acne. Excess dead skin cells, overactive oil glands and acne causing bacteria are the culprits behind your skin problems.
When your hormone levels in your blood rise, your glands react by producing excess oil. When that and dead skin cells buildup and trap the follicle, it blocks the pores leading to blackheads and whiteheads.
This leads to bacteria multiplication which triggers inflammation and the formation of pus.
2.Skipping showers
Life can get crazy we know but that shouldn't stop you from taking a few minutes to take care of yourself first before you start preparing dinner and running after the kids.
Instead of burying yourself in chores, take some time to rinse off especially if you have just gotten home.
The reason you could be having bacne is because just like your face, the sebaceous glands secrete sebum and that together with the sweat, dirt and the dead skin cells build up leading to blockage thus creating inflamed pores that break out.
3.Tight clothes
If you don't change your gym clothes immediately after your workout session that could exacerbate the problem. Tight gym clothes that aren't breathable tend to trap oil, sweat and oils for hours which can trigger breakouts.
That combined with the friction and constant rubbing the hair follicles will lead to infections. That is why you need to shower and change into clean clothes immediately after your gym session.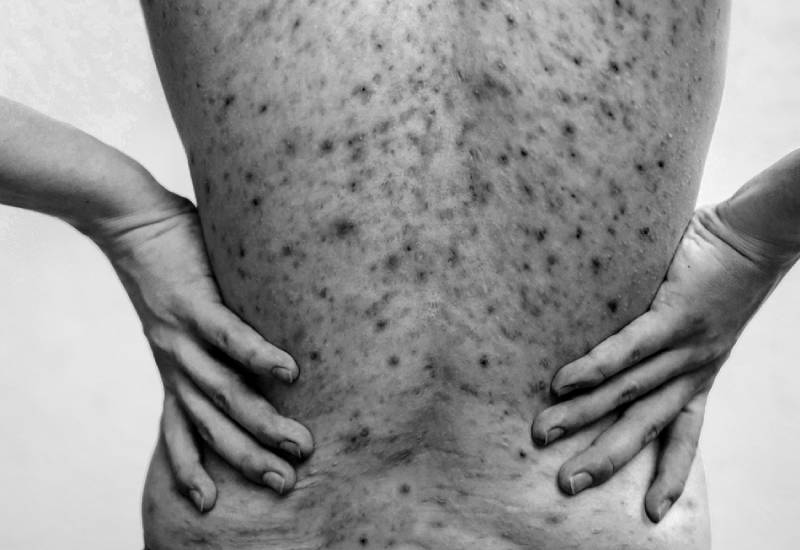 Treatments
The right foods will give your body all the nutrients it needs and the benefits. Cut back on dairy, sugars, white flour and other refined carbs that lead to a spike in your blood sugar which lead to inflammation and before you know it, you're battling acne.
You want to focus more on fruits, vegetables and drink the daily recommended amount of water to keep your body hydrated.
Sometimes this could be where you're going wrong. Failure to change your beddings can lead to sweat, dirt and bacteria buildup which can irritate your skin throughout the night.
Wash your bedsheets with a mild detergent and change them every week.
If you have a family history of acne, that could be the reason behind your back acne.
For this reason, you should get a cleanser that has glycolic or salicylic acid to prevent and cure already existing acne.
Compared to medication, cleansers tend to be gentler and can be used regularly. If this doesn't cut it then maybe you can step up to a topical cream or oral medication prescribed by your doctor.
Stop using certain products
Sometimes we could be looking at all the wrong places while the cause was right under our noses all along.
Soaps with harsh chemicals, astringents and abrasive scrubbing could worsen your acne.
You want to invest in good quality, natural, chemical and fragrance-free products for your body at this moment. A good loofah will go a long way in scraping off the dead skin cells.
Related Topics