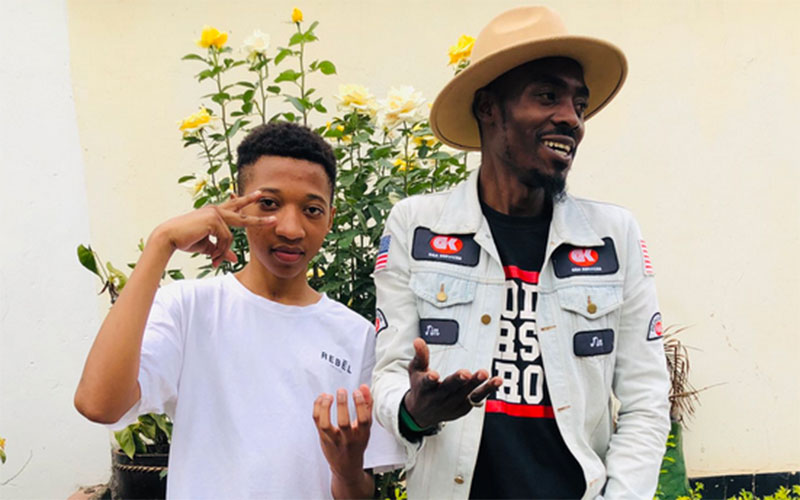 Kenyan teen rapper Trio Mio's mother Irma Sakwa has dissociated her son from his former manager, Edwin Osigro better known as Wilkins Fadhili. She accused Wilkins of conning her son over Sh100,000 and therefore, they no longer need his services.  Announcing the news on her social media, Irma warned netizens against accepting future transactions with Wilkins on behalf of her son.
"Wilkins Fadhili is no longer Trio Mio's manager. This guy has perfected the art of conning. This character has conned my son over 100k and still counting. Beware! He's not allowed to transact any business on behalf of my son Trio Mio," she wrote.
READ ALSO: Failure to check mail cost me opportunity of a lifetime- Wilkins Fadhili
Irma's accusations come hardly a week after businesswoman cum podcaster Suzie Wokabi exposed the self-proclaimed brand strategist of disappearing with her raw podcast footage to independently source for clients.
"Hello all, this is a bit of a public service announcement. Beware of Wilkins Fadhili Odinga, he has done it again and on behalf of everyone that he has messed up this time around, I feel that it is my responsibility to expose him. First off please note that he has nothing to do with any of my brands and if he dares use my name anywhere there will be consequences to pay. He was my podcast manager and has managed to disappear with a bunch of my footage that we shot and using my name to get clients," she wrote.
Old habits die hard
Unfortunately for Wilkins, this is not the first time he has been accused of deceiving Kenyan celebrities in the name of managing them.  In 2019 Wilkins was unmasked by netizens for pretending to manage notable Kenyan celebrities to con people.  According to Olive Karmen, "This is what this guy does. He calls you for a meeting (he is so persistent), he sells to you this amazing idea of building your brand. After the meeting he insists on taking a selfie with you then BOOM! He posts it and captions like y'all have been working together already."
READ ALSO: 'Cheza Kama Wewe' sensation Trio Mio speaks on E-sir comparisons
Apologetic over his actions, Wilkins took to Twitter to apologize to everyone he faked being associated with, promising to change his ways.  
"I want to apologize for using your names. I would love an opportunity to apologize to you personally and sincerely. I am good at brand development and for my clients this entails personal branding, brand strategy and brand experience. I've worked with a few brands and I am really passionate about this. I have worked really hard to help guys grow their brands through my programs. This is my passion."
After the expose, Wilkins turned to podcasts where he has been hosting celebrities before embarking into brand strategy.