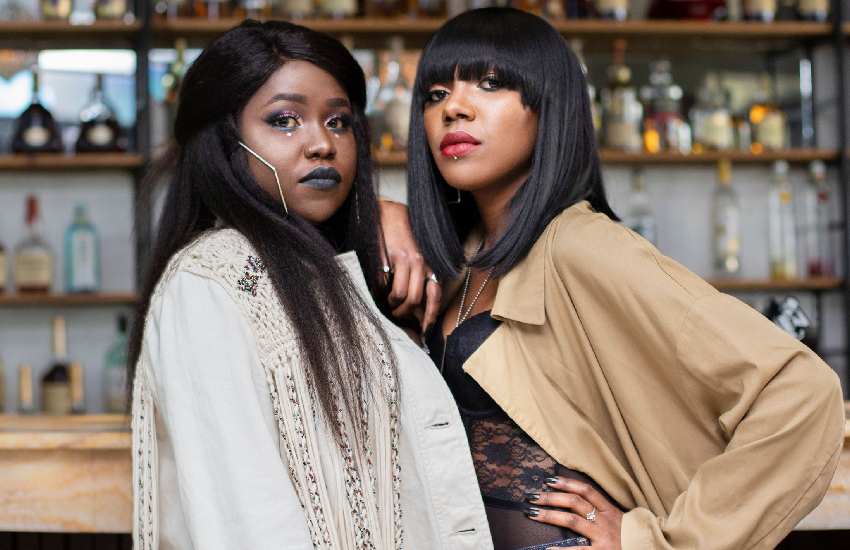 It takes more than just courage to bounce back and keep on doing what you are doing with even more oomph, and this is what the former girl band Linda now Nadra have proven. During an interview with Standard Entertainment & Lifestyle, the dynamic duo showed more than just passion for music.
It's Saturday and Onyx Lounge and Restaurant is filled with a buzz of activities, many eager to hear what the band has in store for them. They are here to stage a performance with the Covid-19 regulations having been well observed. The stage all set with the instrumental band in the background preparing for the EP Launch, I find the ladies in the prepping room doing the final touch-ups on their makeup, before they get on stage. We are in for a good time.
Read Also: Award-winning singing duo Linda rebrand to Nadra
Nadra, meaning rare in Swahili, the band definitely brings out the concept of contemporary music in the most uniquely different type of way. They introduce themselves as Leah and Racheal, brushing the room lightly with jokes as they take us through the process of writing their new EP, Love Teaser. "It more or less speaks on and to the many heart-breaks and the people we have across in our lives. We needed it to be about love, something everyone can relate to," Racheal reiterates.
Taking us down memory lane, their chemistry and bond is truly stronger than anything from the way they relate, considering the fact that they met way back in 2016 in a Karaoke performance, where they officially became a band. They disappeared from the limelight after a short while, management being one of the reasons why they had to split up and that is how the third member of the band left the group. They lost focus on various things in life such as work, which was quite stressful.  Then the reunion!
"Individually we have our own strengths and when we combine talents, the best comes out of us. We can't say that we completely broke up but that we left our first management, and it took some time to get back to where we were," they told Standard Entertainment & Lifestyle. They reveal that their biggest music influence in the music industry right now is Nviiri the Storyteller saying the strategy he uses in whatever he does musically is truly amazing.
Leah adds that they are looking forward to being the women in the industry who push things to the next level. "The male gender has been dominant in the industry for the longest time, and we just don't want to become women in the industry, we want to be big artistes who are taken seriously, people to appreciate our craft and nothing but a clean job during our musical career," she says.
Read Also:Meet Calvin Mwita, fast-rising actor ruling Australian film industry
 "People are not ready for what is coming. We want to give our fans different tastes of music, such as hip-hop, reggae and R&B and we don't want to be put in a box.  Its music you can do what you want as long as it sounds good," they conclude.