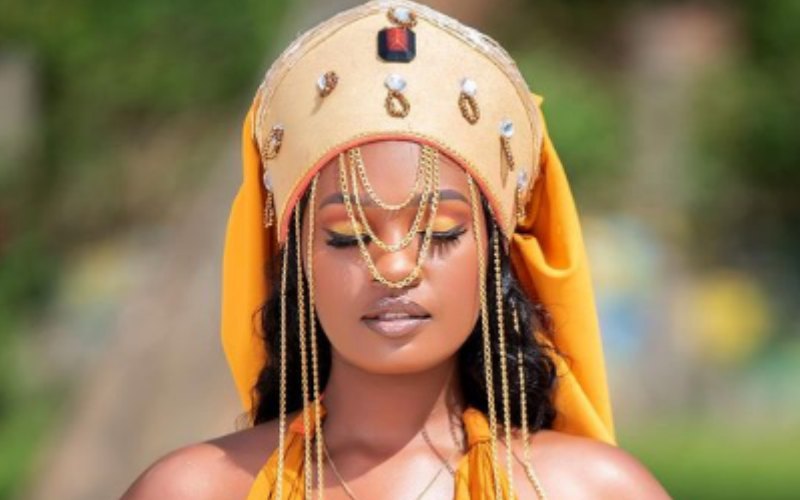 Content creator Maureen Waititu is ready to try her luck in the dating scene once again.
Revealing her plans in a recent TV interview, the mother of two stated that despite the turmoil and public humiliation she went through with her ex and father of her children, fitness trainer Frankie Kiarie, she is still optimistic that true love does exist and hopes to find it soon.
Maureen is however not looking to get into a relationship with just any man, according to her, she is only willing to settle down with a God-fearing bloke.
"I still believe in love, I have a lot to offer. My heart was broken but I am filled with love now. I would be interested in a man who has certain values that I'm looking for. I pray to God to bring me a man who is God-fearing," said Maureen.
Maureen assured that after a long struggle to accept the break up with Frankie, she finally settled and is at peace now. She however regrets the manner in which they chose to address their personal matters adding that she tried her best to make things work out.
"People laughed at me, telling me to move on. Where do I go to? Currently, I am happy. My heart is settled. I regret that there was a lack of respect all through the process. But on my side, I really tried. The more I kept quiet, the more I became hurt," she added.
Lessons
Addressing her break up with Frankie in a previous post, Maureen admitted that she learnt the hard way not to put her relationship on social media. Because of this, the popular YouTuber vowed to keep all her future relationships off the social networks including her future lover.
"When we got on social media with Frankie, we did not know. We were very young. Very innocent. I will never put my marriage out on social media. I can tell people there is someone but not show him off.
"I have regretted. Anything that goes on social media is permanent. If you show people a lot, they will scrutinize. People say things they do not know. Although the truth hurts, I will never show my man on social media," she added.
Trying to make amends?
Oblivious of their brawl, Frankie took the opportunity to wish Maureen a happy Mother's day. According to him, Maureen is an amazing mother despite the nature of their relationship.
"To Maureen; throughout the years, we created lasting memories and above all that, beautiful boys. Lexi and Kai are the best gift you've given me and even-though we have our differences, you still remain a good mother. Happy Mother's Day," he wrote.
Unlike Maureen who is still trying to navigate the dating scene, Frankie moved on from their relationship almost immediately after their break up with businesswoman Corazon Kwamboka.