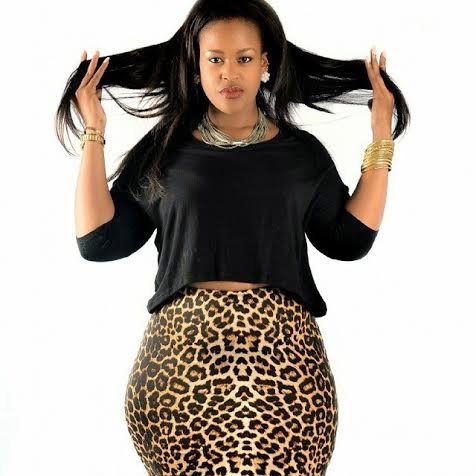 Pulse: How did you manage to land a TV job as an anchor at only 21? Michelle: It was not part of my plans and I did not see it coming. For starters, I was a third-year Law student then at the University of Nairobi (UON) when I bumped into one of the directors of the company I am working for. He asked me if I had ever thought of becoming a TV anchor and that is how it all came together.
P: Had you ever thought of getting into media? M: Well, as a young girl in secondary school, I used to admire TV anchors but that was just that. After he asked me to go for a screen test, I gave it a shot and at the back of my mind I thought I had really goofed. After a few weeks, I was called to sign my letter. I had gotten the job.
P: You say you were in campus then, and here was a fulltime job... M: Well, balancing the two was quite a challenge but well, this was a blessing from God. Law and the media do complement each other. I was only 21, a young girl who had been going on with her normal life and here I was, on screen, facing an entire world and expected to deliver. I sort of had to change my character and along the way, I lost some friends but that is life.
P: Did you grow up here... I mean, what's with the accent? M: (Laughs) I grew up in Nairobi, South C to be precise. My family lives here. I have an elder brother and a younger sister. My dad is an engineer and my mother has been in the media for as long as I can remember.
P: Media? She must be such an inspiration to you... M: Yes she is. She is my number one fan and my greatest critic. She is a professional film producer but she is currently at the Ministry of Sports, Culture and the Arts. She is a very good influence.
P: How is it being a TV anchor since 2013? M: It has been both crazy and challenging. Like I said, I came in when I was 21 and I was here competing with experienced anchors that are in their 30s and 40s. I even got some programmes to run and I basically had to take up the challenge. It has matured me and gotten me to learn many things in life that I wouldn't have probably learned. The media opens you up to the world. I am one person who believes in exploiting your potential when you are young so here I am, giving this my best shot.
P: Does it bother you when men try to get a piece of you? M: Honestly, not anymore. Of course it was an issue when I started but you learn to handle such with time.
P: Guys still drop flowers at your office, I mean, those anonymous secret admirers? M: I wish I would have more coming (Laughs). I wish this happened more often.
P: And it's not like you are in a relationship... M: I think when I got this job, relationship issues went through the window (Laughs some more).
P: Your demeanour can easily make people think you are a snob... M: I get a lot of people thinking like that until they meet me and realise that I am not.
P: Naturally, you are an outgoing person? M : I love travelling. But with the kind of job I do, that has slowed down a bit. I love to read. I also love my sleep. There is this Kamene part of me that is serious and there is Michelle, who loves her fun. You should have seen me dance in the rain during my friend's birthday the other day.
P: Funny, so media is your world now? M: I love where my life is right now but can hardly predict what the future holds. I love the legal world. But since I am a believer, I let God guide me.
P: Who do you look up to, in the media? M: I have a lot of respect for Julie Gichuru. She is a lovely person, she is articulate and professional... and everything good. I do respect Njoroge Mwaura a lot. He is the father of the industry.