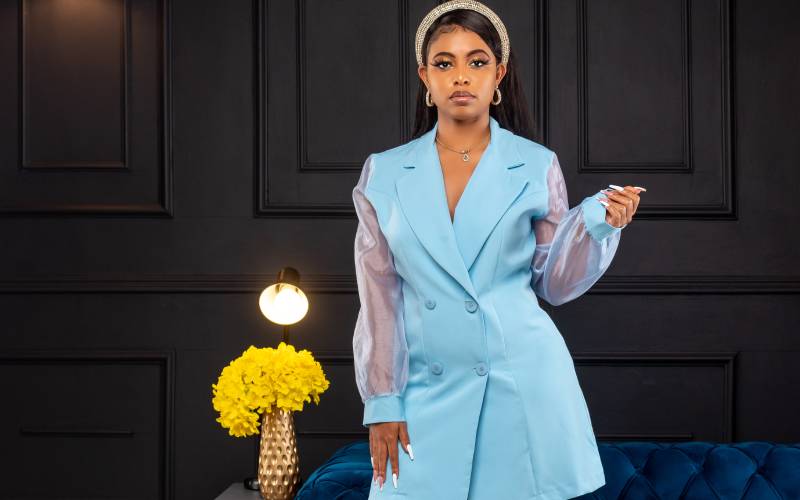 Talanta Mtaani TV Show is now entering its 6th season on KTN Home and the host, Marilyn Nduku will double up as the new Operations Manager for the organisation. At a youthful age and in an enviable management role, Marilyn, 26 will serve as the face of the show as well as oversee all the organisation's activities in search of the country's next big star.
How would you describe your style?
Simple, timeless, classy and chic. 
What inspires your look every time you step out?
Honestly it is the mood I am in for me but most importantly I need to feel comfortable and confident in whatever outfit I rock. The weather too does play a huge role in my choice of dressing. 
What is the best style advice you have ever been given?
People would kill to see you fall and crush your crown when you are young and fabulous. Invest unapologetically in styles that work for your body shape and always accessorise. 
Shoes or bags?
Oh lawd!  Shoes!!!  Shoes!!!  Shoes!!! I am a total sucker for classy comfy shoes. The number of shoes in my rack is ridiculous. 
Whose closest would you wish to raid?
Internationally, I would be convicted for breaking into Jordan Craig's wardrobe. Locally, Haentel Wanjiru's style gets me all the time. I would be guilty as charged. 
Why?
There is something elegantly catchy in their simple sense of style. Not too loud yet catchy to grab everyone's attention when they step into a room. I just love their style. 
Catch me dead wearing?
Bright eye shadow. I find it so chaotic and it takes away your shine. 
What three items do you always have in your bag?
Wipes, lip gloss and candy.
Favourite places to shop?
I really do not have any specifics. I see it, I like it, I buy it, period!
Does your new managerial role limit how you dress as a youthful boss?
No, it does not. I work in the entertainment industry so the dress code is not as strict as other fields although dressing in outfits for different occasions comes in handy. I know when to go corporate and you would easily catch me in my chic element on a casual weekend.