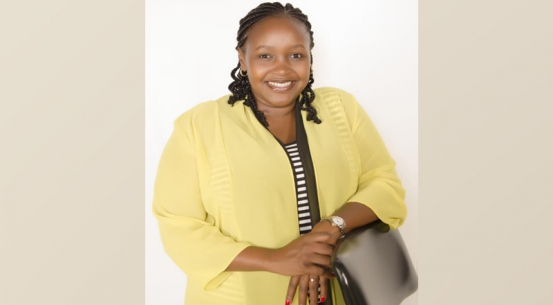 Our politics is highly tribal, yet you have many admirers from different ethnic communities...
I think our generation is not about tribes anymore. The bulk of the voters in this election are between 18 and 35 years old.
This is a group that does not know how to fall back to tribal cocoons as has been the case a generation or two ago.
Could the fact that you are young and beautiful be a contributing factor?
Leadership cannot be about looks and beauty. Content is key, and I thank God for giving me beauty and brains.
How did you end up in Musalia Mudavadi's party?
I was a founder member of the UDF (United Democratic Front) and the national treasurer of the party. UDF evaluated everyone's contribution and strength to decide who could fit where.
That is how I ended up being nominated to the Senate by UDF. When I joined the Senate and supported the government, my then presidential candidate Hon. Musalia Mudavadi was not happy and attempted to expel me from the party.
The case was taken all the way to the Political Parties Disputes Tribunal and it was ruled that he had no authority to expel me. When Mudavadi formed Amani National Congress (ANC), we dissolved UDF and I joined Jubilee Party.
How did you get into politics in the first place?
I started with student politics in campus as the finance secretary of the Organisation of Nairobi University Science Students (ONUSS 2004/2005), then vice chairperson of the Organisation of Nairobi University Science Students (ONUSS 2005/2006) and eventually, vice chair (academic affairs) in the Students Organisation of Nairobi University (SONU-2006/2007).
After university, I was among the founders of the Kibaki Tena team that spearheaded former President Mwai Kibaki's re-election bid in 2007. I was the lead community mobiliser and strategist for the Kibaki Tena secretariat.
There is a great deal of hatred on social media among the youth. As a young politician, what is your message to them?
My message to the youth, especially on social media, is that this country belongs to them. Let them not be used to fight unnecessary wars and more importantly, note that anything one says even on social media can be used against them.
We have seen the prosecution from such utterances but more critical is the fact that even employers are nowadays relying on what one posts and says on social media, and they may deny you a job even though qualified based on your negative image on social media.
If you ask Wanjiku, she will tell you the Kenyan politician is dishonest, selfish and corrupt. Is this fair judgement?
It is not fair to make a blanket condemnation. Everyone should be evaluated on their own merit.
I pray that we shall get to a point where Wanjiku does not expect handouts from politicians and instead vote for honest leaders of integrity.
Some male politicians in Bunge are notorious fisis. How do you deal with that?
Hahaha! I believe you have to set ground rules right from the beginning. If they know your principles and what you stand for, they will keep off and give you the respect you deserve.
How will you help the people of Gilgil to recover following the closure of the fluorspar mine?
Gilgil is a rich constituency that has the capacity to become an industrial hub due to the availability of land as a factor of production, and I hope to work closely with the two levels of government as envisaged in Article 189 of the Constitution.
I will also endeavour to initiate small industries. The mining sector specifically needs a lot of government support to be able to become self-sustaining. In Parliament, we are currently looking at the Mining Act regulations with a view to effectively implement the Act.
What is the long-term solution to the food crisis?
Subsidies will work in the short-term, but eventually, we must have long-lasting solutions. The government had started mega projects and since agriculture is a devolved function, county governments prioritise provision of water for irrigation and focus on food production at that level.
Ensuring each primary school has water is also a good idea of ensuring communities are self-reliant. The business environment must also be looked into to ensure (food production) industries are able to break even.
This can be achieved through cheaper power, subsidies and an enabling political environment.
What did you achieve as a nominated senator?
As a senator, I don't have a kitty that can help me drive the development agenda I would want for my people. However, with limited resources, I have been able to help sink boreholes, rehabilitate old ones and lobby for electricity connection to most of the boreholes, besides putting up a 150,000-litre water tank.
I have also introduced self-help groups in Gilgil, something that was not quite common here four years ago. Further I have created a working link between the community and The Kenya Wildlife Service for a healthier co-existence, especially around parks and conservancies in Gilgil.
At a glance
Schools
Rwathia Primary School in Kangema Constituency, Kahuhia Girls High School in Murang'a,
University of Nairobi – BSc. Statistics.
Favourite high school teacher
Mr. Muiga my Mathematics teacher.
Favourite unit in campus
Time Series.
Current read
'Lean in' by Sheryl Sandberg.
Best meal
Kienyeji chicken, ugali and manage.
Role model
Locally - Phoebe Asiyo and Wangari Maathai
Internationally – Margaret Thatcher.
Related Topics