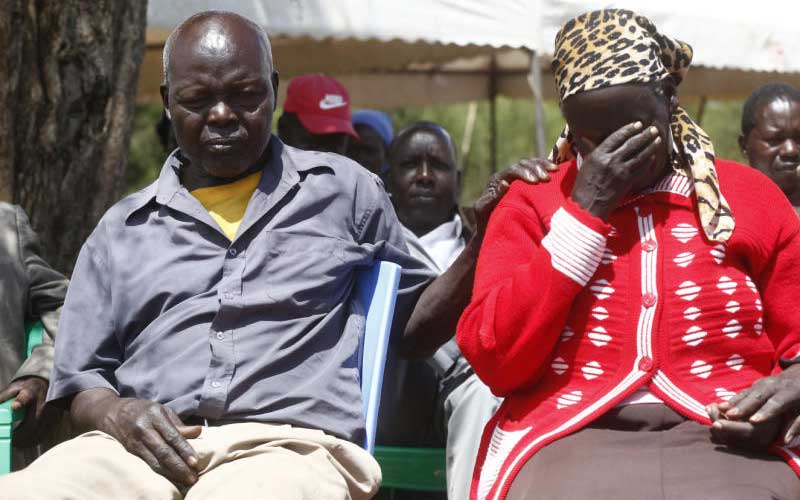 A family is Mogotio, Baringo County is mourning its 35-year-old son,
a police constable who was killed in Kayole
, Nairobi. Joel Chesire, a Police Constable attached to Obama Police Station was shot dead alongside his colleague by armed criminals on November 8, 2019 while on night patrol. Chesire and his colleague were patrolling Mwengenye area at around 4am when they were ambushed and killed near the Saika-Kayole bridge by a gang. The family of Constable Chesire at their Ebenezer village is yet to come in terms with the gruelling news.
SEE ALSO: Uhuru's balloon internet video call excites residents
According to Chesire's father, Charles Kigen, the death of his son is a blow to the family. "He was a gentle young man who had a bright future. He was everything in this family. I feel so sad especially for his young children and wife," Mr Kigen said. Chesire left behind a wife, Lydia Yatich and three young children aged between one and 10 years old. "We are yet to recover from the shock. The neighbours seemed to have seen the news on social media platforms first and even after some elders came to tell us, we could not believe it. It was not until that evening when we got a call from the police headquarters," Mr Kigen said. When Standard Digital visited the family, Chesire's mother Miriam Kigen could barely speak. Chesire's wife Lydiah, had travelled to Nairobi to follow up on the case.
SEE ALSO: Shock after pupil is defiled in hospital ward
"He had come to visit us a week before we were told he had died. he was everything to us because we relied on him for so many things. I just want the government to bring justice by arresting the killers who cut short the life of my son," Mrs Kigen said. Corporal Chesire had served in the police service for thirteen years since he was employed in 2006 just after completing high school. "He did not even enjoy the fruits of his labour. He had just moved out barely a month to his new home. His last born child is barely a year old," his brother John said. The family and neighbours eulogised the son as a hardworking and disciplined young man who was yet to accomplish a lot in life.