Mudavadi's on revenge mission; to hurt Raila, he must love Ruto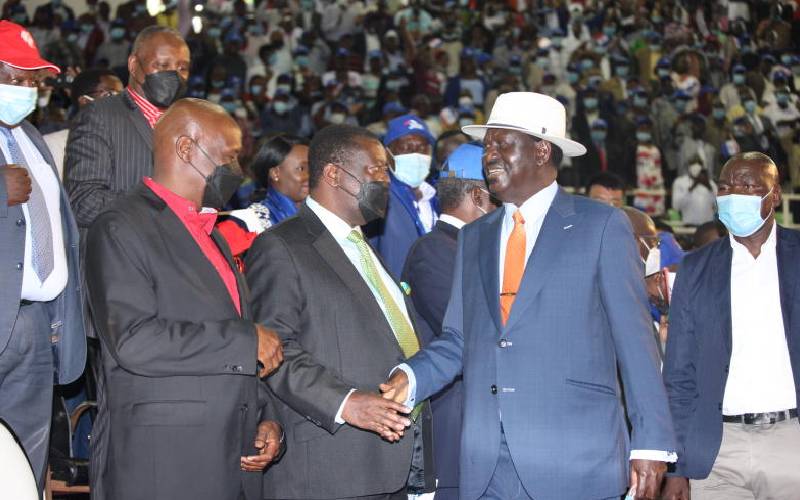 Musalia Mudavadi's chances of going all the way to the ballot are high because his goal is to revenge against Raila Odinga. Reading his political pilgrimage presents a politician who, like his counterpart Kalonzo Musyoka, is used to playing sabotage politics against Raila Odinga. However, when he is weak, he goes to Baba for revitalisation. This time, he's determined to show Agwambo that he matters.
Like Kalonzo in 2007, I believe Mudavadi went to the ballot in 2013 to deny Raila presidency by spoiling the western votes. He somehow succeeded! However, Just like Kalonzo, who joined Raila in 2013 and 2017 for political cleansing, Mudavadi tried a Raila political hyssop in 2017. Did it work?
This year, Mudavadi had braced to challenge Raila in the western region. But his former political priest, Francis Atwoli, blatantly anointed another king in the western and proclaimed that the gods of Mulembe had weighed Mudavadi and found him wanting. But the son of Mudamba has established another political altar on which to offer political sacrifices—hustlers nation. Will he find a solution there?
I still hold that William Ruto cannot take Mudavadi as a running mate, at least not for now. Therefore, Mudavadi must be satisfied with minor positions in Ruto's projected government. Why? Because the Samoei proselyte does not work with presidential material—he prefers working with less experienced politicians. Thus he projects an image of a leader who mentors politicians 'younger' than him to maturity. Contrarily, it could be playing safe and protecting his dominion from possible coups. The latter scores better.
Then what was the earthquake for? Methinks Mudavadi's earthquake was a strategy to disengage from OKA. And, if I'm right, the mission was accomplished! So, we are likely to see Mudavadi back to his State House 'dream' in due time. Is that possible?
There are various reasons why a presidential candidate might decide to go all the way to the ballot, even when their chances of winning are low. The first reason is generally political immaturity. Political tender feet don't know how to handle the dirty game of politics. They try to be honest with politics and play gentle and clean. Politicians per excellence are ready to change their forest every time the 'political monkey' in them feels disadvantaged. Politicians must be prepared to use and to be used, to eat and to be eaten, and to be the master or the 'mastered', sometimes by their erstwhile juniors.
Another reason is to widen the voters' choices and try their luck. For the latter, history has it that sometimes, the much-hyped two horses might lose and pave the way for the third force to pull a surprise win. It's rare, but it's a motivation to many.
A significant reason for some politicians to go to the ballot is sabotage and revenge. When politicians betray one another, which is part of the political strategy, the aggrieved candidates might want to prove to their nemesis that things can be challenging without them. So they decide to spoil the votes and help the opponent indirectly. That is precisely what Kalonzo did in 2007. That is what Mudavadi did in 2013. They had one thing in common. Both were punishing Raila. Was it conscious? Yes, because political moves are extremely intentioned.
That is exactly what Mudavadi is likely to do this year; it is a brilliant political move on his side as he tries to clip Raila in the western region. His choices are limited. To hurt Raila, he must love William Ruto. This is how; voters in western Kenya who aren't decided because they don't want to vote for Raila or Ruto will vote Mudavadi. They would prefer Raila over Ruto if they lacked another choice. See, that's why Mudavadi is Ruto's important weapon forged against Raila in the western. The dance isn't over yet!
Dr Ndonye Is a Lecturer of Communication and Media. @Dr_Mndonye