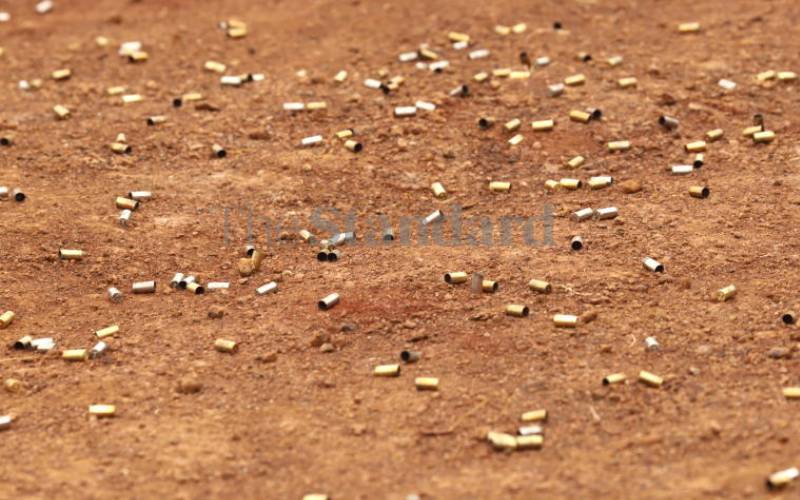 A clergyman is nursing serious bullet injuries after being shot by people suspected to be police officers in Homa Bay County.
Joseph Mireri was admitted at Homa Bay County Referral Hospital after he was hurt on his right thigh and leg.
Mireri is a Church elder at Makongeni Seventh Day Adventist Church in Homa Bay town.
He sustained the injuries in a shooting incident that occurred at Homa Bay Pier at 8 pm on Friday.
Mireri's wife, Janet, said her husband met the ordeal when he went to Homa Bay town to shave his hair and wash his car.
According to Janet, Joseph had left the car being washed at the Pier and went to the barbershop on a motorbike.
When he returned, he paid the man who was washing the car and began driving back home.
But after he moved about 40 meters, three men who were dressed in civilian clothes attempted to stop him. But he decided to speed off in fear that they could be gangsters.
But a few meters away he found a vehicle blocking the road.
This forced him to stop since he could not drive further. He suddenly heard gunshots that deflated his car wheels.
The shots were followed by others on the windscreens.
Two of the bullets hit his thigh and the leg.
"They ordered him to get out of the car before inspecting it. They found a Bible, an envelope for tithing, a hymn book, gas cylinder and dog food," Janet said.
After walking out of the vehicle, they ordered him back.
"They wanted him to jump into the vehicle but he had no strength," Janet said.
They eventually took him to Homa Bay County Referral Hospital for treatment.
The clergyman's family called on the government for justice.
"My husband was shot by people who are supposed to accord him security. We want to know why he was shot. All we are praying for is justice for my husband," Janet added.
Efforts by the Standard to get comments from police in the county were futile.
Homa Bay town has witnessed cases of robbery by criminals targeting M-Pesa operators.
Early this week, an M-Pesa operator was robbed of Sh250,000 by criminals who were armed with guns and knives.