Kenya sees little financial gains despite paying price for stability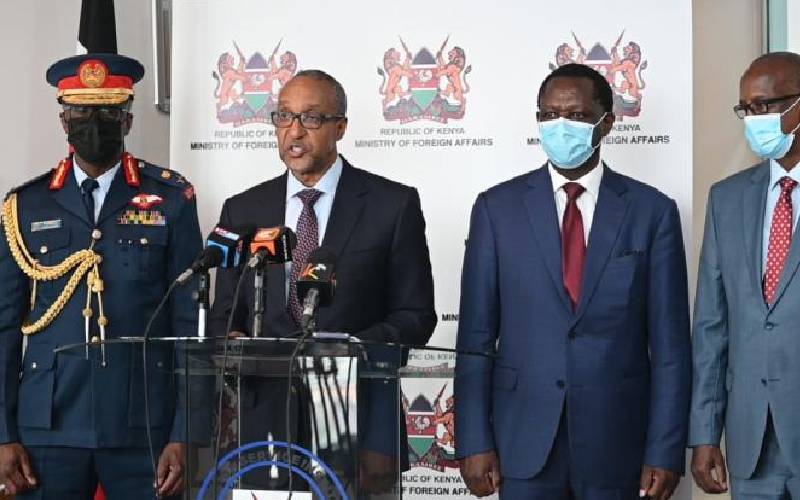 The ruling by the International Court of Justice (ICJ), that experts largely agree favoured Somalia over Kenya may have opened a can of worms for the region in the long term. It is unlikely that the status quo will change both in the short and medium term. As expected, Kenya has rejected the decision of the court in totality while Somalia has welcomed it and urges her neighbour to accept it.
For obvious reasons, I shall not duel on the legal merits or demerits of the ruling. My focus here would be on the broader socio-economic and political variables at play that could significantly affect both countries growth and development prospects. While border-related disputes between the two neighbours are not new (dating back to secessionists attempts in 1962), the timing of the current dispute does not look coincidental.
Kenya got a breakthrough in her 55-year search for oil and gases, a valuable treasure in the post-industrial revolution world, on March 2012 with the discovery of oil fields in Turkana. This was soon followed by another huge discovery in the Lamu basin, within the disputed area. On social media, some of our neighbours seem happy that they shall now harvest from the sweat of our brow. Unfortunately, the issues at play are not as simple as many people may want to believe.
They represent a complex web of socio-cultural, economic, security, political and diplomatic mine fields that will require a lot of wisdom from the two nations' leadership in the coming days and years. As President Uhuru Kenyatta and Somalia's Mohamed Farmaajo have correctly stated, no one chooses who her neighbours should be. Thus, for as long as we remain under the sun–and/or until the rapture happens–the two nations will have to co-exist.
The developmental state of the world and the advancement in technology has completely altered the arc of history into more integration and globalisation as opposed to the erection of more geographical boundaries. To imagine otherwise is to live in a fool's paradise, economically speaking.
Having said that, countries engage and interact with each other primarily based on national interests and the preservation of the socio-economic welfare of their citizens. Theirs is never a romantic nor a filial type of love relation among sovereign states. At minimum, countries engage based on transactional, often exploitative and at best mutual relations. It thus becomes the solemn and moral obligation of every nation to protect and advance their national interests. That is what defines the geo-economic, geo-political and diplomatic relations among nations.
That would explain why after sacrificing enormous material resources and the lives of our gallant sons and daughters to bring a sense of stability into our neighbours' troubled history, they would still take us head on over a boundary dispute. Even in the circumstances, the world would expect us to sustain our engagements there as if nothing happened. It becomes a moral and ethical question.
However, the issues at hand reflect a broader African continent problem. While the Almighty gifted us with a vast reservoir of natural endowments, it appears to be our curse instead. One cannot stop wondering: suppose the oil and gas deposits were not discovered within this disputed area, would this matter have erupted in its current form and nature? Why is it that almost all enormously endowed nations in Africa seem to suffer from the same fate? Armed internal conflicts, civil strife, aristocratic leadership styles, and dysfunctional democratic and governance systems?
Troubled region
Nothing better encapsulates this salient reality of the African continent than the aspirations and goals proposed under Agenda 2063 by the African Union (AU). Read together and in totality, they seem to speak of a troubled region struggling to find a spark to redirect its growth and developmental path. Surprisingly, the agenda was adopted in January 2013, about five decades after individual member states attained self-rule, save for South Africa.
But that's not the problem. It is an open secret that Africa–collectively as a whole or individually as member states–has never been deficient of colourful developmental blueprints. We had our own Sessional Paper No. 10 of 1965 and its connection to the Singapore economic miracle of the 20th century.
Even now, Vision 2030 remains a mirage eight years to the target date. As a good student of economics and a practitioner in the public sector, I have no memory of any forum where I heard any policymaker or senior political leader argue for a case of Agenda 2063. Yet, my country is said to be the economic powerhouse in the wider eastern Africa region.
If this were true, is there any other country in the continent keen on the target goals? How about the flossy flagship projects proposed therein? Who is responsible for their implementation? Who is supposed to pay for them? If the smaller regional goals like those of the East African Community have been hard to achieve, are we going to get to the continent-wide targets?
One thing that scholars and students of economic history will be watching and/or tracking is what this current potential conflict portends for the eastern Africa region and the continent as a whole. Unfortunately, the continent's leadership has no bankable history of resolutely confronting the misdemeanors, excesses and, at times, atrocities of one of their own. Armed with that reality, we can only wait and see.
One of the painful lessons for the country's leadership is that our internal mediocrity is not scalable to the international scene. It is either we get it right the way other sovereign, self-respecting nations do or we suffer enormous economic, political and diplomatic consequences. The mainstream media, insider sources and experts have chronicled policy gaffes, strategy blunders and sometimes plain incompetence on the part of responsible public officials over the decade-old period the dispute has been brewing. I suppose it is about time people must take responsibility.
Two, in an earlier article on this page, I did demonstrate with trade flow data from the AU how the country has missed on the trade bonanza in South Sudan and Somalia to her neighbours. Yet, Kenya has played a critical role in the peace-mediation processes and ongoing conflicts in either of the two countries. United Nations COMTRADE data shows a significant drop of Kenya exports to Somalia in 2020 when the dispute escalated at the court. The exports dropped from a high of over $190 million (Sh20.9 billion) in 2017 to $106.92 million (Sh11.76 billion) in 2020 at current exchange rates. This would be expected to decline further with the escalation of the conflict by the ICJ ruling.
There is overwhelming empirical economic evidence that a shared border, culture and coastline have significant trade and hence economic benefits. The larger of the two or more neigbouring economies enjoys the highest trade benefits. Despite the huge price we have paid for the peace and stability of the region, we seem to have completely missed out on the consequent economic benefits.
Finally, at policy level, the nation's leadership and powers-that-be must do a candid soul-searching to establish where the rain started beating us. It is baffling how the largest economy in the region could be playing second fiddle to her lesser neighbours.
The world order as we know it today is defined first by economic power, second, military power and, thirdly, a clear and unambiguous foreign policy. That is what earns a nation the bragging rights of 'super power' status at the global stage or within a region, and/or seat of honour among the community of nations.