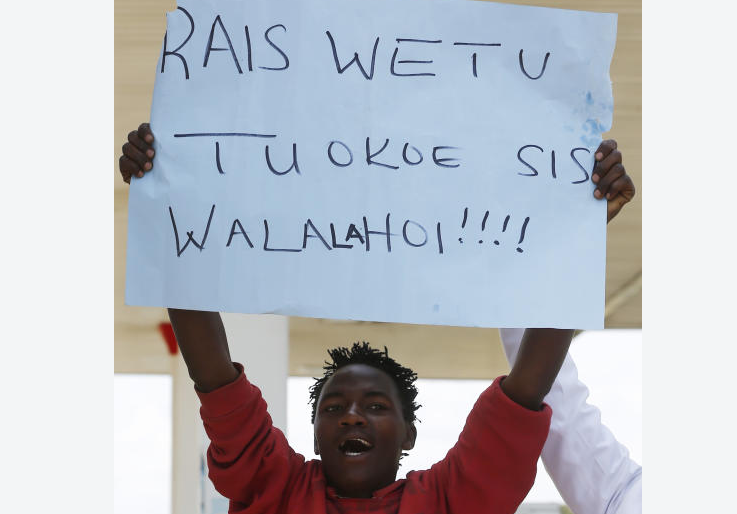 Legislators are divided over new taxation and cost-cutting proposals pushed by President Uhuru Kenyatta. The rift widened ahead of the crucial special sitting of the National Assembly tomorrow afternoon to consider the President'smemorandum detailing his reservations about the Finance Bill 2018 and supplementary estimates outlining various budget cuts. Those opposed to the President's memorandum that recommends 8 per cent value added tax (VAT) on petroleum products argue that Kenyans should not be burdened with additional taxes that raise the cost of living. The supplementary budget estimates are expected to contain wide-ranging spending cuts on non-priority areas such as hospitality, seminars, foreign and domestic travel that the President hopes will help to plug the financing gaps in this year's budget.
SEE ALSO: Coast MPs plot to form own party
Some undecided members say they will make up their minds once they see details of the President's memorandum and after getting a brief from their party leaders during separate Parliamentary Group meetings scheduled tomorrow morning before the debate in the afternoon.
Separate meetings
Both Jubilee Party and Orange Democratic Movement (ODM) will hold separate meetings to adopt a common stand on the President's tax proposals. A divided House is an advantage for the President because it will be harder for MPs to override his recommendations as doing so requires a two-thirds majority, which translates to 233 MPs. It will take 233 MPs to veto the President's proposals, which would mean reverting to the Bill as passed by the House suspending implementation of the new taxes by two years.
SEE ALSO: Governors wish-list to Uhuru on Covid-19
Many MPs appeared to be opposed to the new taxes, arguing that Kenyans are heavily taxed and should not be punished with additional levies. National Assembly Leader of Majority Aden Duale and Leader of Minority John Mbadi were yesterday reading from different scripts, highlighting the rift over the new tax that has triggered high fuel prices. Mr Duale said he would rally members to support the President's recommendations, which he promised to make public in the House on Tuesday, and urged Kenyans to ignore reports about budget cuts. "I will formally table the proposed budget cuts in the supplementary estimates 2018 during the special sitting in the afternoon," said Duale. "This week, I will also table the Supplementary Budget 2018. We will lobby to have a bipartisan approach to the issue so that we unanimously pass changes amicably in the House."
SEE ALSO: Uhuru: Inside last 735 days as President
No cuts
He said there would be no cuts on the National Government Constituencies Development Funds (NG-CDF). Mr Mbadi on the other hand has vowed to oppose the the petroleum tax. "We don't need any VAT on petroleum products. Even if it is 8 per cent, it is not good because it still has a spiral effect on the economy. We have a meeting on Tuesday where we might take a position against the Presidents' proposals," he said. "I don't expect a partisan approach to this matter. In fact, the majority of Jubilee MPs have indicated they will oppose the proposals. We are still insisting on zero VAT on petroleum products," Mbadi added. Cherangany MP Joshua Kutuny said the proposed 8 per cent VAT on petroleum products was still too high for the majority of Kenyans and opposed suggestions to slash the NG-CDF budget. "The MPs have already budgeted and planned for various projects in their constituencies and it would be improper for the Executive to fix its eyes on reducing the NG-CDF," said Mr Kutuny. Makueni MP Dan Maanzo said no country could develop through the raising of taxes alone. "There is no country that has developed through taxes alone. The President must deal firmly with corruption so that the money lost can be utilised for development. We will look at other proposalsmade by the President," he said. While supporting the reduction on the percentage tax, Ugunja MP Opiyo Wandayi urged his colleagues to approach the matter with public interest in mind. "Uhuru's proposed reduction of VAT on petroleum products from 16 per cent to 8 per cent is a welcome move. I personally support it as a matter of principle. It was a delicate balancing act. The matter should not be approached by Parliament from a Jubilee-ODM perspective. It requires a bipartisan approach," said Mr Wandayi. Dagoretti North MP Simba Arati said the country should abandon some projects to save money. "The fact remains that even one per cent is too expensive for mwananchi. There is no way we can pass that proposal. The public is already over-burdened. We will return it as it was. Why, for instance, do we need to use billions to build the Somali wall? We can shelve such projects and divert that money elsewhere," said Mr Arati. Others called for dialogue on the issue. "We should consider what the President has proposed. I have no blanket opposition to the proposals. We should look at where he is coming from and meet in the middle," said Homa Bay Woman Representative Gladys Wanga. Others accused the National Treasury of misadvising the President. "The President needs to change his team of economists because they are misleading him. You cannot grow economy by increasing tax," said Tongaren MP Eseli Simiyu.
Marshal votes
Yatta MP Charles Kilonzo said they would marshal at least two-thirds of the 349 MPs to override the President's rejection of the Finance Bill 2018. "We are determined to get the required numbers to reject all the proposals by the President," said Mr Kilonzo. He cautioned Jubilee MPs against siding with the President instead of the people who would be the most hurt by the new petroleum tax. "Why would an MP want to make the President happy by not contradicting him? Our role is to protect the common mwananchi," he added. "As a member of Jubilee Party I want to stand by the public," added Kuresoi South MP Joseph Tonui. Nominated Wiper MP Sammy Seroney said the President was wasting Parliament's time by sending the Bill back to the House. "The Bill will return as it is," he said. Nelson Koech (Belgut) said MPs would go through the President's memorandum keenly and ensure that what they passed was in the best interests of the common mwananchi. "Although I am a Jubilee legislator, I want to be on record that I will reject any proposals by Treasury to tax Kenyans to their last coin," he said
. [Additional reporting by Steve Mkawale and Nikko Tanui]