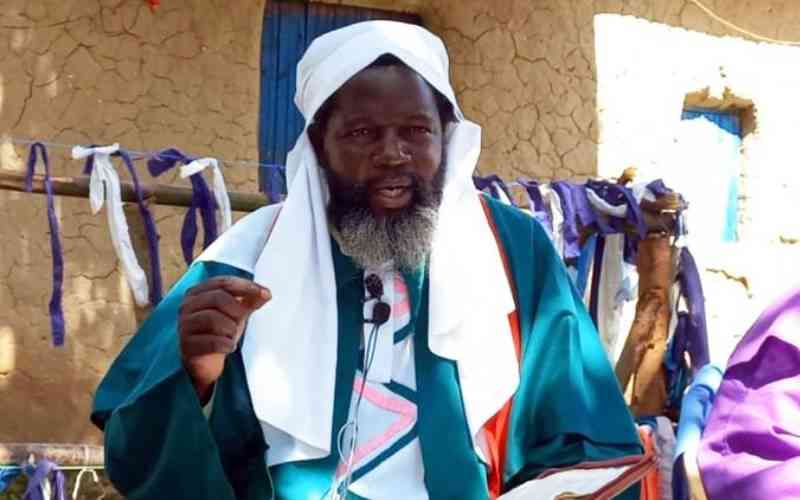 As the world marks Easter season between today (Friday, April 7) and Monday, April 10, in Tongaren, Bungoma County, some 350 kilometres northwest of Kenya's capital Nairobi, "Jesus" is fasting and praying as he waits to celebrate his Easter season in July.
Forty-two-year-old Eliud Simiyu Wekesa has gained fame as "Jesus of Tongaren".
In the Biblical teachings (1 Corinthians 15:3–7), Jesus Christ died and resurrected after three days, in what Christians have come to celebrate as Easter.
Easter has traditionally been celebrated in the month of April among Christians.
Eliud Wekesa, who has gained the moniker Jesus of Tongaren, however says he has evidence, as per his interpretation of the Bible, that Easter should be celebrated in July, and not April of every year.
"I heard some people in my Lukhokhwe Village neighbourhood saying I should be crucified, just like Jesus Christ. Some of them even came to my homestead carrying a hammer and six-inch nails. I prayed and they had an immediate change of mind and went back," Wekesa told The Standard.
Asked why he doesn't celebrate Easter in April like other Christians, he said: "Biblically, April is a month characterised by killing. I wouldn't want to celebrate Easter on such a month. My interpretation of the scripture says Easter should be celebrated in July, and not April."
Wekesa plans to celebrate the current (April) Easter season by fasting between Friday and Sunday, holding mass on Saturday and engaging in Biblical teachings on Sunday.
The father of eight has a wife, who refers to herself as Angel Benjamin.
"The Holy Book frowns upon polygamy. I'm married to only one wife, with whom I have eight children," Wekesa said.
Asked whether he fears if some residents would attempt to forcefully crucify him this Easter season, Wekesa said: "No. I have supernatural powers. They can't even attempt to crucify me. My homestead is easily accessible. That tells you I don't fear anything."
Wekesa, who until his transition to "Jesus" in 2009, was originally a member of the Catholic Church.
"In 2009, a vision came to me from God that I'm Jesus on earth. I felt the power and the transition was heavenly," he said.
Wekesa, a Form One dropout, says he feeds his family through farming proceeds. He grows maize, sorghum and sugarcane in his farm in Lukhokhwe Village.
Wekesa further said he likes milk, indigenous vegetables and meat.
What is his belief on life after death? "I will die and resurrect, as it has been stated in the Bible."
Wekesa refused to speak about his primary family, saying "they abandoned me after I had the vision that transitioned me into Jesus. They claimed I had gone mad".
On Thursday, April 6, The Standard caught up with him at his home in Tongaren, where he locked himself, his wife and a few members of his church. They were singing and dancing to praise songs.
"I was human before I became Jesus. So, people should not be surprised when I lead a human lifestyle," he said.
Related Topics