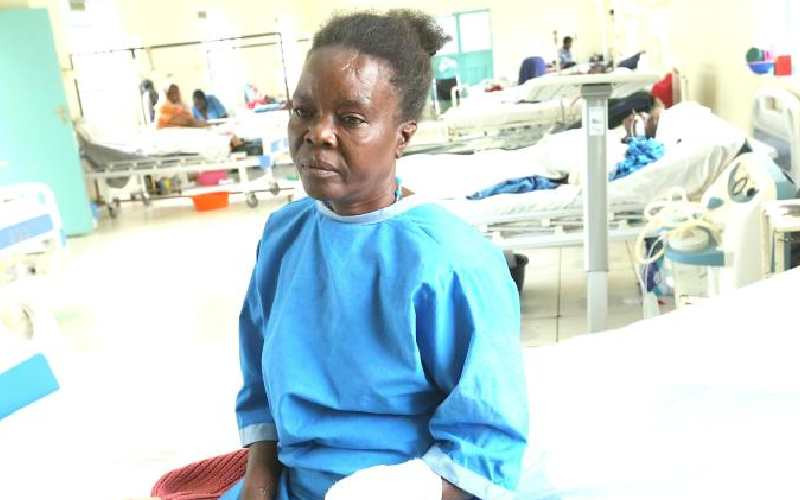 Leonitah Mutole's first thought as she sits pensively on her bed at the Kakamega County Referral Hospital is whether to sell her piece of land or never return to her home for fear of her life.
"Do not kill or cut me, just beat me and spare my life," Mutole said from her bed in Kakamega County Referral Hospital's ward seven on Tuesday, her words dripping with bitterness.
Mutole, a widow from Ebushitsula village in Ikolomani constituency, Kakamega, lost her husband eight years ago.
She recalls Saturday evening last week when her brother-in-law stormed her home, attacked her, and mercilessly slashed her left hand at the wrist, leaving her for dead.
"I am concerned because the suspect is still roaming free, and I do not believe it is prudent for me to return to my home because it is not a safe place for me after I pleaded with my brother-in-law not to kill me," Mutole said.
The 47-year-old says her brother-in-law came baying for her blood around 7pm, accusing her of bewitching his father and brother, both of whom died in hospital within two weeks. The suspect attacked her while she was cleaning her compound with her son, accusing her of the two deaths.
A confrontation ensued, and the suspect nearly slashed her neck if it hadn't been for her left hand stopping the machete. Even her son's attempt to help her did not bear fruit after he was overpowered and cut his finger before fleeing for help.
The accusation came from her brother-in-law after he heard his mother blaming Mutole.
"That is when he picked the machete and stormed my home. I told him I had nothing to do with the deaths but he kept beating me, injuring my right hand and forehead before chopping off my left hand."
She went on: "I just saw my hand rolling on the floor in a pool of blood before falling unconscious."
"After the attack, I fell unconscious. I do not know who brought me here (the hospital) and how."
Mutole says her brother-in-law has a criminal record and recalls him attempting to cut her with a machete when she asked him to pay her son's debt years ago.
"This boy has been in prison for 15 years for robbery with violence, and he was released in 2017 after he appealed the case. This is not the first time he is threatening and injuring people, and it is my prayer to the relevant security agencies to intervene, arrest, and charge him," she pleaded.
After it was discovered that the hand was dead and that doctors were unable to attach it, the Idakho sub-tribe of the Luhya community performed a ritual in which the hand was buried.
Elders say the hand is treated as though someone died, or was killed, which is a bad omen. The ritual is done to cleanse the community and prevent such calamities in the future.
Elder Protus Kimani said, "We had to organise a burial service on Sunday where the family, mourners, and the rest of the community met, prayed, and ate before we wrapped the hand in a box, dug the grave, and buried it."
"If we don't do it, the community will be doomed to frequent bloodshed, death, and wars, and this has put an end to such bad things."
Elder Ernest Chomwo said the culture of Idakho demands that the family of the suspect leaves the community and move far away. "The community and the two wrangling families cannot use the same route, drink water from the same river, and have a conversation. If that happens, it will promote a culture of bloodshed, enmity and death," Chomwo said.
Dorcas Manyasa, who is also married in the family, they are living in fear since the suspect was released from jail.
Kakamega police county commander Joseph Kigen said investigations are underway.
"We will ensure the suspect is arrested."
Related Topics