'Her left hand lay beside her, the other had been chopped to pieces'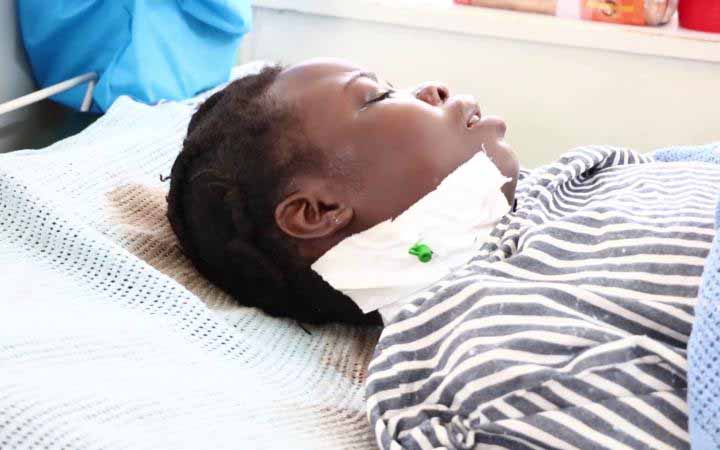 A woman is fighting for her life at the Busia County Teaching and Referral Hospital after she was attacked and her hands chopped off.
The family of Janet Auma claim she was attacked by her husband following a domestic dispute.
Auma's mother Modesta Awino said the two have not known peace since her daughter, aged 20 then, moved in with Ouma two years ago. The couple has a one-year-old baby.
The two had dated for a few months before they started living together. Auma's parents were against their relationship because they felt their daughter was too young for marriage.
"Their marriage plunged into headwinds just months after they started living together. We have tried telling her to quit the relationship but our pleas have fallen on deaf ears," Ms Owino told The Standard at the county hospital.
"Theirs has been a tough relationship. In fact, we have lost count of the times they have fought and she has always ended up sustaining serious injuries. She would come home after being beaten but interestingly, she would always go back to her husband after recovering."
She claimed that after another disagreement 10 days ago, the daughter packed her bags and left for her parents' home in Burinda village, Butula constituency.
"I told her there was no way I was going to allow her to return to her violent husband. I feared for her life," said Awino.
But on Monday, the husband is said to have followed her to her parents' home and attacked her with a panga before fleeing using a motorcycle. Owino said she had sent her daughter to fetch firewood so they could make breakfast when the man confronted her.
"I heard Auma screaming. I rushed to where she was picking firewood and found her lying in a pool of blood, unconscious. Her hands had been chopped off and she was bleeding profusely. The left hand lay beside her and the other one had been chopped into pieces. I saw her husband escape on a motorcycle. I saw him. He was still holding the machete he used to attack my daughter. He wanted to kill her," Awino said.
Auma's grandmother Margaret Atieno said: "My grandchild had a promising future. She wanted to become a teacher. The attack has shattered her dreams."
Boda boda riders responded to the screams, but they were too late. "It would be a different story had the riders caught up with him," said Atieno.
"We are calling on the police to speed up investigations and make the author of this heinous act face the full force of the law."
Joseph Oduor said he has always intervened whenever his cousin and the husband quarreled.
"It never occurred to me that their differences would get this serious. We fear the suspect could launch another attack if he is not arrested swiftly," Oduor said.
Bumala Sub-County Police Commander Jacob Chelimo said they are following some crucial leads in the hunt for the suspect.
He called on the public to volunteer information to help police arrest the culprit.