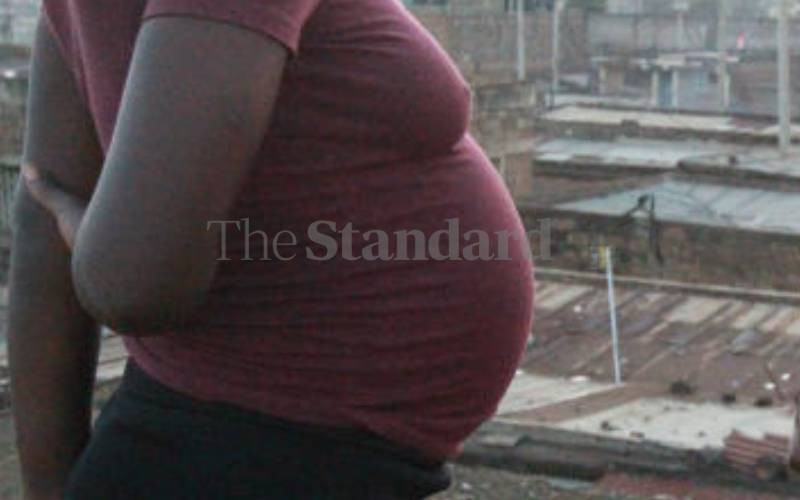 After the initial shock and denial of finding out she was pregnant at 15 years, Branice, a resident of Musuro village in Baringo walked to Marigat Hospital to procure an abortion. Instead, she took counselling and enrolled in an Antenatal (ANC) clinic.
Once on her own, however, she opted to terminate the six weeks pregnancy as she feared she would drop out of school, and face the stigma that comes with teen pregnancy.
"I secretly visited a herbalist who mixed some herbs and juice to induce an abortion," narrates Branice. "I did not want to give birth because I do not have the financial muscle to raise a baby or the stamina to do manual jobs."
Two days after the abortion, Branice developed chronic pelvic pain and was forced to seek treatment at a private clinic.
Health experts are worried about the rising numbers of teens like Branice opting for unsafe abortions that risk death, illness, and infertility, forcing the country to spend millions of shillings on post-abortion care.
The concerns come as 2022 Kenya Health Demographic Health (KHDS) data reveals that teenage pregnancies average 15 per cent, with some counties recording more than 30 per cent.
Prof Koigi Kamau of the University of Nairobi's Department of Obstetrics and Gynaecology said in Kenya, abortions occur in 16 per cent of all pregnancies, the majority being teenagers and women in their 20s.
Women who undergo abortions, according to the expert, should seek treatment to prevent related deaths and illnesses.
If not treated, a patient risks developing abscess (pockets of pus), chronic pelvic pain, and partial or full blockage of fallopian tubes, leading to ectopic pregnancies.
Some patients present with infected placenta, and septicemia (a highly infectious bacterium that infects the blood, causes shock, and death, if not treated.)
Kamau said unsafe abortions can also destroy the uterus and ovaries, leading to infertility.
"Post-abortion care is not illegal but it is a service offered. Anyone who undergoes abortion should seek post-abortion care, to prevent deaths and related illness," said Prof Kamau.
He added, "If a patient gets spontaneous miscarriage and is not treated quickly, they will get infected, and the worst is that the patient can die."
According to several studies in Kenya, unsafe abortion accounts for about a third of maternal death and is the third leading cause of maternal deaths and near-misses in Kenya. It is estimated that about half a million abortions occur annually in Kenya, most of them in unsafe environments.
Post-abortion care is the care given to a patient after undergoing an abortion, whether induced or spontaneous.
According to a 2018 report by the Ministry of Health, treatment of unsafe abortion complications cost the public health system about Sh500 million.
The report, done in collaboration with African Population and Health Research and Ipas, is titled 'The Costs of Treating Unsafe Abortion Complications in Public Health Facilities in Kenya'.
The study further showed that treatment of unsafe abortions is costly to the public health system with the average cost of the treatment ranging from Sh 3,264 for mild complications to Sh 9,133 for severe complications.
It was also revealed that, as per the 2012 Kenya Incidence and Complications of Unsafe Abortion study, an estimated nearly half a million induced abortions (464, 690) were performed in 2012.
The study also estimated that 157,762 women received care for complications from induced and spontaneous abortions, of the numbers, 119, 912 received care for complications from induced abortions.
Dr Angela Akol, director at Ipas Africa Alliance said in Kenya, unsafe abortion is a public health concern following increased number of cases reported, and deaths. "A lot of money is spent on post-abortion care, making unsafe abortion a public health concern because we are resource constrained. Post-abortion care is a direct consequence of unsafe abortion," Dr Akol says.
In Kenya, abortion is restricted; the law permits it under certain circumstances. An example of circumstances where abortion is permitted as per Article 26 (4) include in the opinion of a trained health professional, the need for emergency treatment, or the life of the mother is in danger, or if permitted, by any other written law.
But according to Dr Akol, the prevalence of unsafe abortion tends to be higher in countries where abortion is illegal or restricted.
"Everywhere in the world, the rate of abortion is the same, but the difference is, where there are restrictions, there are more cases of unsafe abortion because women resort to unqualified personnel in the backstreets due to stigma, and for fear of prosecution," said Akol.
She said generally, including in Kenya, unsafe abortion is mostly reported among poor or otherwise marginalised women, individuals who are not able to afford services from a trained medical practitioner.
"Cases of unsafe abortion are also more in rural areas, and among people with less education, and cuts across ages, but is more observed in young adults, and older women," said Akol.
According to Dr Akol, to prevent unsafe abortions and deaths, said there is a need of preventing unwanted pregnancy, by expanding access to contraceptives, sentiments shared by Prof Kamau.
Nationally, as per KDHS 2022 report, uptake of family planning in Kenya stands at 63 per cent, of which, 57 per cent represents those using modern family planning methods, whereas six per cent represents traditional methods.
Dr Akol added that youth should be provided with sex education, to enable them to know what options are in place, to prevent unintended pregnancies.
According to the Ministry's report, addressing unsafe abortion in Kenya requires strengthening governmental institutions and agencies mandated to protect women's health to implement life-saving measures within the limits of the law. The measures include promoting women's access to quality post-abortion care, including post-abortion family planning counselling, and improved provision and education about family planning.
Increasing access for both women and men to effective contraceptive methods, particularly long-acting reversible contraceptives, was also listed as an alternative to avert unsafe abortions.
Related Topics