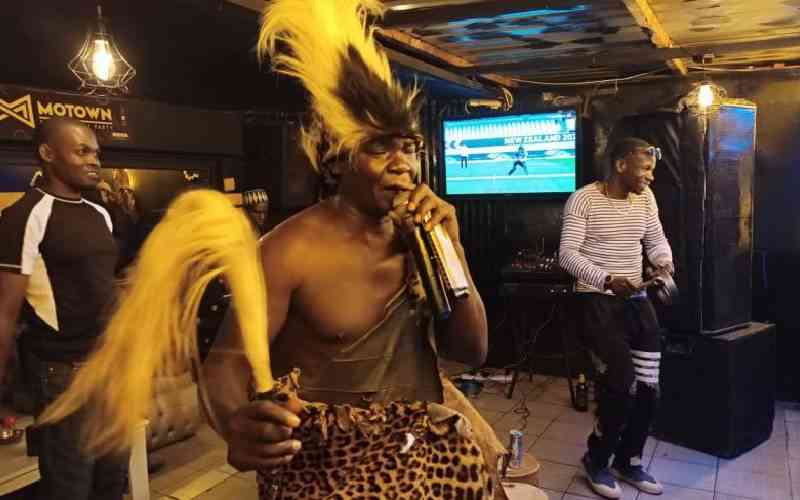 Popular musician Tony Nyadundo is a true depiction of a man who never says die. The veteran artiste has faced the highs and lows of the industry, but says he isn't exiting the stage just yet.
For the last five years, Nyadundo has been on and off stage, perhaps feeling the heat from modern-day Ohangla musicians such as Musa Jakadala, Elisha Toto, Ema Jalamo, Odongo Swagg and Prince Indah.
Observers say Jakadala and Indah have particularly given the veteran musician a run for his money given their quick, but steady rise in the Ohangla industry.
Nyadundo this week come out to shrug off fears that he may have been vanquished by the stiffening competition. "I am going nowhere and I am planning a big comeback. The fire in my belly will continue shaking the industry," he told The Saturday Standard.
He added: "The younger musicians don't scare me an inch. They are not focused and their music can't withstand the test of time. That's why older fans don't identify with them. I am still the Ohangla king."
It took Nyadundo and his brother Jack Nyadundo years to give Ohangla genre the visibility and love it enjoys in the entertainment scene today, their ardent fans say. All along, Benga music was the in-thing in Luo land. Today, however, Benga is struggling to regain traction.
And now, the younger Nyadundo says he is all set for the launch of an album that he says will stir the political scene. He will use it to announce what he calls a grand return. "The album is rich in political adage and speaks to the struggles and unrelenting spirit of Azimio leader, Raila Odinga. The album simply speaks truth to power," he told The Saturday Standard yesterday.
But before Nyadundo launches the album, dubbed 'election time' in June, he is set for a tour of Europe next month, starting with Germany. He will then head to the UK for a series of shows aimed at spreading Africa cultural music to the western world. He says he will be seeking to reconnect with Ohangla fans in the diaspora whom he admits have missed him.
Born at Nyalgiri in 1968 in Mwanza Province of Tanzania, the musician rose from a disco jockey served in night clubs in Eldoret, Nakuru, Mombasa, Nairobi and Kisumu to become a prominent figure.
Old is gold
"Although I'm not proud about these achievements, I attribute them to hard work and I'm not looking back. I am ready again to conquer the world. Getting to the top was my ultimate prize, but it's not easy to remain there. I'm determined to remain there," said the father of six children who at the 2007 Kisima Music Awards, won the traditional music category.
Among his songs that have touched the souls of fans are Ndoa ya machozi' (A troubled marriage), 'Isanda gi hera (A prisoner of love), Dawa ya Mapenzi (The antidote to love), Migingo and 'President Barack Obama'.
The most popular of his tracks, according to him, is Kidi obayo etoke (Stone at the back). His first album Ayaki (HIV and Aids) hit the airwaves in 2002 to the merriment of fans, not just in Luo Nyanza, but across the country.
On his brother Jack and whether they would soon release a collabo piece, he says that contrary to belief that the elder musician long retired, he still stages shows in select places in Narok and Kisumu. "Jack is still going strong in the game," he says with finality. At the release 'President Barack Obama album' in 2008, the artiste says he was summoned by Federal Bureau of Investigation (FBI) agents. "They wanted to know if I was related to Obama and if the song was meant to campaign for him," Nyadundo of Ohangla Boys Band says.
The king has arrived
nyadundo toured US in 2008 and performed in the states of New Walk, Boston, New York, Texas, North Carolina, Atlanta, Georgia, Minnesota and Ohio in a trip sponsored by Kenya Tourism Board.
Asked why he's dresses in leopard skin during his performances, he says it is his trademark that distinguishes him from the rest of the pack. He also says it is a way of perpetuating the Luo culture, which allowed elders to adorn animal skin.
"Many artistes used to pose as Tony Nyadundo to extort money from unsuspecting revelers and I had to come up with a way to distinguish myself from these conmen," he claimed.
Nyadundo said it's time for Kenyans to embrace music as a profession the same way it's taken in the Democratic Republic of Congo where musicians live large courtesy of the prowess in the entertainment industry. An emphatic Nyadundo told The Saturday Standard yesterday he has the controls and will continue to dominate Ohangla charts in the new year.
Related Topics