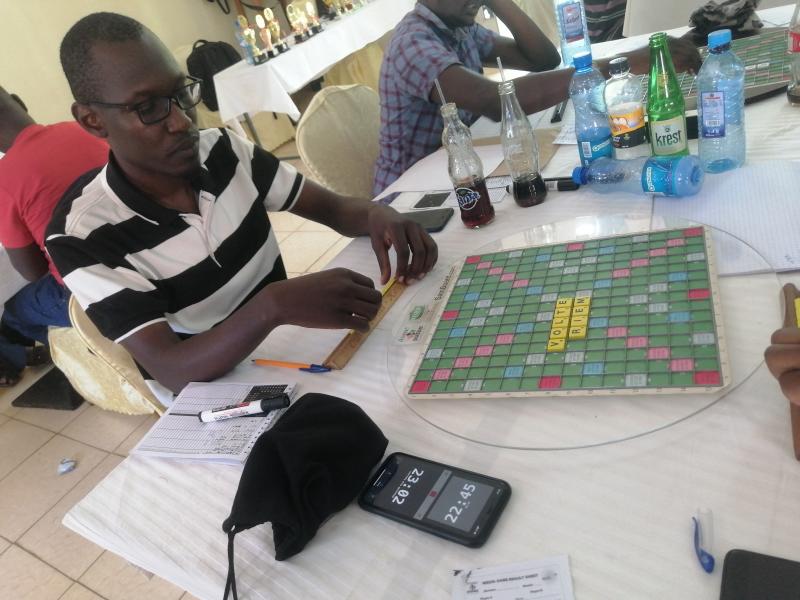 Tobias Outi is the winner of the 2022 Kisumu National Scrabble Championship.
Outi defeated Michael Gongolo 444-419 in the penultimate title decider to emerge top in the Premier Round and win gold.
The Kenya seed three registered 14 wins out of the 18 matches with a cumulative winning spread of 559 points.
This was an improvement for Outi who finished a distant fifth during the opening leg of the Scrabble Kenya National Championship hosted in Nairobi on January 9th. Outi was also third during the Kitui leg last month.
Kenya seed two Gongolo came second in Kisumu with 13 wins and 1327 points as top seed Allan Oyende came third with 12 points and 738 points.
Bernard Koyyoko and Martins Mutahi finished fourth and fifth respectively with 12 wins each and were separated in terms of points.
Koyyoko finished with the cumulative spread of 705 points while Mutahi had 664 points.
Millie Kikechi finished as the best woman with 10 wins.
Tournament organizer Joshua Ogolla said the Kisumu tournament was a great success with a good turn up of Kenyan finest scrabble players.
"The tournament attracted over 60 players among the top seeds Oyende and Gongolo and veterans Joash Manyasa, Sam Midigo and Manase Otieno. We thank KCB Regional Manager Metric Mukalasie, KPLC, Limo Kipkemoi and Wenwa Akinyi for their helping hand," said Ogolla.
"We plan to engage the county government to play a bigger role in scrabble in the county by financing scrabble activities in budgeting to help grow youth in schools within the county."
Joseph Mahinda won the Intermediate category with 14 wins and 1121 points followed by Were Daniel and Ananda Tevin.
In the open category, Ogore David led with 12 wins and 938 points followed by Odongo Teddy and Kipkosgei Aurelian.
Last month, Kenya seed one Oyende won the Kitui National Scrabble Championship after finishing top with 16 wins and 1159 points. He was followed by Gongolo with 13 wins and 920 points and Outi who came third with 12 wins and 415 points.
In January, Gongolo won the Nairobi National Scrabble Championship with 14 wins as Oyende came second and David Kimani third on 13 wins and 12 wins respectively.
The next leg of the national championship will be held in Eldoret in April 2nd.
2022 Scrabble Kenya National Championships Winners
Nairobi-Michael Gongolo
Kitui-Allan Oyende
Kisumu- Tobias Outi
Related Topics