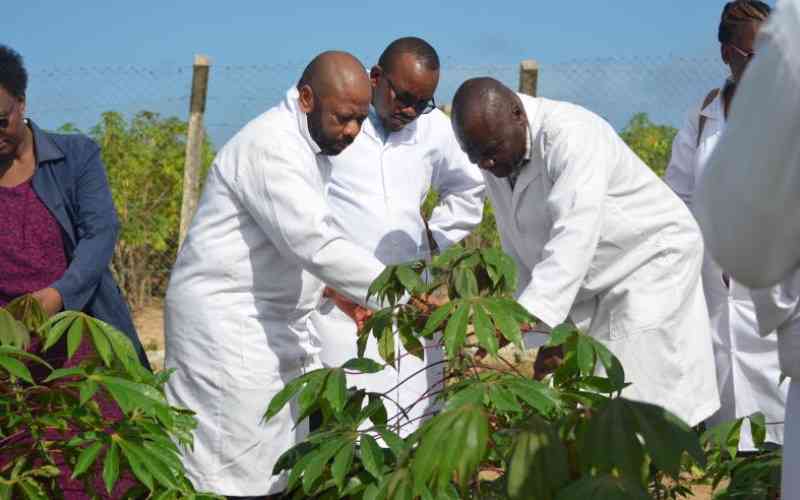 After 10 long years of battle between proponents and opponents of Genetically Modified (GM) crops, the government finally lifted the ban on GM organisms (GMO). In doing this, it okayed cultivation and importation of food crops and animal feeds produced through biotechnology.
This is a huge success for individuals and organisations who have been lobbying for lifting of the ban. Barely two weeks ago, in an educational workshop on agricultural biotechnology, stakeholders from Association of Kenya Feed Manufacturers (AKEFEMA) called for swift government intervention that would boost feed production and save livestock from starvation.
Kenya has had an overreliance on white maize, which is in short supply, for use in production of both animal feed and human food. As a debilitating drought rages on, putting the lives of millions of Kenyans at risk. Tens of thousands of livestock have also perished.
After feeds manufacturers complained they could not access non-GM yellow maize in the market, the government, in June 2022, allowed 26 companies to import yellow maize that is 99.1 per cent non-GM. This also proved difficult to find in the market. Animal feed continued to be scarce, with GM imports banned.
They remained optimistic that the new government would give a greenlight to import and use GM products, as they saw President William Ruto, a scientist "who understands these things" and expected him to do what his predecessor(s) did not. And he did just that.
Richard Oduor, a Professor of Molecular and Cell Biology currently serving at Kenyatta University as Director, Research Support and Dissemination said Dr Ruto is a scientist who had "pronounced himself very positively to this technology" and on that the ban would be lifted a few years ago. And on October 3, 2022. So today, we will breakdown all things GMO.
What is GMO?
A genetically modified organism (GMO) is an animal, plant or microbe whose genetic makeup has been influenced using genetic engineering techniques. Genes, made up of DNA (Deoxyribonucleic acid), a set of instructions that determine cell growth, division and development, can be altered.
In conventional breeding, genes from two organisms mix, creating an organism that carries the characteristics of the two parent organisms. GMOs are manufactured in a more targeted way where, in a lab, genes can be inserted into the nucleus of cells of the organisms that need the modification to pass certain characteristics aimed at making the new organism "better" than the original one.
The modified cell will grow and divide, with the resulting new cells adopting the specialised functions as contained in the inserted gene. All of the organisms' cells in the regenerated plant contain that new gene.
Why the resistance to GMO?
In September 2012, French molecular biologist Gilles-Eric Seralini published a research in the journal Food and Chemical Toxicology. Christened "Long term toxicity of a Roundup herbicide and a Roundup-tolerant genetically modified maize". The research was widely disputed and was, consequently, retracted on November 28, 2013, "due to strong criticism from the scientific community."
The article claimed that rats fed Roundup-resistant GM maize for two years had a higher percentage of tumours and kidney and liver damage than normal controls. The author attributed these results to the endocrine-disrupting effects of Roundup and the metabolic impact of consumption of the transgene in GM maize.
Even as many scientists faulted the research, including in an argument that "the research was severely flawed on methodological and ethical grounds", fears of cancerous effects of genetically modified crops persisted. Countries quickly banned GM crops but some later dropped the ban.
How did Kenya react?
In November 2012, President Mwai Kibaki banned GM foods after Public Health minister Beth Mugo raised safety concerns. Kenya Medical Research Institute (KEMRI) had raised a concern on the potential cancerous effects of consumption of GM crops. Some experts say it was a knee-jerk, and emotional, reaction. The ban, however, stuck for nearly 10 years.
What has the authorities been doing about GM crops in Kenya?
Meanwhile, National Biosafety Authority (NBA) has approved a number of projects for contained use trials (research) that include bacterial-wilt-disease-resistant banana, insect-resistant pigeon pea, stress-tolerant cassava, nematode-resistant and virus-resistant yam, among others.
For confined-use trial, most of it being carried out at various Kenya Agriculture and Livestock Research Organisation centres, NBA has approved water-efficient/drought tolerant transgenic maize at Kiboko, virus-resistant transgenic Cassava at Alupe, vitamin-A-enhanced cassava at Alupe, Bio-fortified sorghum at Kiboko and virus- resistant cassava at Mtwapa.
For imports and transits, the authority has approved genetically modified products for importation and transboundary movement through Kenya for humanitarian assistance and relief supplies. These include: insect-resistant/herbicide-tolerant corn soya blend and insect-resistant/herbicide-tolerant maize meal.
What benefit does the country get from lifting GMO?
GMO crops are made to be pest, disease and/or drought resistant. This alleviates food shortages. The crops also grow faster, and are made to be of superior quality. Prof Oduor says GMOs are not a silver bullet but a complementary measure to ensure better food security.
"There is no non-GM insulin, yet people use it without complaining. Many solutions to many conditions are out of genetic modification," he says.
How many countries in Africa grow GM crops?
According to Prof Oduor, Nigeria, Ghana, Kenya, Sudan, Ethiopia, Malawi, E-swatini and South Africa do not have a ban on growing of GM crops. Egypt backtracked after having been one of the first countries to favour GMOs, while Burkina Faso abandoned Bt cotton farming due to shorter fibre lint and ginning machines extracting proportionally less lint from harvested cotton bolls.
Why did Kenya government lift ban?
The decision, according to dispatch from the Cabinet, was reached in accordance with the recommendation of the Taskforce to Review Matters Relating to Genetically Modified Foods and Food Safety, and in fidelity with the guidelines of the NBA on all applicable international treaties including the Cartagena Protocol on Biosafety (CPB).
"In accordance with the recommendation of the Task Force to Review Matters Relating to Genetically Modified Foods and Food Safety, and in fidelity with the guidelines of the National Biosafety Authority on all applicable international treaties including the Cartagena Protocol on Biosafety (CPB), Cabinet vacated its earlier decision of November 8, 2012 prohibiting the open cultivation of genetically modified crops and the importation of food crops and animal feeds produced through biotechnology innovations; effectively lifting the ban on Genetically Modified Crops. By dint of the executive action open cultivation and importation of White (GMO) Maize is now authorised," read the statement.
Related Topics