Home
/
Health & Science
Disease claims another 18 lives, with 276 found positive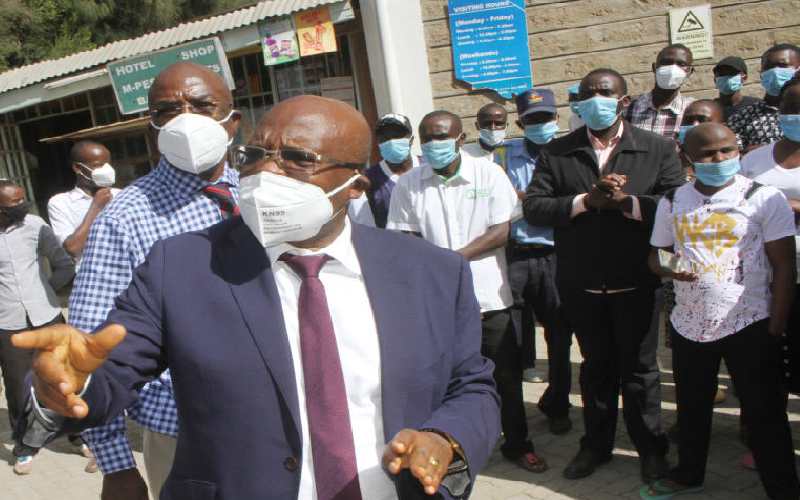 The country has recorded the highest number of Covid-19 deaths this month, as the number of hospital admissions of patients in critical care continues to rise.
Yesterday, 18 people succumbed to the virus, bringing total fatalities to 920. At least 276 people tested positive for the virus out of a sample size of 2,126, bringing to 49,997 total confirmed positive cases in the country.
According to data released by the Ministry of Health, there are 1,191 hospital admissions around the country.
"Currently, there are 20 patients in the Intensive Care Unit, 52 on supplementary oxygen, while 20 are in High Dependency Unit," read a statement by Health CS Mutahi Kagwe.
Mombasa yesterday led with 71 cases, followed by Machakos with 58, Nairobi, 50, Kilifi 21, Busia, 21, Kajiado at 13 and Garissa with six cases.
Nakuru, Narok, Makueni and Kiambu recorded five, four, three and three cases respectively.
By yesterday, the Covid-19 positivity rate stood at 12.98 per cent, slightly lower than the 13.91 per cent reported on October 25.
Counties of Mombasa, Nairobi, Nakuru and Uasin Gishu have been recording the highest number of positive cases lately.
The positivity rate has been ranging from 10 per cent to 14 per cent. On October 24, the positivity rate of the virus nationally stood at 14.19 per cent, an increase from 10.227 recorded on October 23, while October 22 had a positivity rate of 14.1 per cent.
Late diagnosis
On Sunday, at least 931 people out of a sample test of 6,691 tested positive. The positivity rate stood at 13.91 per cent.
Nairobi was leading with a total 333 cases, followed by Mombasa, with 95, Nakuru's 85, Trans Nzoia with 61, Kericho at 60, Turkana with 54, Kisumu's 39 and 24 cases in Uasin Gishu.
Health experts have linked high rate of Covid-19 deaths reported recently to late diagnosis and underlying health complications.
In the past week, Kenya has recorded 95 Covid-19 deaths.
The highest deaths (23) were recorded locally on August 1, after air travel was opened up by President Uhuru Kenyatta.
Rift Valley Provincial General Hospital's Joseph Mburu attributed the increased deaths to high infections within the community.
Patients seek services at an advanced stage for example when in need of supplementary oxygen, making it hard to manage their conditions.
"Covid-19 can easily be managed, but high death rates are reported because patients are seeking healthcare at an advanced stage," said Mburu.
The doctor said some Covid-19 patients had other underlying health complications like diabetes and hypertension, which compromise their immune system. [Mercy Kahenda]
Related Topics