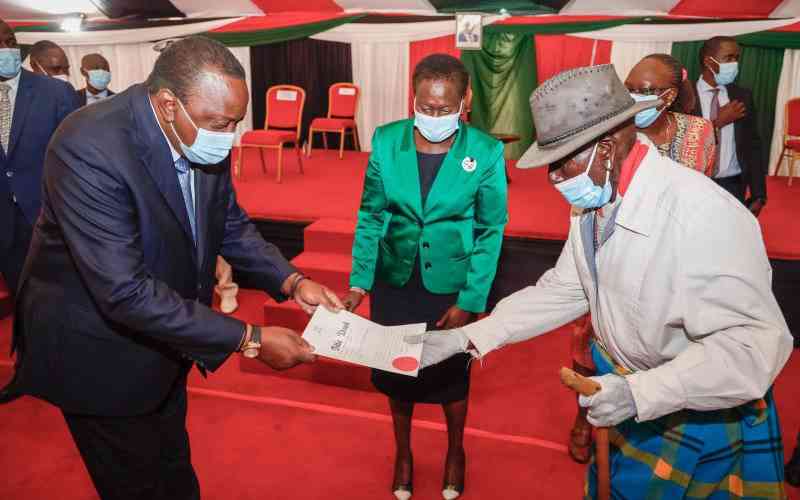 In Kenya, trends show that poverty and education levels play a significant role in titled property ownership.
A government report says this affects both men and women almost proportionally.
The Kenya Indicators Report 2022 released by the Kenya National Bureau of Statistics (KNBS), reveals that almost eight in every ten individuals who own houses, do not have title deeds.
The percentage is higher among men at 85.04 per cent compared to women (74.7 per cent).
When the factor of education is added into the equation, among men who own houses, the percentage of those with more than secondary education and own untitled property is lower at 73 per cent, compared to those who have no education at 80.3 per cent.
The same applies when the wealth quintile (statistical value of a data set that represents 20 per cent of a given population) is considered. There are fewer men at the highest quintile who own houses without title deeds (68.2 per cent) compared to 89.9 per cent at the lowest quintile.
This picture is repainted when the data on women's ownership of houses is dissected. Those at the highest quintile of wealth-owning houses with no title deed are about half at 43 per cent when compared to 87.5 per cent on the lowest wealth quintile.
A quintile represents 20 per cent of the population when broken down into five equal portions.
For education level, those with more than secondary education with houses without title deeds is 51.6 per cent compared to 84.8 per cent for those with no education.
No education, the report explains, includes informal education like Madrassa, Duksi or adult education, and more than secondary education encompasses middle-level colleges and universities.
It however excludes those who reported having vocational training and their highest level of education.
The category of 'does not have a title deed', the report says, includes either a title deed in question or any other government-recognised document.
The trend is also the same when it comes to ownership of non-agricultural land. "Only seven per cent of women own non-agricultural land: one per cent own land alone and five per cent own land jointly with their husband or with someone else," the report reads.
"Thirty-one per cent of women who own non-agricultural land have their name on the title deed, while 44 per cent report that the land they own does not have a title deed."
It may be almost obvious that the poorer the person is, or less educated they might have a correlation with owning land or a house without title considering the complicated process that is getting this document from the government.
So complicated is this process that real estate companies have made it their purpose to provide step and step procedures on how to access it.
This is against the backdrop of reforms in the land sector where the government has now consolidated all the different land laws under one act and titles now have to be converted.
Financing institutions
In addition, there is also the land digitisation process.
All these processes are costly to anyone hence the poorer a person is, the more likely they will not go on with it.
Having a titled land means one can access funds from financing institutions which can easily improve a person's financial status, making them climb up the wealth quintile.
Institute of Surveyors of Kenya (ISK), in the breakdown that tells how the conversion process, also pushes for the need to minimise the costs through efficiency. It calls on the ministry to establish mechanisms that would minimise the logistical costs of travel and waiting at the registries.
"This calls for clear communication on the requirements and efficiency at the service desks," says ISK as detailed in a write-up following public participation held by Kenya Alliance of Residence Association (Kara) in February 2021.
A discussion paper by the Kenya Institute for Public Policy Research and Analysis (Kippra) titled Effects of Land Titling on Poverty in Kenya speaks of how ownership of titled land is an important factor that may improve household income and consumption expenditure.
The paper found that ownership of titled land is positively associated with higher levels of per adult equivalent household consumption.
"This means that weak land property rights are positively correlated with poverty," the paper reads.
"The key finding is that holding a secure title to land helps reduce poverty at the household level. Security of tenure, therefore, allows owners of parcels of land to plan well, cultivate or use their land for productive purposes."
Related Topics