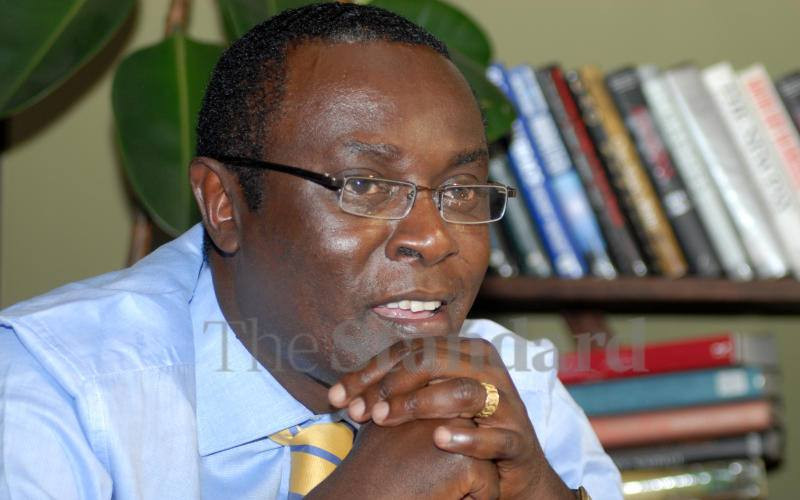 Former President Uhuru Kenyatta's technical advisor Mutahi Ngunyi has revealed that disorganization, comfort in state support, ignorance, and lack of teamwork are some of the factors that cost Azimio leader Raila Odinga in the August 9, 2022 elections.
Ngunyi, an influential yet controversial political scientist, has made the revelations barely a week since he shifted allegiance from his former boss' camp to President William Ruto.
However, he has reiterated that his shift does not translate to joining President Ruto's United Democratic Alliance (UDA) party. He maintains that he remains a life member of the Kenya African National Union (KANU).
"My defection does not mean I have not defected to UDA; I am still a member of KANU. Since I was forcefully recruited on campus during former President Daniel Moi's time, I have never changed," he said.
In an interview with Nation at the weekend, Ngunyi claims that Raila believed he would automatically win the presidency because he had the then-president's support.
"He believed that he would get the presidency automatically because of Uhuru Kenyatta's support. Therefore, he did not put as much effort as I thought he would. I once raised that issue with him when I visited his home in Karen and told him that if Uhuru does not come to campaign for you in Central [region] you are going to lose," Ngunyi explained.
"I told him relying on the deep state would result in a loss because it [the deep state] is incompetent as currently constituted. It will not deliver this election for you. If you trust the Independent Electoral and Boundaries Commission [IEBC] to deliver election for you, then they won't,"
Ngunyi says that as a result of little or no experience in politics, senior state officers who were supposed to give intelligence reports to steer the Azimio campaign gave it a relaxed approach.
"During the process of tallying votes, I told him [Raila] not to allow Ruto pass the 50 percent plus one; if so then he should forget the presidency. He said 'Say no more' and that is when he sent his people to Bomas of Kenya. A number of them, especially the big shots of the coalition were not there. They had abandoned the process nationally and got relaxed. I have never seen such a disorganized political camp,"
He also disclosed that when the former president announced his support for Raila in last year's polls, he had no choice but to support his decision.
In return, he urged the country's fourth head of state to hit the ground and campaign for his preferred candidate in the Mount Kenya Region. He believed it was possible to sell Raila's candidacy to the people.
When asked whether he was an insider in the Raila-led coalition he said "I was not an insider, I just wrote speeches for Raila occasionally. I was never there during strategizing. I support Uhuru but I don't agree with him on Raila Odinga,"
He also revealed strategies used by Uhuru's regime to cripple William Ruto's presidential bid, claiming that the coalition sponsored George Wajackoya's manifesto launch.
He says it was deliberately scheduled to clash with Kenya Kwanza's manifesto launch.
"I got a little bit of it from the friends of Uhuru Kenyatta and we funded Wajackoyah's launch and the way we did it is that we wanted it to happen on the same day that Ruto was doing his launch," he told NTV in an interview.
When asked why he made a sudden U-turn on his political stand, he said "I had no choice but to toe the line and support Raila,"
Ngunyi says that he has been friends with President Ruto and an attempt to meet him during the electioneering period got his accounts frozen by the Kenya Revenue Authority (KRA) as well as the Asset Recovery Authority.
The political scientist has also criticized his former boss for demeaning his deputy, William Ruto.
"Ruto has always been an outsider. He was like a tea girl in the Moi era, In Kibak's time, he came in through Raila and was later fired. When Uhuru came, he was an insider during the first term, but became an outsider in the second one,"
"Can you imagine, as Deputy President, he used to use the same washroom as the rest of us while some few people had the privilege of using better facilities? For example, the Head of the public service had red-carpeted washrooms with gold taps. That demeans him in the eyes of the rest. I hope Gachagua's case is different,"
He has also told the local newspaper that he reached out to President Ruto a few weeks ago, and apologized for remarks he had made on his social media platforms.
He argues that the president is a close family friend, therefore there was a need to mend relations to avoid awkwardness when they meet.
"I haven't met Ruto since as president but we talked weeks ago. We had a long conversation, I apologized for going hard on him during campaigns in my tweets, and Youtube channel. I felt I owed him an apology. If Raila won, I would still call him [Ruto]," he says.
During his time as Uhuru's aide, Ngunyi heavily criticized Ruto who was the Deputy President at the time, and projected that Ruto's main challenger in the election Raila Odinga would win.
Exactly a year after the polls, Ngunyi announced his 'change of mind' via his Twitter page, which has a following of over two million.
Related Topics