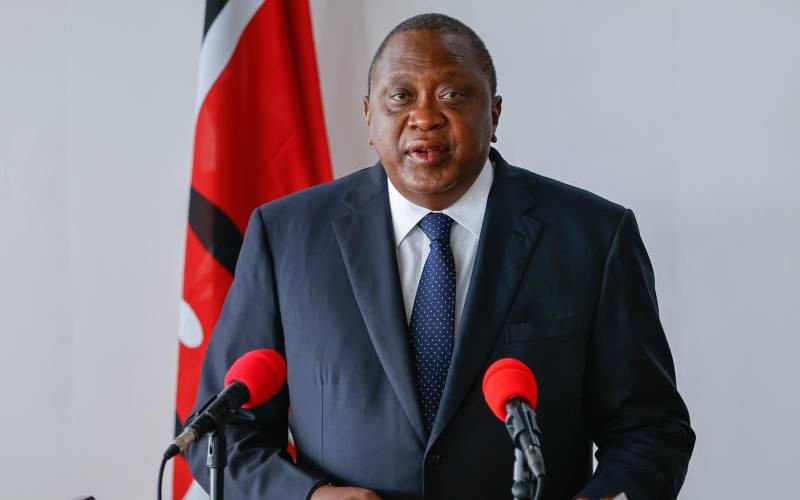 What started off as an attack on President Uhuru Kenyatta's policies by Deputy President William Ruto during the campaigns and shifted to his legacy, has now morphed into an onslaught on his post-retirement peace assignments.
Since he retired, Uhuru has faced perhaps as many attacks as he did during the 2022 campaign season, courtesy of his open support for opposition leader Raila Odinga.
The latest has seen an ally of President Ruto push to have Uhuru step down from his role as mediator in the Eastern Democratic Republic of Congo conflict.
"Ruto should ask Uhuru to step down from his role of Peace envoy to DRC for continued undermining of our govt. His role in Azimio-OKA activities of allegedly funding Maandamos (maandamano)/ political rallies is proof enough," Nandi Senator Samson Cherargei tweeted on Tuesday.
"Taxes must be paid regardless of who you are," Cherargei added, without elaborating whether Uhuru was against paying taxes and without providing evidence for the same.
The senator's tweet came amid a calculated assault on the former president and his family, which has included a call to have a tax audit on their businesses. The lawmaker yesterday explained his tweet, claiming that Uhuru's role in the DRC peace effort was pegged on his retirement from politics.
"He is part of the activity that is trying to create anarchy and lawlessness in the country then his role as a peace envoy in the DRC is no longer tenable," he said, adding that he had "personally" petitioned Ruto to withdraw Uhuru's appointment.
Lawmakers within the president's party denied the existence of such plans.
"A tweet from a legislator is not an authority. Unless there's such communication directly from the office of the Head of State, anything out there is just that," said Belgut MP Nelson Koech.
"I would hate to make comments directly on what a colleague feels about an issue but I think President Uhuru, this far, has done well in trying to bring truce and reconciliation in the Democratic Republic of Congo between the warring factions," Koech added.
Kimilili MP Didmus Barasa, too, denied such plans, but said he supported Cherargei's sentiments.
"I support it because Uhuru is engaged in double standards. He was given the role of a peacemaker but he is fueling animosity in Kenya by calling for civil disobedience through Raila," Barasa said.
He said the president should recall Uhuru and replace him to avert any adverse effects on the peace efforts, saying that the Nandi senator's remarks could result in such action.
"Our pronouncements shape policy. When we say something, the Head of State can look into the merits and demerits of our statements and can call us to consult us," Barasa said.
Saboti MP Caleb Amisi concurred with Barasa and Koech that it was within Ruto's right to recall Uhuru.
"He is the one who gave the job to the former president, he can recall him," he said.
"I can't defend Uhuru much because I believe he didn't fully support Azimio. Why then would he accept Ruto's appointment immediately," he added.
The Saboti lawmaker believes the spat is choreographed.
"Uhuru/Ruto public spat is a 21st century most genius maneuver. I don't trust them, I don't believe it. No leader in the world, dead or alive ever handed over power to a publicly declared threat. It is a long script to bamboozle Kenyans. Azimio wake up!" Amisi tweeted.
"It's a juvenile statement not worth responding to. Does he think President Uhuru is desperate for that job? Does Cherargei really understand how diplomacy works? With friends such as Cherargei, Ruto does not need enemies," Minority Leader Opiyo Wandayi said.
Moi University lecturer Timothy Onduru said Uhuru's recall could affect the peace process.
"The former president has been part of peace negotiations in Eastern DRC and was critical in seeing the country join the East African Community," Dr Onduru said.
In an interview with The Standard, Cherargei revealed that he plans to have Section 7 (3) of the Estate Duty Act amended by repealing the provision that exempts the property of former Presidents Jomo Kenyatta and Daniel Moi from estate duty.
"This section shall not apply to the disabled and marginalised as provided by the relevant law," Cherargei's proposal reads. A similar petition was tabled before the National Assembly in 2021.
In recent days, Ruto and his allies have accused Uhuru of alleged tax evasion. None has provided evidence to back the claims.
They have accused him of funding Raila's rallies, which they say is aimed at destabilising the government to aid tax evasion. But the president and his allies have not explained how the alleged destabilisation will happen and how it would impact tax collection.
During his Jacaranda rally on Sunday, Raila faulted the Head of State for attacks on Uhuru, saying that he was the first to publicly go after his predecessor. And the former president would respond to Ruto and his allies on Tuesday.
"If you see them making a lot of noise, it is because they are idle," Uhuru said.
Since his retirement, the former president has avoided confrontations with Ruto's administration. The result has been a one-sided onslaught whose climax shifts with every passing week.
"The fights against Uhuru aren't healthy because they cause disunity. They are completely unnecessary and threaten to isolate Uhuru's supporters. The country needs cohesion," Dr Onduru said.
The war on the former president predates Deputy President Rigathi Gachagua's dress down of Uhuru in the presence of international guests during Ruto's inauguration last year.
Going into last year's election, President Ruto accused his then boss of neglecting flagship projects to pursue constitutional changes.
Related Topics