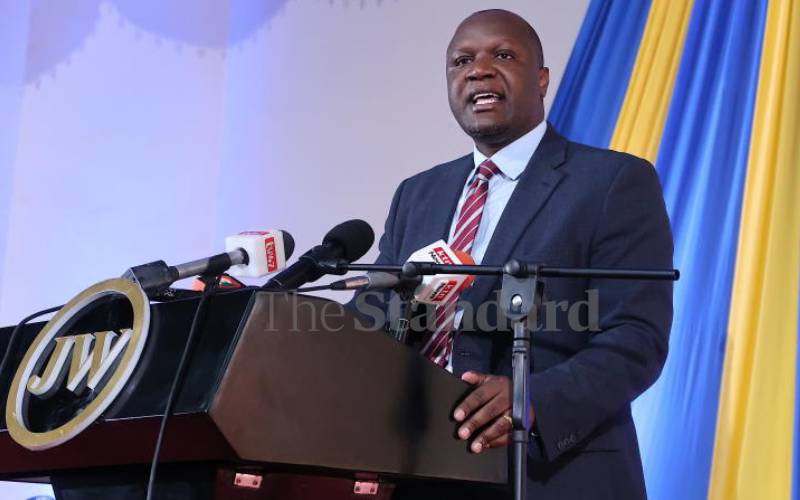 President Uhuru Kenyatta continues to come under intense pressure to appoint Secretary to the Cabinet.
The latest critic of the President's failure to fill the position is Safina Party's presidential running mate Willis Otieno.
Mr Otieno, 39, claimed that this could be a futile attempt by the Head of State to extend his reign in power which would affect the transition.
"It is a very important office in the republic and the failure to appoint a secretary to the cabinet is merely a manifestation of president Kenyatta's disregard of the law and the rule of law," he said.
Mr Otieno, who addressed journalists in Nairobi, yesterday, also faulted President Kenyatta for disobeying court orders.
The lawyer who is running-mate to Safina Party presidential candidate Jimi Wanjigi, promised that if elected, they will start by honouring all court orders issued to the state.
"A disregard of the rule of law is the disregard to the fabric of our society." Mr Otieno said.
In 2014, the President forwarded the name of Monica Juma to the National Assembly for vetting as a nominee for Secretary to the Cabinet but she was rejected and eight years later, no other name has been forwarded.
The Assumption of Office Committee chaired by the Secretary to the Cabinet is mandated under the provision of Section 6 to ensure handing over the process by the outgoing president to the president-elect and the provision of the security detail and briefings and other key functions.
Among the members of the committee are the National Intelligence Service director-general, the Chief of Defence Forces, and the Registrar of the Judiciary.
A nominee for the position of the Secretary to the Cabinet must be approved by the House according to article 154 of the 2010 Constitution, and considering that the House is set to break in less than four weeks, it is now becoming an issue of concern in many quarters.
Related Topics