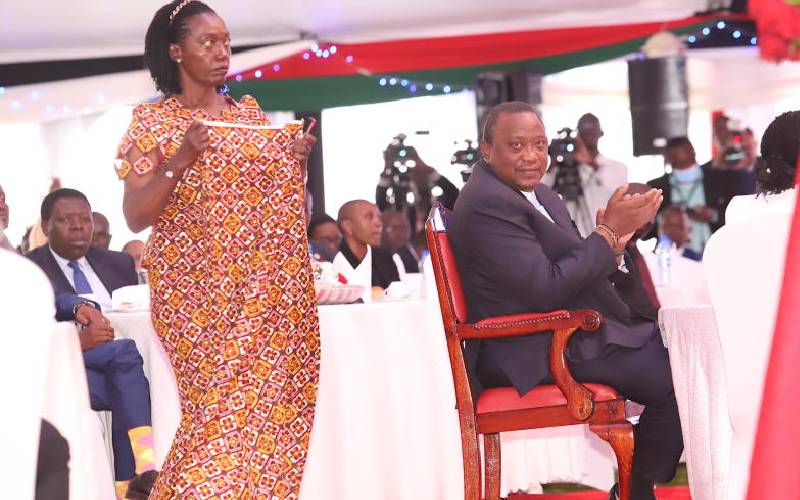 Martha Karua and President Uhuru Kenyatta have travelled along different and even conflictual routes to reach their present location and unity of purpose in the Azimio la Umoja-One Kenya Alliance. Their commitment to a Raila Odinga presidency before the end of this year is testament to politics as the art of the possible. Nothing is beyond limits, even the bridging of divisive historical chasms in the face of a common opponent. Of further significance is whether such bridges can outlast the more immediate goal – the defeat of the opponent.
In 2002, defeating Uhuru of Kanu and his political sponsor, President Daniel Arap Moi, was the immediate challenge before the National Rainbow Coalition (Narc). At the first celebratory assembly, which was also Mwai Kibaki's inauguration parade, the newly sworn in president exuded confidence, "Some prophets of doom have predicted a vicious infighting following this victory. I want to assure you that they will be disappointed. When a group of people come together over an idea, or because of a shared vision, such a group can never disintegrate. Narc will never die as long as the original vision endures."
The original vision did not go beyond defeating the Uhuru Project. The disintegration began barely days after the inauguration, with the fault lines of sharing of power and portfolio in the coalition. In the fullness of time, they had degenerated into rugged ravines that set the country on fire in the post-election violence of 2007/08. Kenya has not known a lower moment when about 1,300 people died, while over 600,000 became homeless. The confidence of the campaign and the inauguration was not sufficient to override deeper sectional and personal interests.
Today, Karua is the Azimio presidential running mate, with her sights cast on becoming Kenya's second deputy president under the Constitution of Kenya (2010), after Dr William Ruto. Ruto himself hopes to become the fifth president on the United Democratic Alliance (UDA) Kenya Kwanza platform, running with Mathira MP, Rigathi Gachagua. President Uhuru is the principal custodian of the Azimio presidential dream, and the chairman of the Azimio-One Kenya council. Raila, the presidential flagbearer, is listed as the party leader. Can the tripartite visionary agenda morph into a broader and deeper public spirited missionary agenda that outlives the victory, should Kenyans give Raila the mandate to lead?
Raila's possible victory in the 9 August election has Karua and President Uhuru as twin kingpins from the Mt Kenya region. The two have traversed rocky political paths with difficult contours, to find one another. Their paths have met to part and parted to meet again. It will be of major interest to see just how far they hold this time and ultimately for whose benefit. This is indeed regardless of whether they win or lose the election.
President Moi is the common catalyst in the rise of both Uhuru and Karua on the Kenyan national political landscape. Yet, the prompting energy was as different as the East from the West. In this, Uhuru and Karua represent conflictual strands that have brought two Kenyans to prominence. Karua is self-made. Uhuru was chaperoned to the centre stage. The princely scion of the Jomo Kenyatta family, and a man with great grand progenitors of royal designation in the colonial times, was fashioned in Moi's political moulds. Despite his subsequent gravitas and political shrewdness, he was placed on the right railroad by a mentor and sponsor. The sponsor pointed him towards the right direction and shoved him so hard in the back that he could only keep going.
Karua arrived on her own fuel but also with Moi in the picture. She came through the court system. As a bold youthful lawyer, who had briefly been a magistrate, she took up sedition cases that few dared to engage with, at the apogee of the Kanu regime's crackdown on dissent. Together with others like Charles Nyachae, Pheroze Nowrjee and James Orengo, they threw caution and self-interest to the winds. They stood up in court to speak for persons like Koigi Wa Wamwere, when few could take up a sedition case.
Detention
The Kenyan state establishment had demonstrated as early as 1982 that it would brook no dissent. Not even within the court system, under the established law when it detained lawyers like Willy Mutunga and John Khaminwa for representing persons who were seen to be anti-establishment. Khaminwa was detained for challenging, in court, the power of the state to detain people without trial. Stephen Muriithi, an intelligence guru and business ally of President Moi, had been detained a few days earlier, after falling out with the president. He was removed from his job in intelligence at Nyati House and appointed to head a vegetable production plant. He declined the appointment, stating that he was a professional policeman with no knowledge of vegetable production and processing. The state put him away without trial.
When Khaminwa applied to have Muriithi produced in court, the state pounced on the lawyer and put him away too, without trial. The same fate befell Mutunga. No reasons were given for their detention, except the explanation that they had been detained under the Public Order Act and Preservation of Public Security Act. Detentions of this kind became commonplace in the 1980s, the heyday of underground movements that plotted against the heavy-handed Kanu regime. It was in such circumstances that Karua began catching public attention as the lawyer who dared to represent people like Koigi and, accordingly, challenged the draconian order.
Meanwhile, Uhuru was away in America, pursuing a university education and contemplating a nonpolitical future. When he returned to Kenya, he operated in the silent space of family business investment, avoiding meddling with politics. For a brief moment, however, Uhuru surprised Kenyans when, together with sons of other prominent independence figures, he asked the Kanu government to exercise greater tolerance for dissent. Top Kanu honchos dismissed them as misguided youth who did not understand what their fathers had stood for. Uhuru then disappeared from the limelight, until just before the 1997 elections, when president Moi suddenly began fast tracking him for future political roles.
If Karua arrived as an anti-establishment figure, Uhuru represented the establishment. The establishment was eager to place hurdles before anti-establishment figures, like Karua, including frustrating them when representing clients in court. The courts veritably worked with prosecutors, like A. B. Shah and Alex Etyang, to stand in the way of non-system compliant lawyers. Conversely, another strand of the system – the Executive – was moulding and propping up system compliant young professionals, like uhuru.
The first test between Karua and Uhuru came in 2002, when President Moi announced that Uhuru was his desired successor, later that year. Both politicians were members of parliament – Karua as an elected MP on the Democratic Party ticket. Uhuru as a recently nominated Kanu MP. He had replaced Mark Too, who specifically stepped down for him. Karua worked with Raila on the Kibaki-led divide that won the 2002 with a landslide that got Uhuru, Ruto and Musalia Mudavadi to concede defeat even before the Electoral Commission of Kenya (ECK) formally declared Kibaki the victor. The internal rifts and conflictual competitions in Narc, however, soon threw Raila in the same boat pitting them jointly against Kibaki in the effort to review the Constitution.
Karua remained on the Kibaki side, as one of the top legal brains that advised him against constitutional reforms that he had previously eagerly championed. Her hitherto unsullied reformist credentials were questioned for the first time when she supported the badly flawed draft constitution of 2005 that sought to impose a permanent regional hegemony over the country. Ironically, the non-reformist Uhuru and Ruto were the persons to stand with Raila in rejecting and defeating the draft at the November 2005 referendum. Equally sardonic was that President Moi himself, now retired, also rejected the draft. It is possible that they had other axes to grind. Still, they saved the country from a bad law that Karua supported.
At the next election, however, Uhuru's path converged with that of Karua for the first time. Uhuru migrated to the Kibaki side of the political divide and, while serving as the leader of the official opposition in Parliament, supported Kibaki's quest for a second term. It was a curious development as Uhuru had been active and key to the formation of the Orange Democratic Movement (ODM). Raila has attempted to explain this as a joint strategic move that had been thought through together before Uhuru left ODM.
Raila has written in the autobiography The Flame of Freedom, "As the election date drew nearer, Kanu Kiambaa MP, Stanley Githunguri, requested a meeting with us. We met him with Uhuru. Githunguri made a passionate appeal, saying that coming from Central Province and with Kibaki as a Kikuyu president, it would be suicidal for them to run for Parliament on an ODM ticket. If they could run on a Kanu ticket, without showing overt opposition to Kibaki, they stood a better chance of being elected. They would then join us afterwards as partners."
Raila concludes, "Thus had the ensuing election not been rigged, Uhuru and his team would have been part of an ODM government. As fate would have it, they ended up on the extreme right of PNU."
It was an extreme right in which Uhuru discovered Karua and, for a while, they seemed to gel very well. They participated in leading Kibaki to a rushed twilight swearing in what some, like Raila, have claimed was a stolen election. They also became hardliners in the subsequent effort to reconcile the country and get into a power sharing arrangement between ODM and PNU. And after the grand coalition government was formed, they were openly defiant to Raila, Kenya's second Prime Minister. They stayed away from Cabinet committee meetings that he coordinated and threw snide remarks at him, at every public opportunity.
Yet, internally, they also had their own interpersonal challenges. While Kibaki appointed Uhuru one of the two deputy prime ministers, Karua had cast her sights on the same office. She did not take graciously to what she saw as being passed over for gender related reasons. The rift between her, on the one hand, and Uhuru and Kibaki, on the other hand, began growing. Inside Mt Kenya caucuses, indications began emerging that Uhuru was the preferred successor to President Kibaki, who was due to retire at the next general election. It was now a question of time before the final separation between Karua and her friends of yesteryear would happen. It came on 6 April, 2009, when she accused Kibaki for undermining her office as Minister for Justice, National Cohesion and Constitutional Affairs. She resigned.
Insidious rivalry
Beyond the resignation, Karua went on to run against Uhuru in the 2013 presidential race, despite the fact that her Mt Kenya home region solidly rallied behind the former deputy prime minister. She emerged sixth with 43,881 votes out of a total of 12,330,028 votes cast. Even a completely new comer called Abduba Dida piped her in the poll (52,848 votes). Others ahead of her were Peter Kenneth, who was the fourth with 72,786 votes, Musalia Mudavadi, 483, 981 votes, Raila, 5,340,546 votes and the victor Uhuru with 6,173,433 votes.
From that moment, an insidious rivalry kept gnawing at Karua and Uhuru. She teamed up with Raila in the abortive Okoa Kenya constitution review effort before eating humble pie to support the Uhuru's re-election bid in 2017, in the hope that it would help her to clinch the Kirinyaga governor's seat, but lost to Ann Waiguru, then an Uhuru favourite. In subsequent times, she opposed the Building Bridges Initiative of Uhuru and Raila, and did not miss the opportunity to criticise the Uhuru-Ruto government in its second term. In more recent times, she advised Uhuru this February to focus on handing a peaceful country to the next president and thereafter retire from politics.
Such are the strokes of political times, however, that they have once again brought Karua and Uhuru in a common bind, behind Raila. How far this could go is anyone's guess. It remains to be seen whether their new found amity will go beyond the August 9 election, regardless that they win or lose.