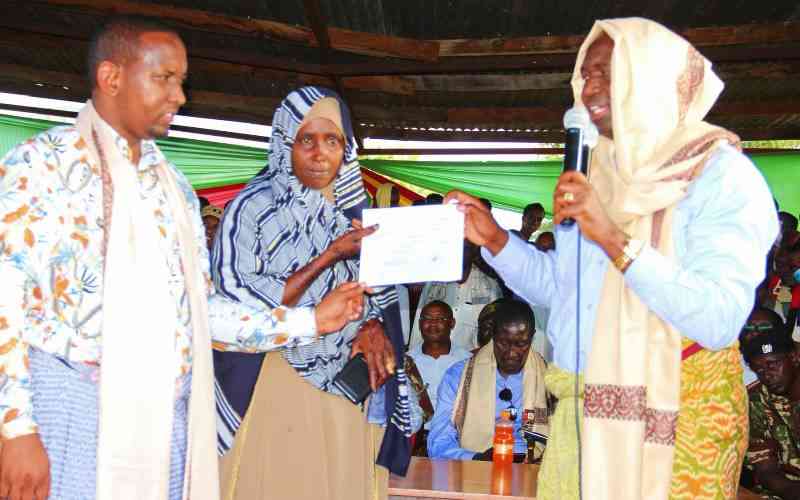 Residents of Lafey constituency in Mandera county can now have a sigh of relief, following a new civil registration office at the Sub-county Headquarters.
The residents have had difficulties registering for government essential services due to high traveling costs involved to get birth and death certificates.
Raha Hassan, a mother of six said she had challenges acquiring births certificate for all her children from Mandera, 200 kilometres away from Lafey traveling on a rough road every year.
"I will now be relieved of travel expenses I incurred on the past years to get the births certificate for my children". She said.
According to the Ministry of Immigration and Citizen Services, Principal Secretary Julius Bitok who visited the area on Wednesday, only 65 per cent of births are captured in the entire county records leaving out a 35 per cent gap.
Concerning death records, the PS said only 30 per cent are documented.
Mandera County has had a single civil service registration office since independence and that has made the residents lineup for births and deaths certificates that they waited for several months." Bitok said.
"Lafey becomes the second constituency in the county to open births and deaths registration office and we will undertake more in the other constituencies to bring services close to our people," said Bitok.
Area Member of Parliament Mohamed Abdikheir said the move is part of a campaign pledge he made gto ensure services are brought closer to people.
"I am delighted that we have worked to fulfil what we had promised. Children born two weeks ago will receive their birth certificates from the new office. It will only take a day to get the certificates," he said.
The legislator said everyone from Lafey and its environs will benefit from the office in an effort to minimize the struggle of getting the vital documents especially when it comes to admission in school.
Mandera County, with nine sub counties has had over decades a single civil service registration office based in Mandera town forcing the residents to wait longer periods before they can obtain one.
Related Topics