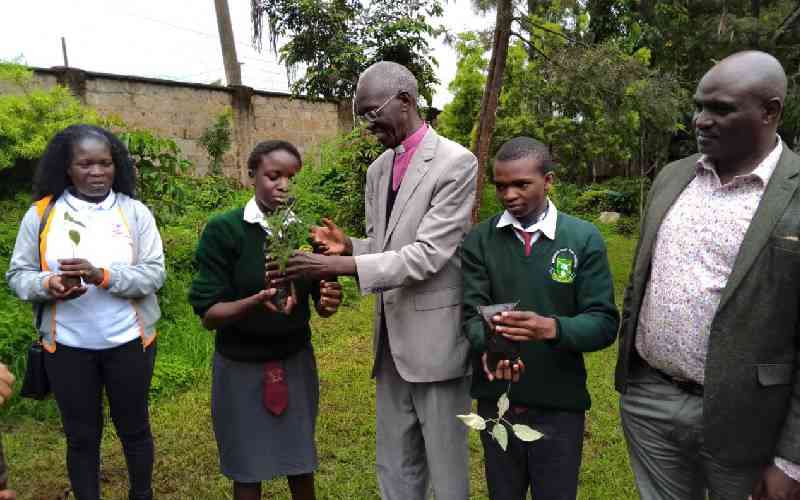 Former Ethics and Anti-Corruption Commission chairman Eliud Wabukala has asked Christians to strictly adhere to biblical teachings as a way to get rid of what he termed religious conmen.
Wabukala said the discovery of a dozen of graves in Shakahola forest within Kilifi County is a clear indication that many Christian flowers have been indoctrinated.
The retired Arch Bishop spoke at Ruthimitu Mixed Secondary School in Nairobi during the launch of the schools' alumni chapter and career day.
Over 110 bodies have been exhumed in shallow graves in a farm believed to be owned by controversial Pastor Paul Mackenzi.
Reports indicate that the pastor of Good News International Church might have brainwashed his followers to starve to death in the guise of fasting to meet Jesus.
Chief Government pathologist Johansen Oduor said some of the victims were starved to death while others had underlying health issues.
Mackenzi is being held by police as further investigations go on.
Wabukala said the scenes witnessed from Shakahola is a sign of existence of so many cults in the country where innocent people are being recruited fake Pastors.
According to him, some of the 'fake Pastors' are taking advantage of the high level of poverty in the country to play with people's psychology to have an easy way of recruiting them into their Churches.
"What is happening in Shakahola and in other places where people are being taken hostage in the name of prayers needs to be an eye opener to Christians who must realise that there is a surge in the number of fake preachers advancing false doctrines that are not aligned with true biblical teachings," he said.
Wabukala said both the government and members of public must collaborate in efforts to expose such characters.
He was accompanied by Captain Mark Koross of the Kenya Airways.
The duo advised students to work hard in school and stop relying on free things.
"I kindly advise you to work hard in school and after your education use the knowledge you have gained as you transition to university or college to be a better person," said Wabukala.
He advised students not to rely on free free things saying that they are mostly expensive and can lead to youths being introduced to satanic cults.
Wabukala called on the Kenyan society especially the youth to use the social media paltforms with caution as it remains the major contributor of social and behavioral decay.
In his sentiments, Captain Koross who is also a chief pilot instructor at Westrift Aviation based at the Wilson said it is also essential for the Kenyan youth to be encouraged to desist from the use of drugs.
Koross said the usage of drugs by the youth has contributed greatly to their indiscipline and unrest in schools and institutions of learning.
"There is no championship in drug use, participating in criminal activities or in disobeying your teachers and mentors," he said.
Related Topics