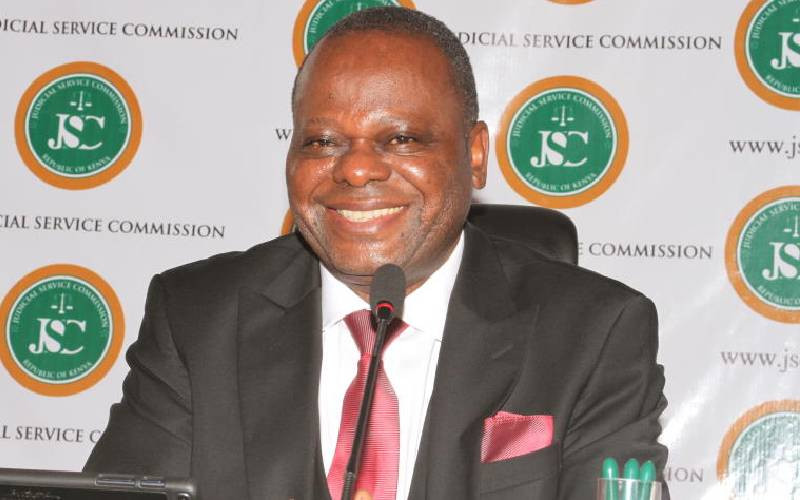 A university lecturer has drawn Kenya Power and Lighting Company's first blood in a landmark judgment that now puts the corporation in a spot over blackouts.
Prof Moni Wekesa spent months without electricity. He pleaded with KPLC to sort the mess but the corporation let him languish in the dark and did respond to his two complaints.
However, the professor will now smile all the way to the bank after High Court judge Patrick Otieno awarded him Sh800,000 after finding that failure to provide electricity for his home was against his freedom to associate and express himself with the world and trade through gadgets that require electricity.
"The court finds and holds that the rights of the petitioner to be supplied with electric power an indispensable facility was violated with the consequence that he was unable to exercise his trade and freedom of expression," said Justice Otieno.
According to the Wednesday ruling, whenever a customer raises a complaint, KPLC ought to give him or her full information in time to enable him to make a decision and enjoy the full benefits of the product or service.
He said that at the heart of the two complaints by the professor on July 1, 2021, and November 11, 2021, were exorbitant bills charged by the power marketing firm.
The judge said that KPLC complaints mechanisms are either inefficient or ineffective such that it trashes them with abandon.
He also laid blame on Energy and Petroleum Regulatory Authority (EPRA), stating that it acted as a toothless dog for failing to crack the whip. He stated it contributed to a violation of Prof Wekesa's rights.
Prof Wekesa argued that he barely lived at the village house and he only spent with his family less than three days at the property but received exorbitant bills.
Justice Otieno said that the letters must have been the catalyst for KPLC to disconnect Prof Wekesa's home power, adding that the only intention of the power firm was to ensure he was in the dark.
He said: "The court finds that in disconnecting the power to the petitioner's premises, the first respondent (KPLC) could only have intended to disrupt the purposes for which the petitioner sought and contracted the supply of energy to the premises and must be inferred to have intended that all services connected with the availability of electric power to the premises be disrupted. Such include the ability to communicate on the worldwide network."
In addition, Justice Otieno said that it must have been embarrassing for the professor to be in the dark to people who know him as a person of means. "I find that disconnection of electricity supply at his rural home would diminish and did diminish the respect and esteem with which fellow villagers have on him thus violating his constitutional right to human dignity," he said adding that he alongside his family were unable to enjoy modern facilities such as fridge, freezers, and microwave.
Justice Otieno dismissed KPLC's objection that he ought to have first lodged his dispute over the power switch off with it (KPLC) first, then approach the Energy and Petroleum Tribunal if not satisfied.
The judge noted that Wekesa's case was not just about the mechanisms to resolve a dispute. Instead, the judge noted, the don's case surrounds the violation of his freedoms and rights provided in the Constitution 2010.
In the case, Wekesa narrated that he owns a home in Navakholo Sub County, Kakamega, and is a KPLC customer. He told the court that with the advent of Covid-19 restrictions, he spent less than three days together with the family at home. This was between January and November 2021.
According to him, KPLC sent him a Sh14,356 electricity bill and another of Sh3,606 within a span of 24 hours. Wekesa stated that he raised a complaint with the energy firm but it fell on deaf ears. His bill issue was not resolved.
On November 2, 2021, he said, KPLC again sent him a Sh22,151 bill. The lecturer stated that he again raised another complaint and pleaded for non-disconnection as the issue was being resolved.
He said, Kenya Power employees speedily disconnected the supply nine days later. Aggrieved, he filed a complaint with the EPRA seeking restoration of power. EPRA sent the complaint to KPLC.
According to him, the disconnection of power exposed his property to thieves. He asserted that KPLC's behavior denied him a right to dignity and exposed him to his relatives and neighbours as a person who is unable to afford electricity bills.
Wekesa claimed that he was treated to psychological anguish, and exposed to fear of attack by wild animals as well as mischievous humans.
He also argued that he was denied freedom of expression in that without electricity he could access the internet or interact with the world. As a lecturer, he said, he was denied a right to exercise artistic creativity and academic activities including scientific research as he could allegedly not charge his mobile phone and laptop.
Wekesa also alleged violation of his economic interests by levy of exorbitant sporadic and unfortunate bills leading to a denial of electric power supply. In his case, the lecturer asked the court to order KPLC and the authority to pay him Sh5 million for violating his rights.
Related Topics