Prof. Dr. Dr. titles? Don't worry, I earned them, Moni Wekesa tells JSC panel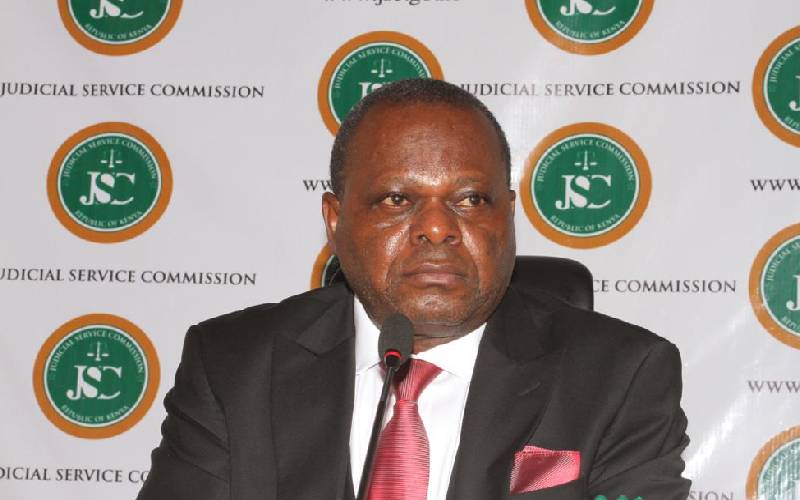 Chief Justice candidate Prof. Dr. Dr. Moni Wekesa has revealed why unlike other scholars he has a double doctorate title.
Wekesa on Thursday told the Judicial Service Commission panel, which was interviewing him for the CJ post, that he picked the culture from Germany where it is common.
"There are different academic cultures and there is this one I picked from Central Europe from one of my alma mater," he told the panel.
Prof Wekesa said the academic title has encouraged many people locally to study hard.
"It is doing wonders locally honourable commissioners, people have confessed to me that they are encouraged with this culture," he said.
In Germany, if somebody earned multiple doctorates, you would list each one, so you may sometimes actually find Prof. Dr. Dr. or even Prof. Dr. Dr. Dr.
The scholar who is currently the Dean of Law School at Daystar University has two doctorate degrees in two different academic fields, two different master's degrees and bachelor's degrees in two different fields.
Take a quick survey and help us improve our website!
Take a survey
He fancies being referred to by the titles, Prof. Dr. Dr. Moni Wekesa.
Wekesa began his career as a teacher with a Bachelor of Education from the University of Nairobi in 1981 before proceeding to Germany, where he got a Master's in Sports Medicine in 1986 and a PhD in the same field in 1989.
Upon returning to Kenya, Wekesa went back to undergraduate to study law and graduated with a Bachelor of Law from the University of Nairobi in 2002. He obtained a Master of Laws in 2005 and a PhD in Law in 2010, all from the UoN.
In his biography, Wekesa describes himself as a teacher whose childhood dream was to become a professor.
"I love teaching and have taught many courses in sports medicine and in law in various institutions in Kenya and in Africa. I have been a Sunday School teacher since 1976 to date," says Wekesa.