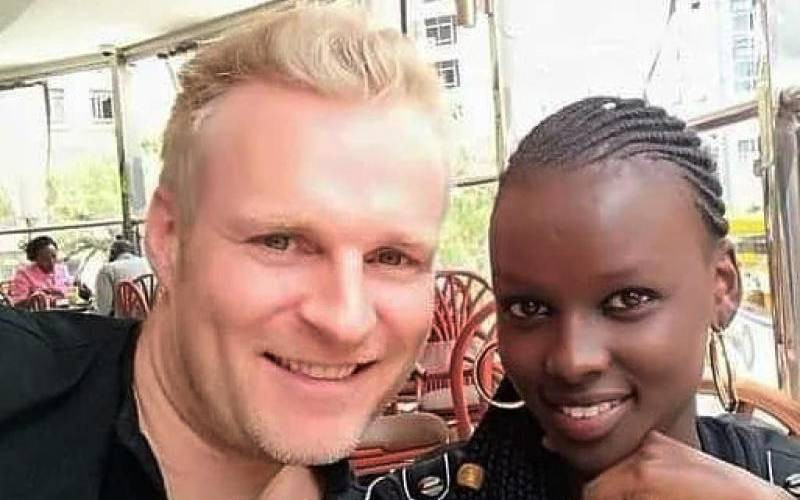 A 22-year-old college student who is at the centre of the Sh102 million dispute between the Asset Recovery Agency (ARA) and Belgian National Marc De Mesel appeared before the court, settling the mystery of whether she exists.
Felista Njoroge appeared alongside her lover De Mesel in a virtual court session before the Anti-Corruption High Court.
On one hand Maosa, Nyangoro Company Advocates appeared before Justice Esther Maina and informed her that they had been hired by Felista to represent her in the Sh102 million 'gift' case.
Owaga, Ndindi, and Nadida Company Advocates also appeared and indicated they have been retained to represent the Nairobi Technical Institute student.
As one set of lawyers said the student is in the country and that they took her to the ARA to record a statement, the other law firm said she is out of the country and is expectant.
The confusion started when lawyer Thomas Maosa told Justice Maina that they have instructions from Felista to represent her and had gone ahead to file submissions on her reply.
"Felista instructed us to represent her and we don't know where the other lawyers are coming from. We are ready to confirm she is in the country," said Maosa.
However, the other lawyers led by Walter Owaga and Farady Nyangoro said they had instructions to represent the woman.
Owaga said they are willing to present Felista to ARA if doctors gave them a go-ahead. The lawyer maintained that his client was out of the country.
"The real Felista is out of the country and she is heavily pregnant. We shall take instructions guided by her doctor and avail evidence of her pregnancy," said Owaga. Following the confusion, Justice Maina ordered that the lawyers should present the person they claimed to be their client to the Directorate of Criminal Investigations (DCI).
However, Nyamathira and De Mesel on Tuesday said they were in Belgium and informed the judge that they had hired Owaga, Dindi and Nadida Advocates.
After confirming Owaga's law firm ought to argue the case, Justice Maina ordered that they should file their submissions in the case and appear before her on March 9.
In the case, ARA says De Mesel was laundering money. However, he alongside his lover, says it was a gift.
ARA says analysis of Felista's financial accounts showed she is part of an international ring of fraudsters engaged in money laundering.
"We have discovered that she is part of a syndicate involving complex money laundering schemes with individuals from various countries including Belgium from where she received the money on the pretext that it was a gift from her boyfriend," said ARA lawyer Stephen Githinji.
The agency wants Felista's $914,967 (Sh102,205,591) to be forfeited to the state over allegations that she was being used by her foreign partners as a conduit for the illicit funds.
De Mesel had indicated in the declaration form that he had granted her absolute right of the gifted money to build financial security for herself and their future children but that she was free to use the amount as per her own will.
But ARA said when they summoned Felista for questioning over her source of funds, she escaped to Tanzania by crossing the Namanga border on October 2, 2021, before fleeing to Belgium.
She says ARA has nothing on its sleeves to show that she is involved in money laundering. According to her, the agency is taking the court on a wild goose chase as its case is based on speculations.
She asserts that the allegations are just hot air meant to unfairly interfere with her gift. She wants the court to dismiss the case.
Related Topics