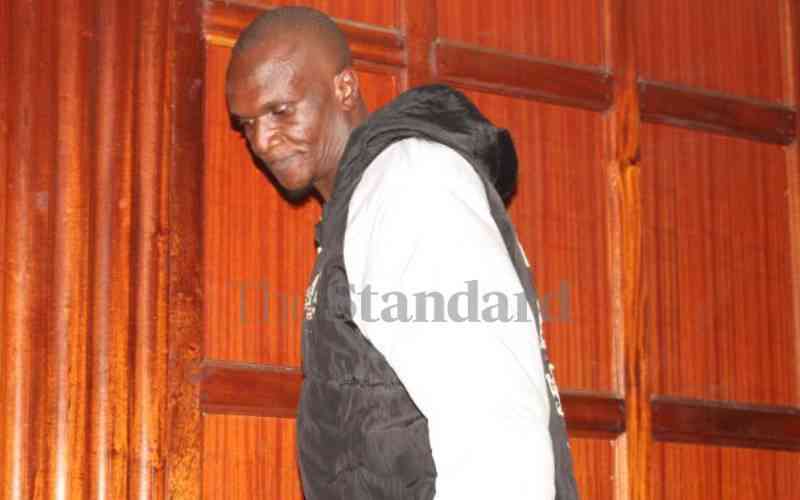 The Cabinet Secretary (CS) for Information, Communication and the Digital Economy Eliud Owalo has written to the Directorate of Criminal Investigations (DCI) seeking to withdraw a complaint against his impersonator Calvince Otieno Odhiambo.
Odhiambo was arrested in Rongo, Migori County and arraigned at the Milimani Law Courts in Nairobi, where Principal Magistrate Bernard Ochoi directed on Monday, January 9 that the suspect be detained for three more days to allow police complete investigations.
The court was told that the suspect, who ran a fake Facebook account, obtained thousands of shillings from unsuspecting Kenyans, whom he had promised jobs and business opportunities in the Information and Communication ministry.
CS Owalo, the chief complainant, has now written to the DCI, seeking to have the charges against Odhiambo withdrawn, saying the suspect has expressed his remorse.
Through his communications advisor Barrack Muluka, Owalo told the DCI on Thursday, January 12 that the matter should be dropped without prejudice against the suspect.
"I am writing this note under instructions from the Cabinet Secretary for Information, Communication and the Digital Economy, Mr. Eliud Owalo, who has recently complained to your office and to the Inspector-General of Police about being impersonated on social media by Calvince Otieno Odhiambo," Muluka said in his letter to the DCI.
"Following a formal complaint and arraignment in court of the said-Mr. Calvince Otieno Odhiambo, the CS has reliably been informed that Mr. Odhiambo has expressed profound remorse and that he seeks forgiveness by the CS.
"Having considered the matter very closely, the CS instructs that the complaint be withdrawn without prejudice, on the understanding that Mr. Odhiambo is sincerely remorseful and that he will refrain from any further impersonation of people on the social media, and/or in any other way," said Muluka.
"The CS is pained at the possibility of a young person with immense potential paying the price of injudicious and unlawful behaviour. The CS has, therefore, elected to pardon Mr. Calvince Otieno Odhiambo. It is hoped that the youth and other Kenyans can use the social media for constructive reasons. Meanwhile, the complaint against Mr. Calvince Otieno Odhiambo is hereby withdrawn, without prejudice."
Related Topics