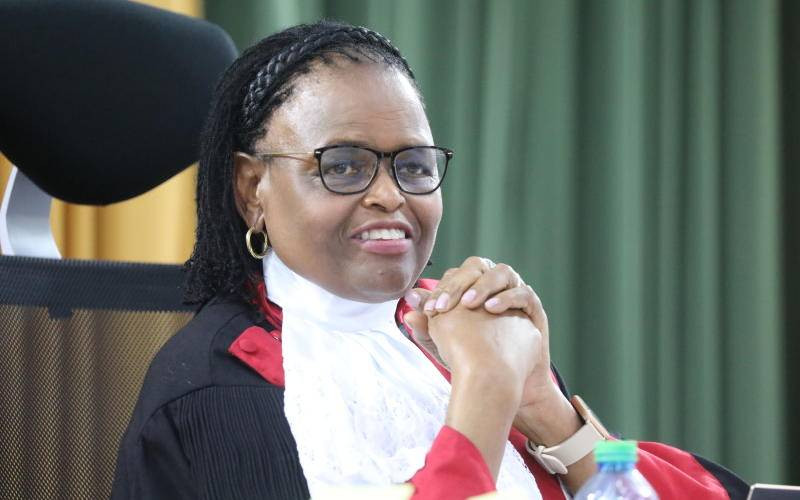 Kenyans will today, September 5, fix their eyes and ears on one woman, Chief Justice Martha Karambu Koome.
Three magic words out of her mouth will spell either joy or heartbreak for either the United Democratic Alliance or Azimio la Umoja leaders and supporters.
At the same time, her judgment will tell who between William Ruto and Raila Odinga's lawyers caught the eyes of the judges and won their minds.
Koome has clocked one year in office. She will be one year, four months, five days, and a couple of hours old in the third arm of government when she will deliver the eagerly-awaited judgement.
Her seat is made of soft sponge wrapped in leather, and wood - a contrast to the soft life and hard decision she has to make. On the soft side, her diaries are taken care of, she is driven in a motorcade whose flashing lights and cacophonous siren mean she cannot be stuck in traffic jams. Nairobians, especially those commuting to Eastlands would tell you.
On the other, the impact of having to settle a hard and highly emotive issue of the election sinks in as she has to carry the burden of a verdict that will promote the Constitution but usher feelings either way. Some will curse and fuss while others will glorify and place her second to the gods; a win and a loss bring equal emotions.
Her predecessors, Chief Justice Willy Mutunga and David Maraga, left lamenting that from what they saw, heard, and felt, Kenya is headed south. For Koome, she has to bring the country to an equilibrium, a herculean task that has not been tried before by a lady. However, as she says, where men failed, a woman can.
After years on the seat, her predecessors knew it was hot, and sometimes the heat was too much. Mutunga summed that bandits lead Kenya while Maraga complained about how his mobile calls to State House were ignored.
Mutunga dismissed Raila's petition in 2013 and ushered in Uhuru Kenyatta as the president. In 2017, Maraga annulled Uhuru's win but dismissed the second petition. When Maraga found the first duel between Uhuru and Raila was filled with illegalities and irregularities, the president referred to his court as a 'wakora' network. He vowed to revisit.
Little has changed in the Supreme Court building; the isles to CJ reception have the same deep yellow paints that cut a cream in a half. A wooden clock labeled London and portraits of Kenya's former Chief Justices are the things that kill the monotony from the eyes.
The portraits are of pre-colonial CJs, those who ruled under independent Kenya and the 'youngest' of them all now being Maraga.
Sir Robert William Hamilton served from 1905 to 1920. Others that conclude pre-1963 list are William Barth, Joseph Sheridan, John Harry Barclay, Harace Hector, Kenneth Kennedy and Ronald Ormiston.
Meanwhile, Sir John Ainley was the first Chief Justice in independent Kenya. He presided over the swearing of founding President Mzee Jomo Kenyatta and served up to 1968.
Then, Arthur Dennis Farnel took up the mantle serving only for two months, from May until July 1968. Farnel occupied the office of the Chief Justice fir the shortest period in Kenyan history. He got himself into trouble with the authorities when he reduced the one-year sentence passed on to Bildad Kaggia to six months.
He was unceremoniously hounded out of office in July 1968 and replaced by Kitili Mwendwa. Kitili was by any measure the youngest CJ Kenya has ever hired and the first African to be the head of the judiciary. He too left the office in 1971 under a cloud of suspicion following a coup by the military.
Other CJs are James Wicks, Henry Simpson, Chunilal Bhagwandas Madan, Guyana-born Henry Ethelwood Miller, Robin Winston Hancoc, Fred Kwasi Apaloo, Abduh Majid Cocker, Zacchaeus Chesoni and Evan Gicheru.
On the right of her door, a portrait headlined 'wind of change' strike your eyes. She came in as the first CJ with a promise to change. In her 18-page promise dubbed 33 years of unwavering service to the public, she promised to build, an accessible, efficient, independent justice system, and continue transforming the Judiciary.
On Friday, her deputy Philomena Mwilu said the new wave is about sharing responsibilities and having the feeling that they are all equal among equals and Justice Koome taking the lead.
Her golden moment was days is resolving the stalemate, which Maraga left without seeing eye to eye with President Kenyatta.
At the same time, Koome turned around a stormy issue of Judiciary funds between the third arm of government and the Executive. As we write this, Judiciary has its own funds. Her predecessors left without solving this, 10 years in a row.
On June 3, 2021 she wrote, asking for an urgent meeting and detailing three issues, administration of justice, operatisation of the Judiciary funds, and the budget allocated to the Judiciary.
Her predecessor left clinging onto hope to get at least Sh90 billion to keep the wheels of justice oiled. In 2016/2017, he asked for Sh23.3 billion while in the subsequent year, he needed Sh35.9 billion. Last year, he had sought Sh31.1 billion. However, the ground was different; he got half of the loaf of Sh47 billion to work with.
Before he left, the 2021 budget was close and he asked to be given at least Sh75 billion, which is 25 per cent of the Sh3 trillion budget.
Maybe out of motherly charm, maybe a magic bullet, and maybe God's intervention, she mellowed Uhuru's heart, and instead of calling for a meeting, he just gazetted the appointment of 34 judges, a day after she sent him a letter. This was on June 4.
"It was a bittersweet moment. I thanked His Excellency for this appointment and pleaded with him to similarly appoint the remaining six judges," she said in an interview with journalists last year.
The Judicial Service Commission (JSC) under Mutunga's tenure had nominated 25 judges for appointment and only 11 were appointed after 11 months while the remaining 14, waited for a year. Maraga left with 40 judges on the waiting list.
During the interview last year, Koome said If God keeps her at the helm for nine years, she wants to be remembered as a judge who enlightened Kenyans on their rights, showed them how to resolve cases before going to court, and gave them access to efficient justice.
In addition to this, she will be forever etched in Kenya's history for either annulling or upholding IEBC's chairman Wafula Chebukati declaration on who won the August 9, 2022 election.
Related Topics