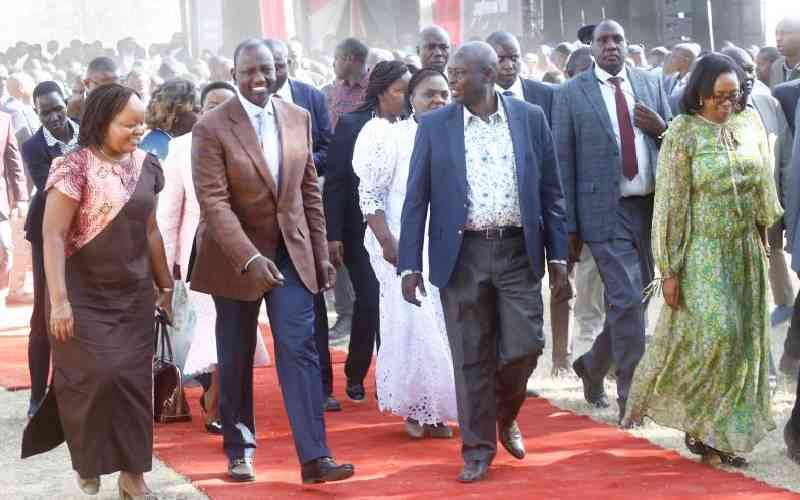 Deputy President (DP) Rigathi Gachagua has been under fire this week for saying that the Kenya Kwanza government is an enterprise with major and minor stakeholders. He clarified that those who supported President William Ruto get a priority in State jobs. Before we kill Riggy-G, this is the reality of politics - the only mistake the DP made was to say it aloud.
He reloaded former President Uhuru Kenyatta's message to the Opposition in 2017 "Tunakula nyama nyinyi mkimeza mate" (we are eating meat as you swallow saliva). The DP thus told those who did not sign up as stakeholders that "Tutakula nyama nyinyi mkimeza mate". So, is Kenya a company?
Maybe, the ghosts of William Mackinnon, the owner of The Imperial British East Africa Company, are coming back to haunt us. Remember, Kenya was a company under the British Empire alongside other modern-day East African states.
This company granted immunity from prosecution to Britons. However, it authorised them to impose taxes, enter into agreements and administer justice, among other supreme mandates, over the East Africans.
When the colonialists left, this mandate was offered to the so-called post-colonial governments. When citizens wanted a hand in making the government, they were allowed to do so through elective politics. Therefore, is Kenya founded on something other than the doctrines of incorporation?
The Opposition argues that the Kenya Kwanza government should accommodate all Kenyans. While that is right, the Opposition is in a contradictory mode.
Its modus operadi reminds us of Prince Adio's 2009 song, 'Nikiwa Ndani', whose chorus was "nikiwa ndani wapiga kelele, nikitoka nje unanung'unika" (when I am inside, you make noise, when I am outside, you complain).
Two weeks ago, Raila Odinga led the Opposition in criticising President Ruto for 'buying' opposition politicians into his government—a move he rightly said could compromise democracy. But, we are fighting the other side of the coin - that he should not leave those who did not support him out of his administration. So, what is the position of the Opposition?
We would be very blind to expect politicians to support a government to come to power without expectations. However, those who supported Dr Ruto largely expected returns because politics is about interests.
Those who supported Raila did so with expectations that once he became president, he would have them in his government to implement his vision. Instead, as Azimio's ordinary stakeholders cry about losing their votes, premium stakeholders who invested heavily count wasted time, effort and resources. Either way, political loyalty has hierarchies that cannot be avoided. Am I defending, DP Gachagua?
Not at all. However, we shouldn't expect Dr Ruto to have as his administration people who had no confidence in his presidency. He can only do that if he is fleeing from a feud within his government. Although such an option is what his predecessor used, it has high political costs.
Resources, in all their forms and manifestations, are needed to convince an enemy to fight a former friend. It demands for open betrayal and constant bribing of the enemy because you are under their mercies.
The renowned Italian diplomat Niccolo Machiavelli called such characters mercenaries and auxiliaries.
He observed that they are very unstable and untrusted. Using mercenaries and auxiliaries to fight your friends-turned-enemies means they defend you out of sympathy and on condition that you pay, or else they can turn against you.
Can Dr Ruto trust Azimio members in his administration? No sane president can do that—even Raila chases suspected rebels out of ODM.
No king appoints his opposition to his inner circle. They can destroy him from within. To execute his mandate, he must surround himself with friends who have confidence in him.
What, then, do I say? The Constitution assures Kenyans that the government should serve all Kenyans indiscriminately. The law of the land does not say that the government will appoint the Opposition members to be part of the administration. Such a decision is for the regime in place to decide.
Dr Ndonye is a senior lecturer in the School of Music and Media at Kabarak University
Related Topics