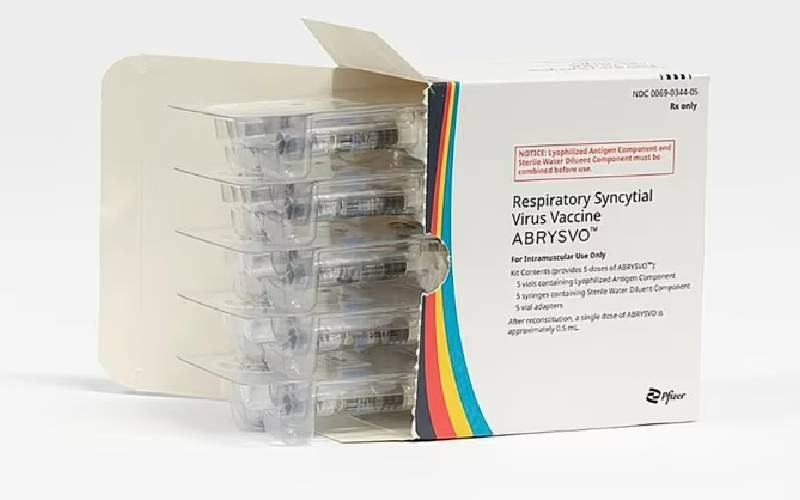 US regulators on Monday approved the first RSV vaccine for pregnant women so their babies will be born with protection against the respiratory infection.
RSV is notorious for filling hospitals with wheezing babies every fall and winter. The Food and Drug Administration cleared Pfizer's maternal vaccination to guard against a severe case of RSV when babies are most vulnerable — from birth through 6 months of age.
The next step: The Centers for Disease Control and Prevention must issue recommendations for using the vaccine, named Abrysvo, during pregnancy. (Vaccinations for older adults, also at high risk, are getting underway this fall using the same Pfizer shot plus another from competitor GSK.)
"Maternal vaccination is an incredible way to protect the infants," said Dr. Elizabeth Schlaudecker of Cincinnati Children's Hospital, a researcher in Pfizer's international study of the vaccine. If shots begin soon, "I do think we could see an impact for this RSV season."
RSV is a cold-like nuisance for most healthy people but it can be life-threatening for the very young. It inflames babies' tiny airways so it's hard to breathe or causes pneumonia. In the U.S. alone, between 58,000 and 80,000 children younger than 5 are hospitalized each year, and several hundred die, from the respiratory syncytial virus.
Last year's RSV season was extremely harsh in the U.S., and it began sickening tots in the summer, far earlier than usual.
Babies are born with an immature immune system, dependent for their first few months on protection from mom. How the RSV vaccination will work: A single injection late in pregnancy gives enough time for the mom-to-be to develop virus-fighting antibodies that pass through the placenta to the fetus — ready to work at birth.
It's the same way pregnant women pass along protection against other infections. Pregnant women have long been urged to get a flu shot and a whooping cough vaccine — and more recently, COVID-19 vaccination.
Pfizer's study included nearly 7,400 pregnant women plus their babies. Maternal vaccination didn't prevent mild RSV infection — but it proved 82% effective at preventing a severe case during babies' first three months of life. At age 6 months, it still was proving 69% effective against severe illness.
Vaccine reactions were mostly injection-site pain and fatigue. In the study, there was a slight difference in premature birth — a few weeks early — between vaccinated moms and those given a dummy shot, something Pfizer has said was due to chance. The FDA said to avoid the possibility, the vaccine should be given only between 32 weeks and 36 weeks of pregnancy, a few weeks later than during the clinical trial.
Cincinnati's Schlaudecker, a pediatric infectious disease specialist, said both the new antibody drug and the maternal vaccine are eagerly anticipated, and predicted doctors will try a combination to provide the best protection for babies depending on their age and risk during RSV season.
Another Cincinnati Children's physician who's cared for seriously ill RSV patients volunteered to participate in Pfizer's vaccine study when she became pregnant."The last thing a parent wants to see is their kid struggling to breathe," Dr. Maria Deza Leon said. "I was also at risk of being the person that could get RSV and give it to my son without even realizing."
Deza Leon received her shot in late January 2022 and her son Joaquin was born the following month. While she hasn't yet learned if she received the vaccine or a dummy shot, Joaquin now is a healthy toddler who's never been diagnosed with RSV.
Related Topics