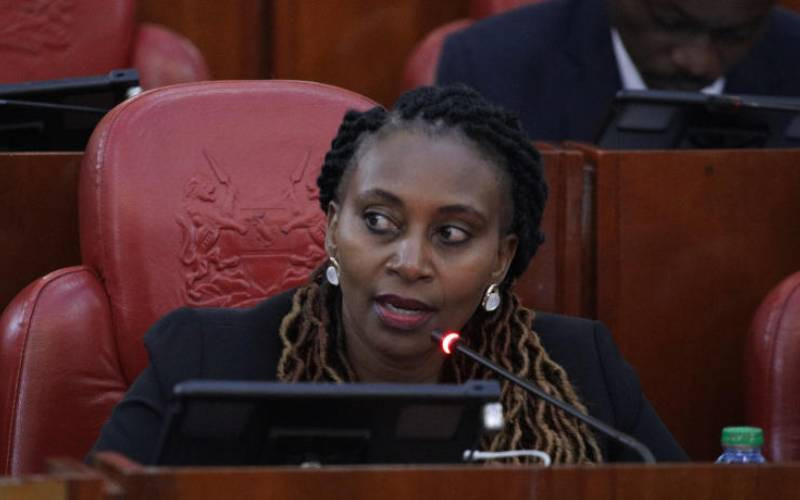 The Ministry of Health has joined forces with an anti-corruption agency to eliminate corruption and foster implementation of the Universal Health Coverage.
The agreement to involve the Ethics and Anti-Corruption Commission (EACC) was arrived at during a high-level meeting focused on the prevention of corruption in the healthcare sector, convened by the EACC.
Other stakeholders to be involved in the implementation of the much-hyped UHC include development partners, the Council of Governors, and Civil Societies.
Mary Muthoni, Principal Secretary of the State Department for Public Health and Professional Standards, admitted that corruption has remained a hitch in boosting service delivery in the ministry.
"Corruption has been a major impediment to realizing a healthier Kenya, leading to escalating medical costs and pushing numerous households into the depths of poverty," said the PS.
Muthoni added, "This agenda we set forth today is not just a mere discussion; it is a well-thought-out strategy that aligns with Kenya's journey towards the implementation of an effective UHC structure. It is a testament to our commitment to overcoming the challenges that have impeded our progress in achieving our healthcare goals, and it marks a turning point in our relentless pursuit of a healthier and prosperous nation," said the PS.
The PS said the ministry is committed to strengthening governance, fostering transparency and enhancing our healthcare accountability systems, to cultivate an environment that discourages corruption at all levels.
Muthoni said it is only through collective efforts that we can build a resilient and robust health sector that leaves no room for corruption to thrive.
The decision to work with EACC comes two months after the ministry was ranked second leading in terms of corruption.
According to the EACC report, bribery and favouritism are the main forms of corruption witnessed in the tender and procurement of projects in the country's health sector.
The report noted that malpractices in the issuance of the tender are witnessed in three phases namely pre-tender, tender and post-tender.
But Muthoni said the collaboration's primary objective is to root out the pervasive grip of corruption, with the ultimate goal of restoring public trust in health institutions and improving service delivery across the nation.
She reaffirmed the ministry's dedication to upholding strict adherence to the Construction, Public Finance Management Act, Public Procurement and Disposal Act, and all other laws pertaining to the Health Sector, underlining the importance of transparency and accountability in creating a brighter, healthier future for every Kenyan.
"The collective resolve of stakeholders to strengthen governance and foster transparency is truly encouraging. Together, we can enhance accountability systems, ensuring a healthier and more prosperous Kenya for all," said the PS.
Corruption she added has seeped into every facet of Kenya's healthcare system, leading to increased costs of seeking medical attention ultimately pushing countless households into abject poverty., adding that deleterious effects of corruption been felt deeply, leaving Kenyans with a moral obligation to address the issue head-on.
The PS reiterated that UHC embodies quality, compassion, and accessibility, which the Kenya Kwanza government is committed to implement.
"UHC holds the promise of a brighter future, where every Kenyan can access essential health services without facing financial hardships. However, for UHC to become a reality, we must first dismantle the pervasive grip of corruption that may hinder its progress, leading to millions of Kenyans suffering. Corruption erodes public trust in our healthcare institutions, compromises the quality of services, and leaves our most vulnerable systems to infiltration by substandard products and services," she said.
Further, the sector has developed the Inter-Government Framework on Coordination of Blood Transfusion Services through a consultative process, developed policy on donation, transfusion and transplant of medical derived products as well as continuous reforms at Kenya Medical Supplies Authority (Kemsa) and National Health Insurance Fund (NHIF).
Kemsa and NHIF are among the ministry's agencies grappling with damning multiple grafts.
The Health Cabinet Secretary Susan Nakhumicha has owed to clean up the docket, and ensure implementation of UHC which is Kenya Kwanza government's key agenda.
Related Topics