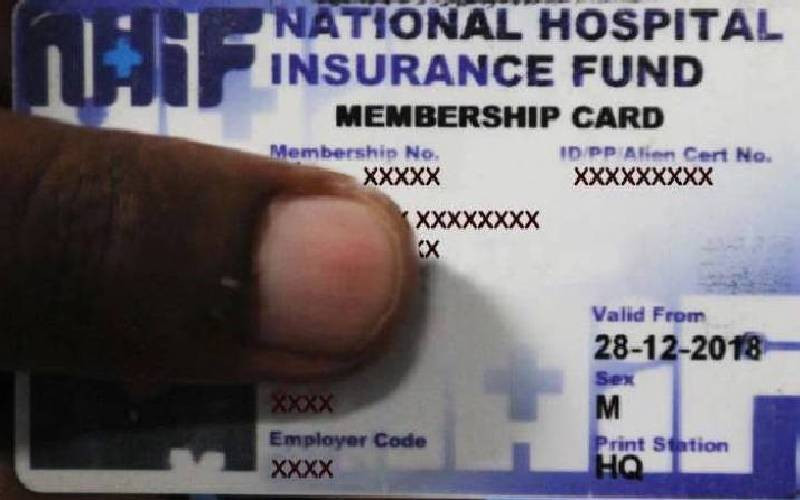 The Senate Health Committee will be carrying out an inquiry into claims of embezzlement of funds in the National Health Insurance Fund (NHIF) in questionable claims by various health facilities across the country.
The latest move by the committee has been triggered by concerns raised by Kenyans that some health facilities are conspiring with NHIF officials to steal public funds by increasing the bills for the patients using the NHIF insurance covers.
Nominated Senator Esther Okenyuri in a statement before the house wants the committee to state the measures in place to recover public funds lost in collusion between employees of NHIIF and directors of such facilities and indicate the amount of funds recovered through such measures instituted by NHIF in the last five years.
"The Senate Health Committee should disclose the quarterly trajectory of payments made from the fund to the NHIF top 20th percentile benefactor hospitals by county from the day those 20th percentile beneficiary facilities were accredited as hospitals from the year 2019 whichever is earlier," said Okenyuri.
The Nominated Senator seeks to have the committee indicate the number of health facilities per year, per county accredited by National Hospital Insurance Fund in the past four years ((2019-2023) compared to those of preceding years (2014-2018).
Okenyuri is seeking a statement from the Senate Health Committee on the abnormal rise in accreditation of new clinics and health facilities across the country by the Board of the National Health Insurance Fund (NHIF) after the rollout of the Universal Health Coverage programme.
"The Committee should recommend investigations on claims of siphoning of the funds in dubious claims by benefactor health facilities across the country, shedding light on reports of collusion with NHIF staff and directors of such facilities," said Okenyuri.
The Committee led by Uasin Gishu Senator Jackson Mandago will be engaging whistleblowers who are expected to provide detailed information on the cartels involved in the alleged corrupt practices at the National Hospital Insurance Fund that is said to run into millions of shillings.
Health Cabinet Secretary Susan Nakhumicha has ordered for a comprehensive lifestyle audit to be conducted on National Hospital Insurance Fund staff to ensure transparency and accountability within the organization after being put on the spot over dubious deals.
Nakhumicha has already suspended NHIF branch managers in certain areas of the country after the media exposed how unscrupulous hospitals stole millions of shillings through suspect medical camps targeting elderly patients.
The Cabinet Secretary ordered the Kenya Medical Practitioners and Dentists Council (KMPDC) and the Pharmacy and Poisons Board to commence investigations into the scandal and give the ministry an interim report within 48 hours.
The health facilities under investigation include Jekim Medical Centre in Meru, Saint Peter Orthopaedic and Surgical Hospital in Kiambu, Afya Bora Hospital in Kirinyaga, Joy Nursing and Maternity Hospital in Nairobi, Afya Bora Hospital Annex in Kirinyaga, Jekim Hospital in Meru, Berut Pharmacy and Medical Centre and Amal Hospital Limited.
Related Topics