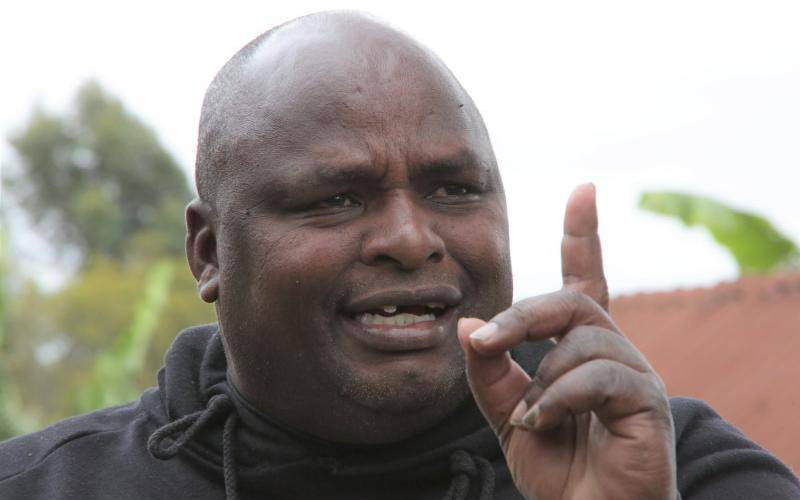 Living with an undiagnosed medical condition can have a huge impact on one's quality of life leading to isolation from family and society.
This was Andrew Kimondo's experience for years as many people thought he abused hard drugs due to his bizarre behaviour that started after joining university.
Kimondo came from a strong Christian background. He was social, friendly and disciplined while at secondary school. However, this changed abruptly. He became unruly, disorganised, indisciplined and chaotic.
He joined Egerton University to pursue Agricultural Education in 1993 at a time when strikes were synonymous with higher learning institutions.
Kimondo found himself participating in a strike after only three weeks. He was declared the mastermind of the strike. He was forced to do an inter-faculty transfer to Laikipia University, a constituent college of Egerton, to pursue Bachelor of Arts.
"I knew deep inside that I was not myself but I could not tell what was wrong. I was not happy to change courses but I did not have an option," Kimondo told Saturday Standard. At Laikipia campus, his condition worsened. He could stage lone demonstrations with twigs at school, pelt buses with stones and sometimes cause mayhem.
His girlfriend abandoned him as the school administration thought he was abusing hard drugs. He was summoned by the Senate and given a two-year suspension.
"The decision was rescinded after a village mate who worked at the institution pleaded with the administration to pardon me and give me time to reform," he recalled.
He was given a verbal warning.
"I was confused and sometimes disillusioned by the tragic events in my life. There were those who though I abuse drugs while the rest thought I was berserk. At one time, I was taken to Nyahururu District Hospital and was injected with a drug that I have never known to date," says Kimondo.
He says the injection paralysed him for a month. He could only move using his hands and this affected his self-esteem. During holidays, he developed a relapse and was taken to Mathare Hospital in Nairobi with his limbs tied. His family thought he was introduced to substance abuse while at the University since he had never had such a condition before. Others thought he had been bewitched since he was a bright student.
Strange condition
After four years struggling with the 'strange condition', he completed his studies and was employed as a high school teacher. He taught for three years and the relapse occurred and found himself at Mathare Hospital again. "They only injected me and I slept for many hours. I did not get a diagnosis for my condition. I felt like a mad man and developed suicidal thoughts," said the father of five. Kimondo's condition once saw him threaten to burn the school if his wishes to be transferred were not honoured.
This saw him arrested and ejected from the school where he taught. He at one time threatened to kill his family who were saved by the community who intervened when his wife made a distress call.
In 2012, his sister came across an article in one of the dailies that described his condition and searched for the author who advised him to join a group he had established with people like Kimondo to share their ordeals. He later sought help from a psychiatrist who advised him to go for the X-ray which indicated that he was suffering from Bipolar disorder. This was his turning point.
By this time, his wife had separated from him after he showed signs of madness. Nevertheless, he was determined to seek medical assistance now that he discovered his condition.
He applied for a people living with disability card and started the journey to accept himself as a man with a mental illness.
"Acceptance that you have Bipolar disorder is the first step to adapting living with the illness since only death will separate you from the disease. Regular clinics, good health practices and avoiding alcoholic beverages is also one of ways to cope up with the disease," said Kimondo.
The History and Christian Religious Education teacher at Ihwagi Secondary school later established awareness group for people with mental disease dubbed Users and Survivors of Psychiatrists.
"In the group, we also urge people to understand us since I find many ignorant and don't care about us due to lack of understanding," said the victim. He wants the church to drop their 'harsh policies' on people with mental illness such as failing to give sacraments to them and failing to preside over their mass in case they die by suicide saying it is not their wish to do so.
"My mother had never exhibited signs of Bipolar and when she did, she committed suicide and the church abandoned her and refused to conduct her final mass. This was unfair especially because she was a dedicated faithful and was abandoned at the hour of need," he said.
New ambassador
Kimondo, who morphed from a victim of Bipolar condition to an ambassador of the same, jokingly said the condition could be attributed to bright performance in school since his two children are pursuing Analytical Chemistry and Economic and Statistics in leading universities.
After learning how to cope with his condition, Kimondo, 51, who has authored a mental illness book, is now married and has two children.
Kimondo wants the government to implement the task force on mental health that recommended that mental illness should be declared a national emergency of epidemic proportions.
The task force also recommended the establishment of a mental health commission and happiness, to advise, coordinate and continuously monitor the status of mental health, and report on the annual National Happiness Index.
Dr James Murimi, a psychiatrist, says Bipolar disorder causes extreme mood swings.
The high mood swings, according to the psychiatrist, makes the victim feel euphoric, and sometimes drives the patient to full energy. "Although bipolar disorder is a lifelong condition, one can manage it by following a treatment plan," said Murimi.
Related Topics