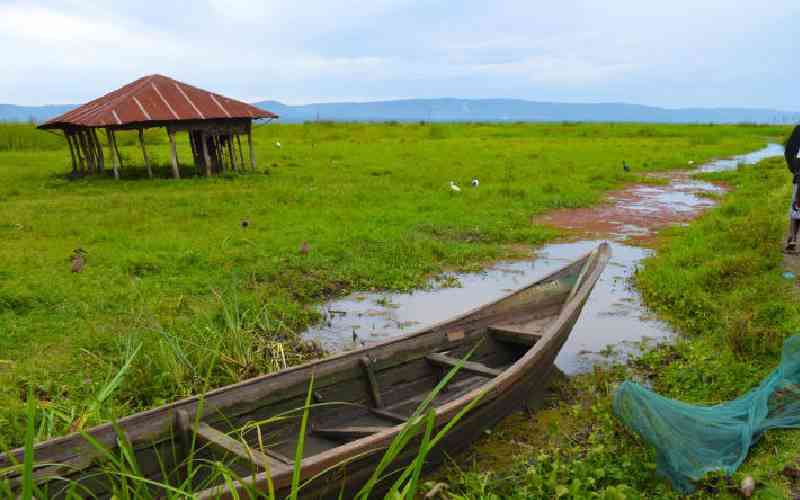 Hellen Akinyi looks afraid and detached.
The three-year-old is barefoot, her skin is dry and she appears to be in pain as she slowly wades through the mud in a tent which has a metal stove, a mat, blankets and a torn mosquito net.
It is the place she calls home because of the rising water levels of Lake Victoria which displaced her family four months ago.
The tent is one among a dozen at the Nyamasao camp in Ombaka, Nyando sub-County, Kisumu where extreme weather changes, coupled with perennial flooding, have rendered many homeless.
Her mother, Linda Akello worries that Hellen may never know where their home was.
Benta Adhiambo, 51, from Nduru village recalls waking up to find "the village surrounded by water that stretched to the horizon. Everyone was confused, the children were crying, the elderly and people with disabilities were being swept away."
Kepher Odhiambo, a father of four, lost his home that sits on six acres in Kodiel village.
He recently visited the village, but the 50-year-old fisherman couldn't recognise it.
His houses were swept away, and his six-acre parcel of land is now part of the lake.
"I am still shocked, always wondering what tomorrow will bring," he says.
The floods submerged 12 villages in Kanyagwal location and residents lost property worth hundreds of thousands of shillings.
Currently, eight villages are still submerged with 684 families still at the camp.
Well-wishers and local politicians visited them during campaigns and have never returned.
The lake transformed farmlands into water bodies islands.
Elidah Atieno, 75, says she has never seen such phenomena since 1963.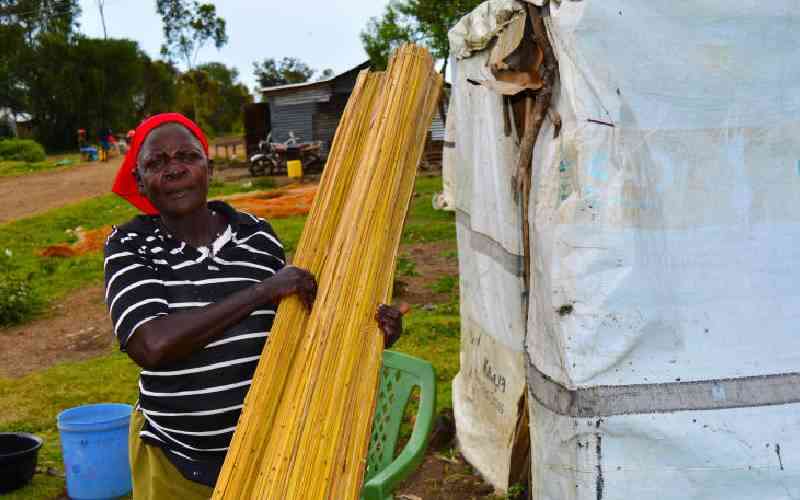 "I have lost hope of going back home," says Joan Apondi who gave birth to her second born at the camp.
"My land is now part of the lake and the future of my children is bleak."
Kanyagual location area chief, Boniface Otieno, says many parents and children-headed families live in distress as most have to "withstand cold nights and hot days at such tender ages."
Though the villagers cultivated crops like rice which offered enough income, today, mothers like Juliet Akoth have nothing to offer their children.
"We live by the grace of God and the situation is getting worse each day," she says, adding that they live in perpetual fear of being attacked hippos and other wild animals.
Coughs, malarial and diarrheal cases are common at the camp and "we suspect some deaths we have recorded have been caused by malaria," says Otieno.
The nearest health facility, which also lacks essential medicines, is a dispensary about ten kilometres away, and the roads are also impassable.
Otieno, the area chief, says the displaced initially got help. To bury their dead, they have to search for higher grounds and as of now "we have abandoned our burial culture and beliefs because our lives have changed."
Indeed, climate change has left a trail of destruction, displacing wildlife, killing livestock and destroying crops.
The rising of Lake Victoria water levels was predicted in November 2015 by researchers from North Carolina State University's Department of Marine, Earth and Atmosphere Sciences, but their warning went unheeded.
The university's Director of Climate, Prof Fredrick Semazzi had said Lake Victoria would replenish its waters at an almost unprecedented rate, leading to abrupt rising in water levels.
Prof Semazzi warned that the swift, unexpected resurgence would lead to the destruction of property, besides hitting climate-sensitive sectors like power generation, roads, general construction and businesses near the lake.
Although it was earlier believed that heavy rains contributed to the rising water level, the changes continued long after the rains had subsided.
Bewildered villagers feared that angry gods of the lake had launched a punitive offensive, but experts dismissed supernatural causes and pegged the happenings on climate change.
In the case of Lake Victoria, the rising waters were from a back-flow, a situation where the balance between the lake's outflow and the inflow is tipped and "the lake starts discharging excess water into the land around it, eroding shorelines, altering ecosystems, and causing flooding and economic damage," explains Raphael Kapiyo, an environmental scientist.
This is largely due to changing weather patterns around the world.
A report titled Rising Water Levels in Kenya's Rift Valley Lakes released last year by the United Nations Environment Programme (UNEP) notes that Kisumu and Busia counties remain the most affected with at least 22,722 families displaced, including 6,245 in Bunyala sub-County (Bunyala South, Bunyala Central and Bunyala West - in Busia, and 1,200 in Ogenya and Ombaka Kanyangwal in Nyando, Kisumu.
The report observed that the rising waters not only displaced families but "their economic activities have been crippled as they mostly relied on farming and fishing."
Environmentalists have recommended the reopening of the canals which are blocked and the completion of the construction of dyke at Magina.
Related Topics