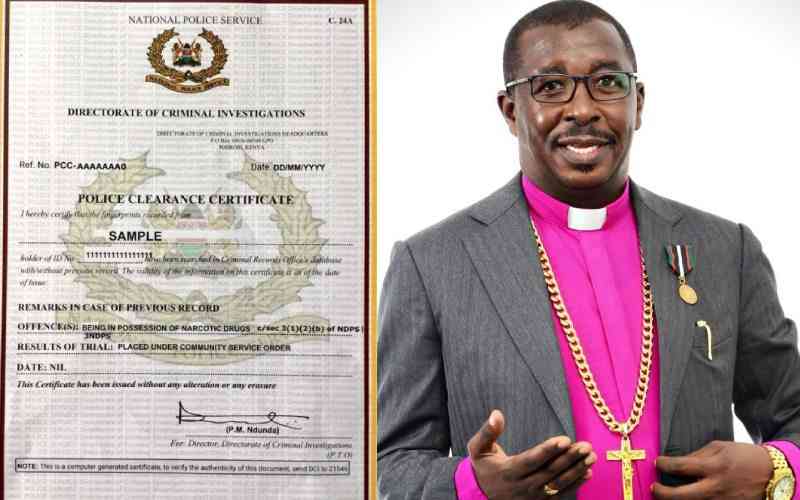 A section of church leaders has opposed the new guidelines issued by the government to anyone seeking to open a church in the country.
This comes after the registrar of societies Maria Nyariki released a list of requirements for aspiring preachers.
Among the requirements is that one must include a Certificate of Good Conduct from the police, a tax compliance certificate and a degree or diploma in Theology from a recognised institution.
However, The Federation of Evangelical and Indigenous Christian Churches of Kenya has faulted the move, saying it will infringe on freedom of worship and could lock out hundreds of Kenyans who have a calling to preach.
"The proposal is not good even though we will take time to study. What we are saying is that preaching is a calling," the group's chairman Samuel Njiriri said.
"Some of the requirements like certificates of good conduct will lock out many. It's like telling Apostle Paul or Moses to get good conduct certificates," added Njiriri, who is the presiding Bishop at Stewards Revival Pentecostal Church.
The bishop said the process of acquiring the certificate of good conduct, for instance, is tedious and could lock out many aspiring young preachers.
He argues the time is also suspicious now since the government has stopped the registration of churches for eight years now, claiming it could be political bait.
"What they have done is tricking the church because of the elections. The process was stopped eight years ago, what they have done is to tighten it further," said the chairman.
Bishop Njiriri said not long ago, a section of church leaders met President Uhuru Kenyatta at State House and he allegedly directed the Attorney General to lift the order that halted the registration of new churches.
The group argues that the best option is to leave the church to regulate itself because it has an umbrella body, citing that the Constitution recognises freedom of worship.
Among the requirements for those aiming to open the churches are a national identification card, Kenya Revenue Authority (KRA) PIN certificate and one passport photograph from each officer of the society.
Related Topics