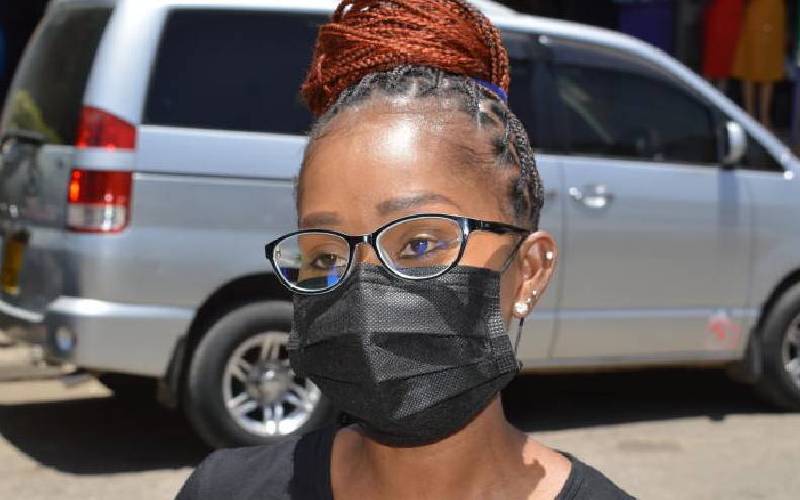 It is now mandatory to wear face masks in crowded and enclosed spaces. This has been necessitated by the a surge in Covid-19 cases, that have led the government to revise containment measures.
The Ministry of Health yesterday said the measures are geared towards preventing hospitalisation and deaths, like those experienced in 2020 and 2021. However, wearing face masks in open public spaces where one is not in close proximity to another remains optional.
In a statement, Health CS Mutahi Kagwe attributed the revision of the measures to a surge in cases. The country is recording a weekly positivity rate of 10.74 per cent, with yesterday's being 12.6 per cent.
"…one is required to wear a mask when in contact with other people in closed, or confined spaces such as aircraft, Public Service Vehicles, offices, supermarkets, market-places, and places of worship," Mr Kagwe said.
Mandatory wearing of face masks was dropped by the ministry on March 11, following a sustained decline in the cases.
"Over the last few weeks the country has witnessed a steady rise in the number of new cases and a slow rise in positivity rate from a weekly average of 0.6 per cent at the beginning of May, to a weekly average of 10.74 per cent in the week ending June 19," said Mr Kagwe.
However, all in-person indoor meetings will continue to full capacity of the venues, as long as all participants are fully vaccinated, and all attendees are required to wear face masks at their meeting venues. All participants in such in-person meetings are required to show proof of vaccination.
Also, all in-person worship shall continue at full holding capacity, as long as all worshipers are fully vaccinated. Congregants are still required to wear face masks while inside worship places. All arriving international travellers who are fully vaccinated, are exempted from requirement of PCR test and quarantine.
Unvaccinated travellers arriving at any port of entry are required to have a negative Covid-19 PCR test result conducted not more than 72 hours before departure, regardless of their route of entry.
Unvaccinated travellers arriving at any point of entry will be subjected to rapid antigen test at their cost.
Any person who tests positive on antigen RTD is subjected to an entry PCR test at their cost and will be expected to self-isolate as per existing guidelines. All PSVs, train, and domestic flights services will continue operations at full conveyance capacity.
"I am also urging county health departments to scale up their surveillance effort and be on the look-out for any increase in cases presenting with flu-like symptoms and ensure they get tested for Covid-19," said Mr Kagwe, adding that the country should expect a rise in the number of cases of respiratory disease with the cold season.
Three of eight influenza surveillance sites in Kenya; Kakuma, KNH and Nakuru, are reporting increase in flu cases. "We expect to have more colds and flu with similar presentations like Covid-19. Therefore, there is need for all those with respiratory-like illnesses to seek appropriate medical care and be tested for Covid-19 to inform proper management," he said.
Kagwe regretted that vaccination rate dropped from over 300,000 doses a day in March, to about 12,000 in May and to a paltry 4,817 currently.
At least 8,578,026 people have been fully vaccinated, 2,463,559 partially vaccinated, with a total 404,773 getting booster vaccines. "31.5 per cent is the proportion of adults fully vaccinated," read the statement.
To boost the uptake of the vaccines, the ministry has accelerated the vaccination campaign to reach as many Kenyans as possible.
"Although we have done well on the vaccination front, a large portion of eligible Kenyans remains unvaccinated, while there is still a large stock of vaccines (3,495,940) doses available in the country," he said.
Alongside vaccination, the ministry has urged Kenyans to continue adhering to public health containment measures, including handwashing with soap and water, and social distancing.
Related Topics