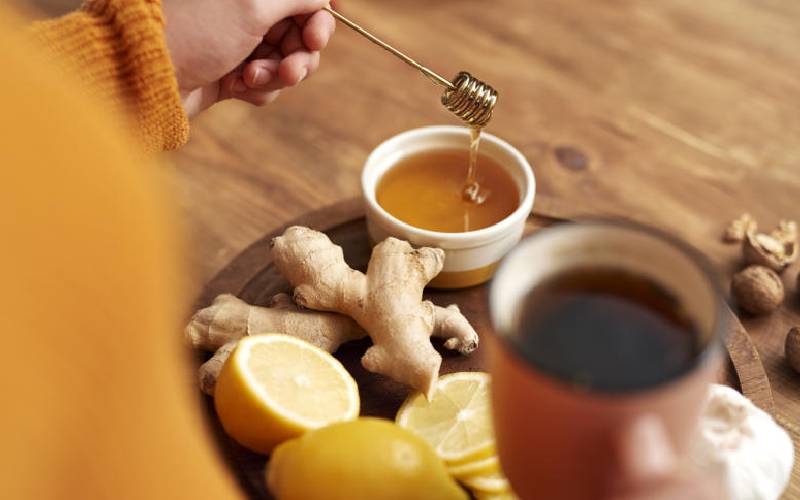 Honey is slowly replacing sugar in most homes and nutritionists laud it as a healthier alternative sugar.
The popularity of 'Covid concoctions' and the onset of the cold season has seen increased use of the 'dawa', a mixture of hot water with garlic, ginger, lemon and honey.
But some families are also using honey for tea instead of sugar.
David Mulei, a Machakos County resident and father of two says since Covid-19 came calling his home now uses "honey for tea, in our children's porridge, spreading on bread and sometimes you find people licking it."
However, the price of honey, he says, is prohibitive as one kilo of sugar and honey goes for slightly over Sh100 and Sh1,000, respectively.
Indeed, since ancient times, honey has been used as food and for medicinal purposes but Dr Mwita Riro, a physician, says increased use of honey during Covid-19 is anecdotal and not scientific.
But he concurs that honey has medicinal properties and "use of 'dawa' is purely because of the vitamins found in the ingredients as each ingredient has its own vitamins and have been shown to repair the mucous membranes, the lining of the respiratory cells."
Besides 'treating' common cold, honey has other nutritional uses.
Stella Mutinda, a nutritionist in Machakos, says one tablespoon of honey has 64 calories, including sugars like fructose, glucose, maltose and sucrose. Honey has no proteins or fats.
"Honey has components which will help arteries to dilate increasing blood flow to your heart and prevent clot formation, while some studies show that honey has helped in the improvement of cholesterol levels," explained Mutinda, adding that it also promotes faster healing on burns and wounds as it has antibacterial and anti-inflammatory effects besides ability to nourish surrounding tissues.
In children, honey suppresses coughs which can affect sleep however, honey should not be given to children under one year due to the risk of botulism.
Mutinda adds that honey lowers triglycerides associated with insulin resistance, a major driver of type 2 diabetes.
"Triglyceride levels will increase on a diet high in sugar and refined carbohydrates and therefore regular honey consumption will lower these levels," offers Mutinda adding that honey can reduce several risk factors for heart disease common among carriers of type 2 diabetes while increasing blood sugar level.
Mutinda cautions against confusing pure honey with the adulterated one lumped with plain syrup.
But Dr Riro says honey has sucrose which results in rising sugar levels and "people with diabetes should not consume honey any more than they consume ugali. They should have a moderate consumption."
Dr Riro also advises diabetics to be extra careful of contracting Covi-19 since "there is a medicine given to patients with Covid-19 that interferes with the control of sugar, which contains steroids and is usually administered to those with severe disease."
Related Topics