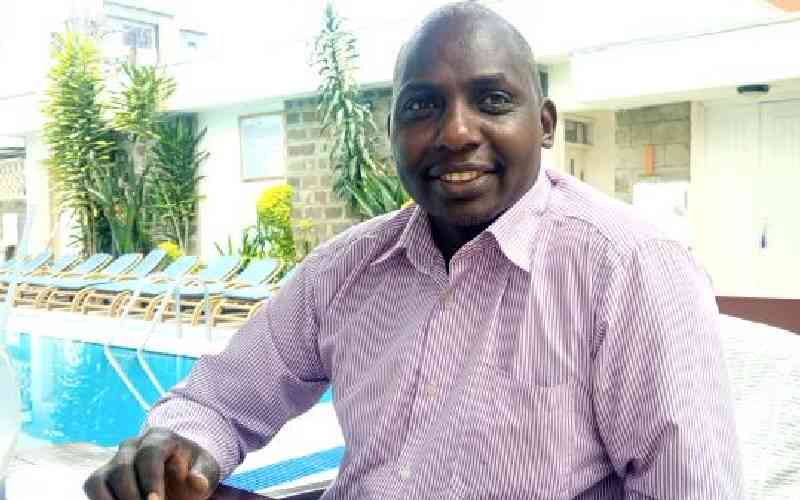 Working as a night guard in a busy club in Nakuru City made Duncan Kurui venture into the security business.
Mr Kurui, 40, says that his experience as a security guard made him desire to be rich, as he would see clients visiting the hotel with posh vehicles and expensive suits.
Born and raised in Baringo County, Kurui wanted to open his own security firm but never knew how to start.
Being ambitious made him utilise the opportunity he had by conducting a survey and interacting with customers who would frequently visit the club by inquiring about the process to register a company.
Kurui explained that it was not easy being a guard, and he would brave all the insults from sober and drunk customers.
"The life of a security guard is not easy, imagine braving all the insults, being hurt by customers, and sometimes everyone blaming you for other people's faults, those, among many other things, forced me to decide on coming up with my own company," he told Enterprise. While working as a guard, he saw a colleague get hit on the head by a client which made him want to change more in the industry.
As a security guard, he was paid Sh5,000 monthly and explains that he did his work passionately and would go home with good money through tips from clients.
In 2013, he started his company Dango Five Security Ltd but continued with his work, he was the director and a guard, his first assignment was with the club he was working, where he asked the owner to employ him afresh as a guard.
"The owner was a good man, he gave me two slots, so I employed my colleague to work at night and I would work during the day. I did marketing, he expanded his business by enrolling other six personnel and even increased the salary we used to earn by Sh500," he says.
He used Sh12,000 to buy five guard uniforms which was a turning point for him.
Kurui has employed over 300 security guards in Nairobi, Nakuru, Baringo, and Eldoret with branches in Bungoma.
When it comes to payment, he says that it depends on the offer and demands from the clients which range from Sh17,000 to Sh8,000.
He gets clients through dropping brochures, bidding, a referral from friends and visiting physically new buildings in town.
Challenges
Unhealthy competition, he stated, was a challenge, especially from the former staffers who would prey on one's weaknesses and tarnish one's business name.
"Last year, I campaigned for a friend, the company was stable, but a former security guard took advantage of my absence and told clients that I have closed my business, trying to convince some clients is hard but others would call him to inquire if it was true," reflected Kurui.
Kurui said that delayed payments for the services by the clients has been a challenge, in that the security guard on their end have needs and wants but due to the financial crisis facing loyal client becoming difficult sustaining them.
Before he knew of insurance to cater in cases of robbery, Kurui went into loss but for the past three years, his business has been running smoothly without hiccups.
He said that to avoid employing a thief and alcoholic, he trained, vetted them and contacted their guarantees by producing letters of acknowledgement.
His vision is to start a social life foundation for his guards, by knowing the life his guards go through by starting with the pioneers who have stuck with the company by catering for their needs, such as school fees for their children, and shelter among others.
Kurui, would make up to Sh4 million but his lowest moment was in 2020 during covid-19 pandemic where made great losses.
Harassment by clients is part of the challenges that his team faces but he said he has tried to avoid it by informing clients on the rules to avoid assaults.
He advises those interested in the business to adhere to government regulations and standards as they build their outfits.
His firm, which is registered, now offers guard services, CCTV and electric fence services to clients.
Braving the cold night in the name of securing a good future for his children made him endure all the challenges it came with the job.
Kurui recalls the things he would see as a security guard, witnessing all sorts of fights which at some point made him question his existence.
Not all customers were bad, he says, some respected him for taking care of their vehicles and others would even trust him with their keys.
"I recall one day a customer came, he was a regular visitor to the hotel, after exchanging greetings, he insisted that I held his car keys, after two hours, he came and gave me Sh2,000 was a lot for me only to learn later that he had a huge sum of money in the car," he said.
The job needs someone who is honest, in order to prosper and that is something Kurui said kept him to relate well with customers in the work.
Confidentially was another factor, Kurui alluded that with the nature of the job, he would meet married men with their mistresses some being prominent persons.
"To avoid issues, I pretend not to know them, even if they are my neighbours back at home to avoid jeopardising my job and also to earn their respect, some would change girlfriends like clothes but who I'm I to judge," he added.
During the day, he would sleep for around five hours, as a young man, he would spend the rest of the time playing pool with his mates to push time.
It was easy for him, he said given that he was young and had no responsibility on his side then, but was still puzzled on how to grow big and make something good out of his life.
Some of the lessons he learnt as a security guard have made it smooth for him to stay in the market, which he admits has not been a walk in the park.
Changing his mindset and being ready to learn from his mistakes are some of the great values he said have made him remain relevant and even get some contracts through the rapport he made in the past at his former workplace.
Being passionate is a spirit he emulated from his father, whom he said was passionate in everything he worked on and a trait he passed to him and he is doing the same to his children.
Related Topics