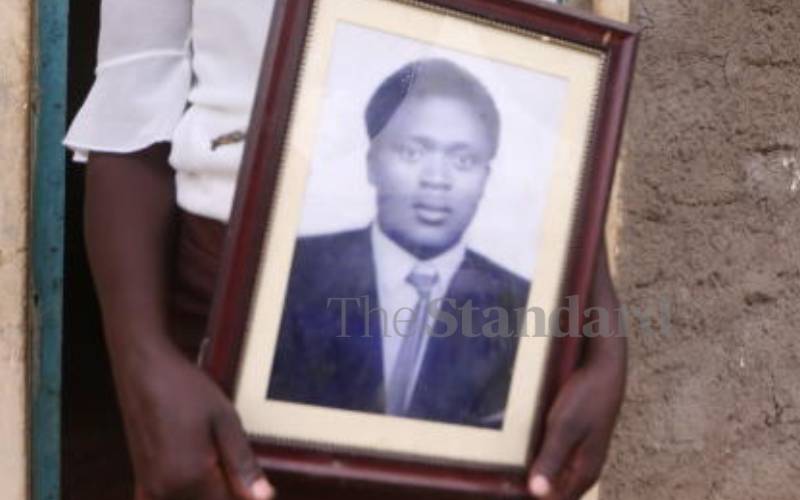 When Dennis Ochieng', 50, was weakened by fever and gasping for breath, his family hoped to save his life.
But despite being five kilometres away from a nearby hospital, Ochieng' could not make it. On Saturday, he was among nine congregants who worshipped at St Anne's Catholic Church, Sega Parish, in Siaya County, who were buried in one weekend.
His only son, John Okeyo, recalls the momentary darkness that threatens to overwhelm him after the sudden death of his father.
"He was a strong man. He was never sickly. I am convinced that he died of Covid-19 related complications," Okeyo says amid sobs.
Within the same kilometer radius is the home of Philip Ong'ayo, 72, who was also buried on the same day as Ochieng'.
Susan Adongo says the death of her father is devastating.
"He had an underlying condition, but his death is overwhelming to the family," she says, adding that her father had been diagnosed with diabetes and high blood pressure.
The parish priest, Fred Ogambi, mourns his congregants who have died in the last two weeks, and which he says is "unusual".
"The deaths are sudden and the spike is worrying, with many succumbing to respiratory-related complications, as families have testified," says Fr Ogambi.
Felix Okello, the coordinator of the Covid-19 team at the parish, says the deaths are "abnormal." He says in the previous years the church could bury an average of two members in a month.
"Having so many burials in a single day within the same parish is abnormal," Okello says.
Priests at the nearby St Joseph Ugunja Catholic Church buried six members last Saturday, while those at St Pantaleon Siaya parish buries 11 congregants.
Siaya County is recording an increased number of coronavirus cases and deaths amid an alarming shortage of medical oxygen and isolation beds. The brutal fourth wave of the disease has overwhelmed the county's under-funded and fragile healthcare system.
Statistics at the county department of health shows the county is losing at least one patient to Covid-19 daily. Currently, 300 patients are under home-based care while its 310-bed isolation ward is full to capacity.
Community transmission
County chief officer for health, Eunice Fwayo, confirmed that the surge had been witnessed in the last six weeks mainly because of community transmission.
She said majority of those infected were aged between 29 and 39, and that those succumbing to the disease were mostly aged 58 years or above.
"The death toll is devastating. Many of our patients do not have travel history and a number of sequencing has shown dominance of the delta variant," Fwayo said.
She said the four-bed capacity ICU was also full to capacity, adding that health officials were liaising with private partners to keep the air flowing.
"We have a manufacturing plant for medical oxygen, which is overwhelmed since neighbouring counties depend on it," Fwayo said.
According to Fwayo, the less equipped hospitals, staff shortages and long journeys to dedicated Covid-19 wards are making it harder for patients to access treatment.
"The situation has become serious in villages, but we are doing all we can to minimise transmission and attend to all ailing patients," she said, adding that Covid-19 patients got treated for free.
Raise funds
"They consume resources and are now straining as we explore other avenues to raise funds for efficient service delivery," she said.
She said a dozen healthcare workers had been infected with Covid-19 and a number hospitalised, which at times crippled response.
"When the staff is ailing it all becomes another challenge. But we try as much as we can to bounce back," she stated.
Last week, health experts raised the alarm over a possible surge in coronavirus cases during the burial of former Gem MP Jakoyo Midowo, as residents ignored the rules and regulations.
Related Topics